From the Open-Publishing Calendar
From the Open-Publishing Newswire
Indybay Feature
We are reaping what we've sowed.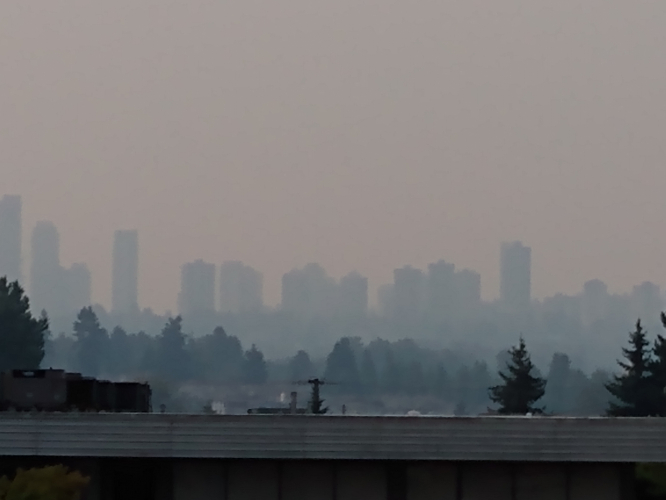 These out of control wildfires that have filled our cities full of smoke will inevitably be blamed on climate change, the heat wave, irresponsible human behavior with campfires and cigarettes but when we really boil it down it was the near total destruction of BC's old growth forests through deforestation that radically lowered the surface moisture content almost everywhere in the interior of British Columbia. That's what destroyed the steady moisture content in the land and forest that prevented these terrible fires from occurring with such regularity in the past.
The same of course goes for Cascadia and the American southwest and in particular Northern California where the moisture content has been completely destroyed by deforestation and industrial farming which sapped not only the groundwater but the surface water as well causing smaller family farming which does a better job of keeping moisture in the land to wither on the vine.
Add to this fracking and you'll understand once you visit Drought Monitor online and you look back through all their graphs from today back through to 2010. You will see that California has had more than just one, hundred year drought in less than 20 years.
Fracking sucked up all the ground water in the American southwest brought to you by Dick Cheney and governor Jerry Brown but the media will continue to blame climate change which is indeed, yes, very real but if we had the forest we had just a hundred years ago we would not be experiencing catastrophic fires filling our cities full of smoke choking our people to death and crushing our economic activity.
Fracking in British Columbia and fracking in California have produced exactly the same results of out of control wildfires and seemingly endless droughts. There is a developed sidestep vernacular in corporate media of blame climate change for industrial impact. Dick Cheney and Jerry Brown destroyed California's water table with fracking and yet everyone blames climate change for a bone dry California. It was fracking that used up all the ground water and then pumped their toxic chemicals down back into the water table with insitu injection well disposal of fracking's benzene-laden toxic waste.
Another long-running and very significant contributor to all the drought everywhere is over 150 years of drilling for oil, bitumen. Drilling for oil is probably the largest longest running contributor to surface drought as a result of water tables collapsing down into the voids where oil once was. This planet is ruled by gravity and there is no way to keep clean groundwater on top of brackish water if brackish water collapses into former oil voids. The entire Arab peninsula has set itself up for permanent surface drought which of course they have begun to realize and have also begun developing dew catching electrical generating windmills and Muammar Gaddafi developed giant plastic trees that grab the morning dew and transport it into the Earth through a root system that distribute the dew evenly around the tree and in between the dew catching trees Libyan farmers planted orchards creating a self-sustaining moisture feedback loop to the orchards. This process also produces topsoil from orchard trees and other plant waste. Thanks to oil drilling this is our future. Western Canada and the Western United States have been drilled till they really can't be drilled anymore and as a result Western Canada and the Western United States are experiencing regular catastrophic droughts.
So let's not quibble words K Street, if you continue to blame your client's industrial destruction of the environment on climate change you will be doing PR for nobody fairly soon. We must return to the environmental ethic that came with the clean water act in the US that the corporate sector has systematically destroyed along with their military partners.
The real blame for climate change lies with the US Military launching an era of above ground nuclear bomb testing. Dragging the Soviet Union into an arms race no one could win. However, it was recognized by the Soviet Union and then by the United States that the above ground bomb testing especially thermonuclear above ground bomb testing which creates a fireball a 1000 to 10,000 times larger than the bombs dropped on Hiroshima and Nagasaki, is what burned off the ozone. This is what caused climate change and global warming. This is the only reason considered when the US generals acquiesced to the department of energy and President John f Kennedy, in ending above ground bomb testing in an international agreement not everyone signed on to. But with the Soviet Union and the United States as the main signers, 99% of the problem was put to bed but what we got in the words of Peter Garrett of the band Midnight Oil is "Our beds are burning!"
Our only way out is to grab as much of the moisture from the air that we can and this means a global effort to put up permanent dew catching devices everywhere. If you look at farming in the Andes in South America you're going to witness farming on mountain sides watered by dew catchers which have been traditional with the First Nations tribes there to guarantee irrigation of their crops and therefore survival of their people in dry arid conditions. Water is life. The Pentagon themselves have been using industrial sized reverse osmosis systems to clean the jet fuel polluted water in the communities around Otis Air Force Base. If we pump the polluted water out of the ground and run it through reverse osmosis that water can be returned to the surface and be of benefit to the greening of the surface of planet Earth.
https://lloydhart.substack.com/p/water-is-life?r=c6tj8&utm_campaign=post&utm_medium=web&utm_source=copy
We are 100% volunteer and depend on your participation to sustain our efforts!
Get Involved
If you'd like to help with maintaining or developing the website, contact us.