From the Open-Publishing Calendar
From the Open-Publishing Newswire
Indybay Feature
KPFA Wreckers Goldmacher, Turner & Higgiins Lose Again In Court-
After spending tens of thousands of dollars to get a court to take over Pacifica and costing KPFA over $50,000 KPFA wreckers Donald Goldmacher, Andrea Turner and Christina Turner's case was thrown out of court with prejudice. These wreckers want to destroy the Pacifica Network,.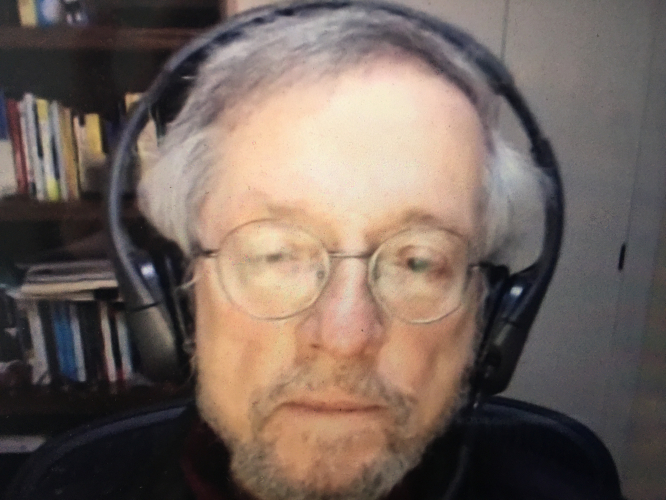 KPFA Wreckers Goldmacher, Turner & Higgiins Lose Again In Court-KPFA PNB Local Station Board Members Andrea Turner, KPFA Chair Christina Higgins & KPFA Donald Goldmacher Tried To Get A Court To Take-over Pacifica & Lost Again

SUPERIOR COURT OF CALIFORNIA, COUNTY OF LOS ANGELES Civil Division
Central District, Stanley Mosk Courthouse, Department 62

20STCV46681
ANDREA TURNER, et al. vs PACIFICA FOUNDATION INC., A CALIFORNIA CORPORATION

July 30, 2021 2:00 PM

Judge: Honorable Michael L. Stern Judicial Assistant: M. Alaniz Courtroom Assistant: P. Figueroa

APPEARANCES:
For Plaintiff(s): No Appearances For Defendant(s): No Appearances

CSR: None
ERM: None
Deputy Sheriff: None

page1image3791488 page1image5800032 page1image5800448 page1image3715776
NATURE OF PROCEEDINGS: Ruling on Submitted Matter
The Court, having taken the matter under submission on 07/23/2021, now rules as follows:

This is the fourth attempt by plaintiffs to state a viable cause of action in this matter. The Original, First and Second Amended Complaints stated two "causes of action" on the face pages for "Corporate Malfeasance and Accounting," but actually alleged a single cause of action for "Accounting." There was a demurrer to the Second Amended Complaint on the grounds that a corporate demand was never made. The demurrer on that ground was sustained with leave to amend. This issue is revisited by this demurrer to the Third Amended Complaint ("complaint").

Derivative lawsuits are controlled by Corporations Code section 800. It has been long held that in order to properly allege a claim under this section, a plaintiff must plead a beneficial interest in the corporate entity at issue; that the plaintiff complained of certain actions by the defendant; made specific efforts to secure the desired action from the board of directors; the reason for not making such efforts was the futility in doing so; that the plaintiff has informed the corporation in writing of the ultimate facts of the claim asserted, or has delivered a true copy of the complaint to the corporation before filing the action; and pleaded the cause of action is owned by the corporation. Jones v. H.F. Ahmanson & Co., 1 Cal.3d (1969). The elements of a derivative claim are applicable to public and private corporations, including not-for-profit entities. See, Charter Township of Clinton Police & Fire Retirement System v. Martin, 219 Cal.App.4th 924 (2013).

1. Plaintiffs' Standing to File Derivative Action.

First, since plaintiffs Turner, Huggins and Goldmacher, respectively, are members of the Pacifica national board of directors or members of the Local Station Board of KPFA-FM and members of the Pacifica Foundation, Inc. Each has a beneficial interest in Pacifica and therefore has standing to bring this action. See, Patrick v. Alacer Corp., 201 Cal.App.4th 1326 (2011).

page1image5818336
page2image9977488 page2image9977696
2. Plaintiffs' Notification and Demands to the Pacifica and Individual Board Member Defendants.

In order to initiate a derivative action, one must first inform the board of directors, including affected individual board members, about the basis for the action and make a reasonable effort to induce the board of directors to commence suit themselves or otherwise redress the alleged wrongs, unless such efforts would be useless of futile. A derivative complaint must allege "with particularity plaintiff's efforts to secure from the board such action as the plaintiff's desires, or the reasons for not making such effort." Corporations Code Section 800(b)(2); Bader v. Anderson, 179 Cal.App.4th 775, 789-790 (2009) (prior to filing a derivative action, a complaining plaintiff "must make an earnest, not a simulated effort, with the managing body of the corporation).

Specific facts, not generalities, must be alleged regarding stating why further demand would be futile. Simply alleging "wrongful" acts is insufficient as a conclusory pleading. Apple Inc. v. Superior Court, 18 Cal.App.5th 222, 232-233 (2017).

The complaint in this case alleges that "commencing in 2009 . . . plaintiffs have continually demanded the defendant directors cease all of the actions and conduct they alleged to have committed in this complaint constituting misfeasance, malfeasance, breaches of fiduciary duties and all other conduct causing financial and other damage to Pacifica."

Plaintiffs allege circumstances when the Pacifica board, including the individual defendants, received communications in 2016 and 2017 from the California Attorney General advising Pacifica that the corporation might be deficient in conducting annual audits that could lead to loss of its non-profit corporate status; were advised to implement a Financial Recovery and Stabilization Plan, but did not do so in accordance with the recommendation; starting in 2017, and later, it was recommended to reform the Pacifica corporate by-laws; attempts were made in 2018 and 2020 to privately "mediate" certain "issues;" and post-litigation filing discussions were conducted in December 2020 and April 2021 in an attempt to mediate undefined "issues" "raised by this action."

Notwithstanding these broad-ranging accusations and others regarding financial decisions made by the board, including actions regarding the two individual defendants, over the span of the past decade, the complaint does not allege a single specific instance where the plaintiffs or any other person brought any of these claims to the Pacifica board of directors by the presentation of a

page2image9977904
page3image9974992 page3image9975616
formal, specific board motion or resolution or informal letter or petition citing either of the individual defendants for loss of Pacifica's non-profit corporate status or any financial impropriety resulting from the non-implementation of a financial plan different from the proposed Financial Recovery and Stabilization Plan, damage to Pacifica from the failure to settle this lawsuit or negligence in taking certain financial actions.

Generally, as alleged, "urging" the two individual defendants and the Pacifica board to take action to reform the corporate by-laws from "at least 2017 and continuing to the present" and discussing settlement of this lawsuit in an informal manner, even undertaken by attorneys, does not allege defined facts regarding directors being informed of specific complaints regarding board procedures, practices or actions. Corporations Code section 800(b)(2) requires allegations of efforts to secure board action "with particularity." Plaintiffs rely only on generalities that are insufficient to allege a derivative action.

The complaint does not comply with Corporations Code section 800(b)(2) by pleading futility in making such demands on the board or the individual defendants. Such pleading requires any allegation of specific facts on a director-by-director individual basis. Bader v. Anderson, 179 Cal.App.4th at 790 ("the court, in reviewing the allegations to support demand futility, must be able to determine on a director-by-director basis whether or not each possesses independence or disinterest such that he or she may fairly evaluate the challenged transaction."). Frustration with the actions of the Pacifica board or the two individual defendants does not constitute "futility" in complying with Corporations Code section 800(b)(2).

While plaintiffs allege what the defendants characterize as a "parade of horribles," they fail to allege any futility or valid excuse for not bringing their complaints directly to the board for remedial action or pleading with specificity that the board took no action in response to their complaints at specific times. See, Apple Inc., 16 Cal.App.5th at 233 (the futility of demand clause of Corporations Code section 800(b)(2) "requires a plaintiff who alleges 'reasons for not making such effort' to plead with particularity, the circumstances excusing her from making such a demand."). While a number of financial decisions by the board, including by the two individual defendants as board members, are chronicled in the complaint, there is not a single allegation that the plaintiffs or others made specific efforts to secure action from the board at particular times and allowed the board to consider taking action or that their complaints were specifically denied by the board and subsequently rejected by the board after such consideration. See, Corporations Code section 800(b)(2).

page3image3740736
page4image9972912 page4image9973120

Thus, the complaint is devoid of mandatory allegations required by Corporations Code section 800(b)(2) or, alternatively, even a suggestion of any action pursuant to procedures under the Pacifica by-laws, resolution or vote by the board demanding that the individual defendants, should be removed from the board, censured, requested to resign or pay any compensation to Pacifica based on their actions, whether alleged in the complaint or otherwise.

Vague complaints about disparate lapses by the board and individual defendants over a ten year span demanded by the plaintiffs to take particular actions are insufficient to put the board on notice of corporate inadequacies, let alone assign whole responsibility to two individual board members for misfeasance or malfeasance of office that caused damages to Pacifica.

The Court concludes that the defendants have failed to adequately allege that the plaintiffs sufficiently pleaded specific efforts to notify the Pacifica board to take any particular action to redress the individual defendants', "that there were continued breaches of their fiduciary duties and responsibilities to Pacifica" or "were the direct and proximate cause of the catastrophic losses of the assets and revenues of Pacifica" that entitled plaintiffs to obtain "a judgment against [them] for the full amount of Pacifica's damages," as prayed in the complaint.

The demurrer is granted based on plaintiffs' failure to comply with Corporations Code section 800(b)(2) to propound-statutorily required demands on the board or the two individual defendants.

3. Business Judgment Rule.

The complaint alleges repeated accusations that the individual defendants, along with a majority of the Pacifica board members, engaged in misfeasance and that individual defendants should be found liable for ambiguous monetary damages due to their failure to exercise reasonable business judgment.

Courts apply the "business judgment rule" to decisions made by members of a corporate board. This rule has two components: first, it immunizes members of a board of directors from personal liability and, second, it insulates directors from court intervention from liability for good faith management decisions where directors act in what they believe is the best interests of the corporation. Corporations Code section 309; see also, Lamden v. La Jolla Shores Clubdominium Homeowners Ass'n, 21 Cal.4th 249, 257 (1999) (common law rule of deference to the directors' exercise of business judgment is broader than the Corporations Code section 309 limitation on

page4image3783376
page5image5803568 page5image5807520

California courts apply the business judgment rule in determining directors' liability for breach of their duty of care. Courts will not review directors' business decisions or hold directors liable for error or mistakes in judgment so long as the directors were disinterested and independent, acting in good faith and reasonably diligent in informing themselves of the facts in decision- making. Palm Springs Villas II Homeowners Ass'n, Inc. v. Parth, 248 Cal.App.4th 268, 279 (2016). Disinterested directors are rebuttably presumed to have acted in good faith and to have believed that their decisions are based on facts and in the corporation's best interests. Burt v. Irvine Co., 237 Cal.App.2d 828, 825 (1966).

A plaintiff challenging board decisions has the burden of showing that a decision involved a conflict of interest or was made in bad faith, such as fraudulently or without the requisite degree of care and diligence. Berg & Berg, Enterprises, LLC v. Boyle, 178 Cal.App.4th 1020, 1045 (2009). As courts have limited expertise in making business decisions in particular business contexts, deference is given to a director in making proper decisions as long as the decisions are made in good faith and in the best interests of the corporation. Biren v. Equality Emergency Med. Group, Inc., 102 Cal.App.4th 125, 137 (2002).

The complaint, on its face, indicates that the individual defendants are protected from liability by the business judgment rule.

First, plaintiffs' claim that the individual defendants, as members of the whole Pacifica board, ignored the advice by the California Attorney General's Charitable Trust Section to implement a particular recommended Financial Recovery and Stabilization Plan in 2016 and 2017 concern an operational business decision within the board's power whether or not to follow. While the plaintiffs may have disagreed with that decision, it was well within the board's discretion to decide what was the best business course to follow. None of the action pertaining to the alleged rejection of the advice by the Charitable Trust Section representative are alleged to have been taken by the two individual defendants without board approval, violated any statute, placed the non-profit status of Pacifica in actual jeopardy or resulted in any action by the California Attorney General's office to affect Pacifica's non-profit corporate status. There are no definite allegations how a board vote on the Attorney General's suggestion, included the votes of the individual defendants or harmed Pacifica. See, Katz v. Chevron Corp., 22 Cal.App.4th 1332, 1366 (1994) (courts will not second-guess decisions of disinterested directors made with reasonable diligence in ascertaining the facts and believed in the corporation's best interests).

page5image5809184
page6image5893424 page6image5893008

Second, the allegation that the plaintiffs' unsuccessful efforts several years ago in 2017 urging the two individual defendants and the Pacifica board to reform Pacifica's by-laws were met by ad hominem from unidentified persons and "false information widely disseminated" by the two individual defendants is vague and not directly related to the two individual defendants' fiduciary dates or functions as sitting board members. This is not a defamation case. Differences of opinion among board members or others about reformation of Pacifica's by-laws are well within the protections afforded by the business judgment rule. See, Central Laborers' Pension Fund v. McAfee, 17 Cal.App.5th 292, 317-318 (2017) (only gross negligence, not mere negligence, violates the business judgment rule).

Third, the allegation by the plaintiffs that the "intransigence of [the two individual defendants] and a majority of the Board of Directors of Pacifica," did not agree to mediate, settle or resolve "the issues raised by this action," does not constitute a factual basis for a derivative lawsuit seeking monetary damages against the two individual defendants. The contention that the Pacifica board has not acted to settle this action does not indicate any conduct by the individual defendants of any misconduct, such as diversion or waste or corporate assets, embezzlement by a director, officer or employee whom the board entrusted with corporate funds, specific facts regarding lack of diligence, self-dealing or the failure by the two individual defendants to protect Pacifica against foreseeable liabilities justifying a derivative action. See, Findley v. Garrett, 109 Cal.App.2d 166, 177 (1992) (board of directors entitled to use its best business judgment to weigh the advantages and disadvantages of settling a lawsuit).

Similarly, the broad-ranging allegations that the two individual defendants are personally liable for monetary damages for a variety of corporate financial woes that may have befallen Pacific over that past decade "caus[ing] millions of dollars of damages." putting Pacifica "at serious risk" of defaults on loans, damages due failure to conduct regular audits and miscalculations regarding various funding are conclusory, not alleged with legal precision and cannot be factually attributable to the actions or inaction of the two individual members of the board without further facts. That the two are alleged to be acting with the authority majority of the other members Pacifica board of directors, who apparently voted as a majority with them, insulates them from personal liability without a nexus to wrongful conduct by these two board members.

For that matter, the allegation that the two individual defendants committed actionable "misfeasance, malfeasance and breach of fiduciary duty" for allowing Pacifica radio to air

page6image5892800


page7image9970624 page7image9970832
"bizarre, radical, and highly offensive programming" (emphasis in original) that included "virulent anti-Semitic rhetoric" and the "unlawful commercial promotion of fringe, marginal and 'snake oil' types of unregulated remedies and dietary supplements" are matters to be considered by the Pacifica board and not by the judicial process in a derivative lawsuit of this nature without facts alleging personal involvement or wrongdoing. There are no allegations that the two individual directors controlled or were responsible for program content or can be personally liable for it. See, Findley v. Garrett, 109 Cal.App.2d at 174 (board may exercise its independent judgment under the good faith business judgment rule).

Alleging and realleging, over and over again throughout the complaint, that the individual defendants committed "misfeasance, malfeasance and breach of fiduciary duty," without facts to substantiate these bald conclusions is insufficient to support the assertion that the individual defendants violated their corporate board fiduciary responsibilities and director duties.

While there are many alleged bad business decisions by the Pacifica board alleged in the complaint, only two individual defendants from the many board members are singled out separately. They are not alleged as dominate members of the board, control the votes of other board members or had power over the other members of the board in decision-making.

Not a single fact regarding the defendants' alleged actions harming Pacifica that is enumerated in the complaint suggests that any of these "bad acts" benefitted the two individual defendants personally or that their actions were undertaken without board approval. The demand for damages against the individual defendants is not substantiated by any facts justifying such an award. The defendants' actions must be presumed to have been made in good faith unless facts to the contrary are alleged. That is not the pleaded situation here. See, Findley v. Garrett, 109 Cal.App.2d at 177.

Any documents plaintiffs allege the two individual defendants were signed "on behalf of the corporation," not individually or for personal benefit or the benefit of others associated with them. Even if they held untoward influence over the board (which is not actually alleged in the complaint), plaintiffs admit it was the board members, and collectively the board, that acted for the benefit of Pacifica and neither of these individual defendants profited for their own personal benefit. The acts of the individual defendants therefore are protected by the business judgment rule.

page7image3696848
page8image9962304 page8image9967920

For these reasons, the demurrer to the Third Amended Complaint is sustained without leave to amend. As "nominal" defendant Pacifica is not a direct party to the action, it is dismissed.

The Court orders the Amended Complaint (3rd) filed by Andrea Turner, et al. on 05/17/2021 dismissed with prejudice.

Dated: July 30, 2021

______________________________
Clerk is to give notice. Certificate of Mailing is attached.
We are 100% volunteer and depend on your participation to sustain our efforts!
Get Involved
If you'd like to help with maintaining or developing the website, contact us.