From the Open-Publishing Calendar
From the Open-Publishing Newswire
Indybay Feature
Pacifica Houston KPFT White Management Coup
On the one year anniversary of the death of George Floyd the Pacifica Houston management organized a coup of Black, Brown and radical programming. They did this without notice to the programmers or the local station board.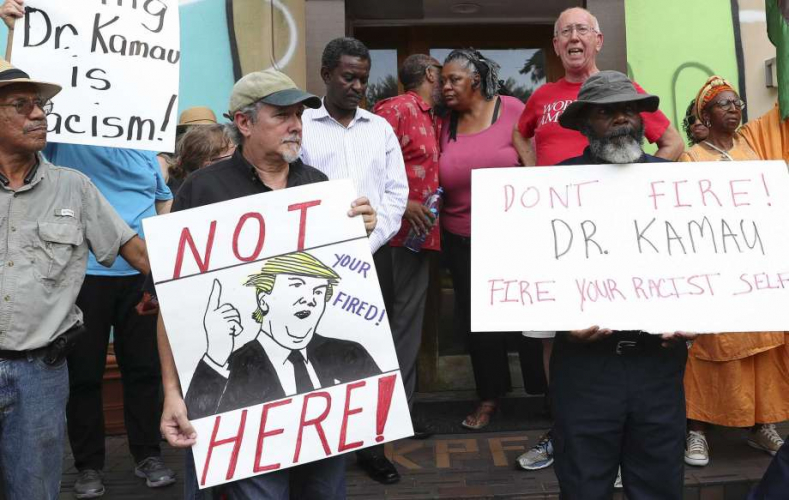 Pacifica Houston KPFT White Management Coup
FOR IMMEDIATE RELEASE 5/31/2021
Contact: Nancy Saibara:
Nancy.saibara [at] icloud.com
National Programming Committee Chair and KPFT Board Member
On May 25, 2021, the one year anniversary of George Floyd's death, KPFT's new General Manager, David Bradley-Baes, led a white management coup at KPFT, kicking off of FM twenty-three shows featuring People of Color, radical, or local content: Nuestra Palabra, Latino Politics & News, People of Earth, Proyecto Latino Americano, Voz de la Tierra, Son Pacifica, Covid Race & Democracy, Houston Indymedia, Vegan World Radio, Living Art, Whole Mother, Think Wing Radio, K. Rino, Flash Gordon Parks, Afrotoniks, Speak Out, Welcome to the Taste, Free Thinker Radio, Mini Geology, Freedom To Air, Escapism, Sojourner Truth, and Green Bubble. The Pacifica National Board has been alerted and is reportedly reviewing this action.
Not only is this move an assault on communities of color, local programmers, and radicals in Houston, the removal of shows for diverse communities threatens grant funding from the Corporation for Public Broadcasting. These programming changes were made without any consultation with the programmers,the community, or with the Local Station Board. These changes take place just before a crucial vote being pushed by New Day Pacifica, a disruptive Pacifica faction, to institute anti-democratic changes in Pacifica Network governance (below).
New Day Pacifica endorsers reaped benefits on the new schedule grid, and eighteen of them retained FM time-slots: Larry Winters' Spare Change, Roark's Roadmap, Wally James' Progressive Forum, Egberto Willies' Politics Done Right, Nancy McAfee and Mr. and Mrs. V's Blues on the Move, James and Colleen Nagel's Howlin' the Blues, David Collingsworth and Hank Lamb's Prison Show, Genie Mims' Down Home Blues, Bill Galbraith's Irish Aires, Duane Bradley's Open Journal, Freddie Rothstein, Rick Norris and Laryssa Lee's All Day Music, Jack Vakinski, Queer Voices, and Nuri Nuri's Blues Branch.
Without being authorized to do so, New Day Pacifica sent out emails widely prominently featuring a photo of Jane Fonda, and falsely claiming she was an endorser to their platform, only to be forced to take it down soon thereafter.
White former managers and directors Duane Bradley, Bill Crosier, Jack Valinski, and Larry Winters continue to influence policy, finances, programming, and politics at the station, and continue to have prime time slots on the KPFT FM programming grid. The first manager of color in the entire 40+ year history of KPFT, interim manager Dr. Obidike Kamau, was fired by the white management and removed from the station by Houston police.
In resistance to these proposed changes, Pacifica Fight Back (pacificafightback.org) has been joined by Mumia Abu Jamal, Danny Glover, Cindy Sheehan, Harry Belafonte, Abby Martin, Leonard Peltier and others to say, 'Vote No!"
https://pacificafightback.org
Listeners can also express concerns via email to the Interim Pro Bono Pacifica Executive Director, Lydia Brazon (
ed [at] pacifica.org
) and Pacifica National Board (
pnb [at] pacifica.org
).
We are 100% volunteer and depend on your participation to sustain our efforts!
Get Involved
If you'd like to help with maintaining or developing the website, contact us.