From the Open-Publishing Calendar
From the Open-Publishing Newswire
Indybay Feature
UBER/Ride Share Gig Drivers Protest Against Rip-offs & CA Prop 22 At UBER World HQ
A rally was held of UBER, Lyft and Rideshare workers to protest the lack of healthcare and the cost shifting by these companies having the state pay for healthcare.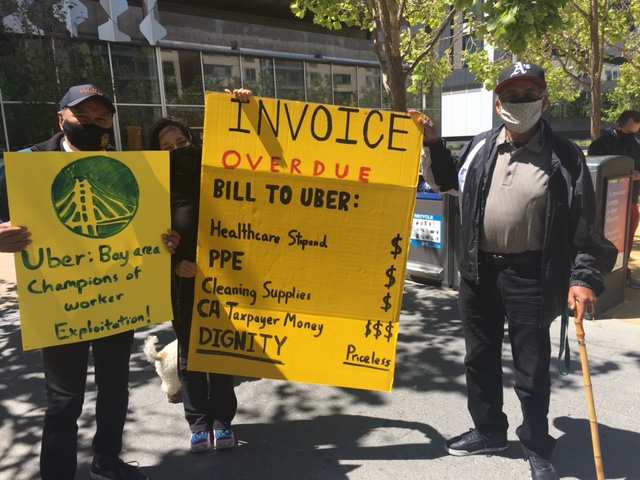 Gig drivers from UBER, Rideshare and Lyft rallied at the world headquarters of UBER in San Francisco on May 25, 2021.
They talked about the conditions for these gig workers and how promises made by UBER Rideshare and other GIG workers were lied to by these companies who pushed Proposition 22
in California.
They also pointed out that taxpayers were being forced to subsidize the healthcare of gig workers from the companies who are making billions while refusing to fund the healthcare of their workers.
Additional Media:
We Want A Union & AB5! UBER & Lyft Drivers in CA Rally At SF UBER World HQ
https://youtu.be/ZwB3tIVSgbk
CA AB5, Labor, UBER, Lyft, Independent Contractors & Social Benefits
https://www.youtube.com/watch?v=aHKESgt2w-c&t=42s
UBER & LYFT Workers "We Made You"! Drivers Fed Up With Abuse & Rip-offs In San Francisco
https://www.youtube.com/watch?v=A2vHQ7sQVfs&t=238s
UBER Stop Lying And Cheating Us! Drivers Protest At UBER World Headquarters In SF
https://www.youtube.com/watch?v=LDeLO1Yr-pk&t=7s
UBER, Lyft, Taxi Workers, Deregulation and Independent Contractors
https://www.youtube.com/watch?v=PoayEmFK1E0&t=4s
UBER, Tech, Drivers & Capitalism With Steven Hill
https://www.youtube.com/watch?v=IJQ-gBaSPTU&t=2s
SF Taxi Workers On Tech, UBER, Lyft, ​And Deregulation
https://www.youtube.com/watch?v=MCrwoiYejWg
Rideshare Wage Calculator Exposes Hidden Costs Of Driving For UBER and LYFT
https://www.teamsters117.org/rideshare_wage_calculator_exposes_hidden_costs_of_driving_for_uber_and_lyft?fbclid=IwAR28_aplbEqCKJSYCd7T_ZSRDrnv7o-ESPsU6CLv6hlDXdQpR4bGjX8hkTM
UK UBER Drivers Organize & Fight Back With UPH Chair James Farrar
https://www.youtube.com/watch?v=CxOPa0H9i3Q&t=52s
Tyranny of the algorithm: how Uber replaced one exploitative boss with another
https://www.newstatesman.com/politics/economy/2019/01/tyranny-algorithm-how-uber-replaced-one-exploitative-boss-another?fbclid=IwAR3jjDVB7v6tr-Fxjv-fUmAlIhJg7OC6jCso5LZQoDAC0XcuDp6pMlz5W38
Production of Labor Video Project
http://www.labormedia.net
We are 100% volunteer and depend on your participation to sustain our efforts!
Get Involved
If you'd like to help with maintaining or developing the website, contact us.