From the Open-Publishing Calendar
From the Open-Publishing Newswire
Indybay Feature
Bullying, PAR, Frame-up & The SFUSD Attacks OnTeachers With Margaret Reyes
A California State administrative hearing was held on whether to take away the teachers license of former SFUSD UESF teacher Margaret Reyes. In the hearing a forged email was submitted by SFUSD Chief of Labor Relations Greg John with the support of the California State Deputy Attorney Joshua John. Reyes had refused to go into the Peer Assisted Review PAR program because one off the "coaches" was Greg John who had previously bullied her as her principal. SFUSD witnesses could not remember names, dates or places of events that they charged had happened with Margaret Reyes and the lack of real evidence was further evidence of a frame-up.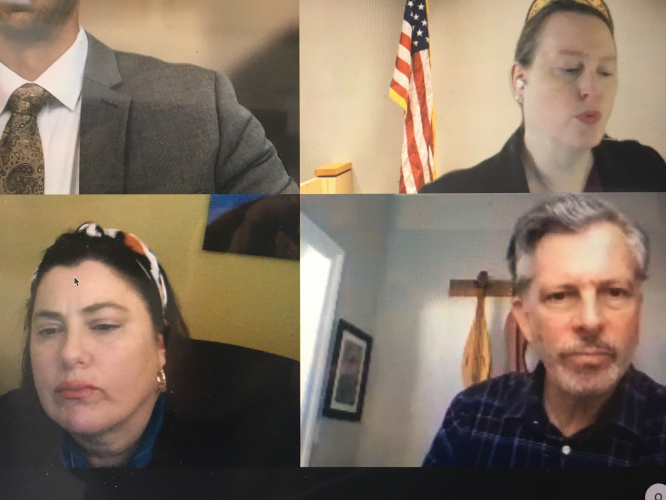 Margaret Reyes, a SFUSD teacher who was a member of UESF was targeted by administrators who sought to put her in the Peer Assisted Review PAR program. A former principal Greg John
who was bullying her and later became a PAR coach and the SFUSD Chief of Labor Relations was a key witness against her at this hearing in late April 2021.
Reyes refused to go into PAR and was suspended and then fired.
She appealed the firing and the CTA UESF refused to properly represent her and their lawyer Chris Schumb said the charges were false but she would have to pay him $100,.000 for representation. She reported this to CTA officials and then was retaliated against by the leadership of the CTA.
She discusses in the interview how she was framed up and we see how the SFUSD administrators submitted forged documents and also said had no written documents of the many charges that they had fabricated against her.
In addition, the California Attorney General Deputy Attorney Joshua Johnson may have knowingly submitted fake documents included a supposed email in order to remove the license of teacher Margaret Reyes.
She also discusses the fact that she had submitted documentation that the PAR program was discriminating against senior teachers as well as Black and Brown teachers and that teachers that were
forced into the program lost all their rights to use their union grievance procedure and were coerced to sign non-disclosure agreements that prevented them from revealing any possible malfeasance and discrimination.
This interview took place on May 6, 2021
Additional media:
Hands Off UESF Teacher Margaret Reyes! Protest At SF Superior Court Judge Schulman Hearing
https://youtu.be/tpU94mU-EBk
"Unparalleled Chutzpah" The SFUSD Frame-up Of UESF Member Margaret Reyes
https://www.youtube.com/watch?v=zxzLfI5MUyw&t=150s
The Fight Against PAR, The Attack On Teachers & Worker Rights With Educator Brian Crowell
https://youtu.be/7zj3PVj8-Aw
Berkeley's Unequal Punishment of Teachers
The school district disproportionately disciplines black teachers and older educators with higher salaries. Are students paying the price?
https://www.eastbayexpress.com/oakland/berkeleys-unequal-punishment-of-teachers/Content?oid=3879777
Another Voice for Teachers
https://www.eastbayexpress.com/oakland/another-voice-for-teachers/Content?oid=19937593
Berkeley High Retaliation Case Results in State Complaint Against School District
https://www.eastbayexpress.com/SevenDays/archives/2015/02/26/berkeley-high-retaliation-case-results-in-state-complaint-against-school-district
Berkeley High Teacher Brian Crowell On Peer Assisted Program PAR & The Attack On Public Education
https://www.youtube.com/watch?v=XEkVLwAyIwo
WorkWeek Radio
https://soundcloud.com/workweek-radio
Production of Labor Video Project
http://www.labormedia.net
We are 100% volunteer and depend on your participation to sustain our efforts!
Get Involved
If you'd like to help with maintaining or developing the website, contact us.