From the Open-Publishing Calendar
From the Open-Publishing Newswire
Indybay Feature
Al Rojas Presente! The Struggle Continues: Memorial In Sacramento For UFWA Co-founder
A memorial for Al Rojas, co-founder of the UFWA was held in Sacramento on April 24, 2021.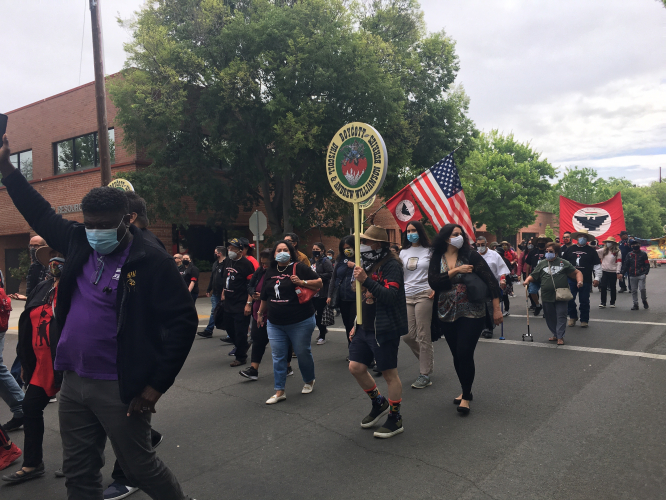 Al Rojas, a co-founder of the UFWA who spent a life time fighting for agricultural workers and workers in Mexico and around the world passed away on March 20, 2021.
His memorial in Sacramento on April 24, 2021 brought forth memories of his family and workers and community members he mentored and supported in his life long struggle for justice, human and worker rights.
It also brought unity between the Rojas family and also the family of past Filipino agricultural union leader Larry Dulay Itliong and his family. His son Johnny Itliong and his family attended the memorial and he spoke.
The struggle of both Mexican American and Filipino farmworkers was illuminated in the fight for unity of all workers.
Additional media:
National Migrant Workers Convention Opening Speech By Al Rojas
https://youtu.be/h7gC-1AtXCY
Al Rojas Of LCLAA Sacramento On Immigration Bill S 744, Democracy & The AFL-CIO Convention
https://youtu.be/dQcxABeHzr0
The Fight For San Quintin Farm Workers & Driscoll's with Al Rojas At ILWU Local 10
https://youtu.be/CzrSngfXiiA
Trouble In The Union Movement & The Attacks On Indiginous, Latino & Mexican Workers Al Rojas
https://youtu.be/3vv0w0hv0YM
Farm Workers Deaths &The UFWA "Partnerships" with the Growers & The Gov-Al Rojas
https://youtu.be/ZuVDgT9GDlY
Mexico Tijuana Conferencia Internacional del Trabajo discute TLCAN, Privatización y Económica
https://youtu.be/DgY-zwuQHr8
Crisis in Labor, Mexico, US, Unions, Democrats & USMCA
https://www.youtube.com/watch?v=bQ18fjWM_sI
The Battle of Mexican Farmworkers At Driscolls in San Quintín Baja California
https://youtu.be/5L3ZbQN3Iog
The Mexican National Democratic Independent Union of Agricultural Workers , NAFTA And US Labor
https://youtu.be/xu4qLP_O3Sk
Obama's Immigration "Reform" Labor, Immigrants, Immigration & Obama
https://youtu.be/9pUQmpLwHtY
Mexico Oaxaca Teacher Murders Protested In SF "Massacre Made In USA"
https://youtu.be/4RrK-S3Q9qs
Here Comes The Judge! Judge Al Rojas Speaks At People v. DA Mark Peterson
https://youtu.be/4HV05WRn6Dc
Production of Labor Video Project
http://www.labormedia.net
We are 100% volunteer and depend on your participation to sustain our efforts!
Get Involved
If you'd like to help with maintaining or developing the website, contact us.