From the Open-Publishing Calendar
From the Open-Publishing Newswire
Indybay Feature
The Ballad of Blake Jones
For nearly two decades, one individual made a difference in the lives of countless individuals. ONE, TWO, THREE, FOUR!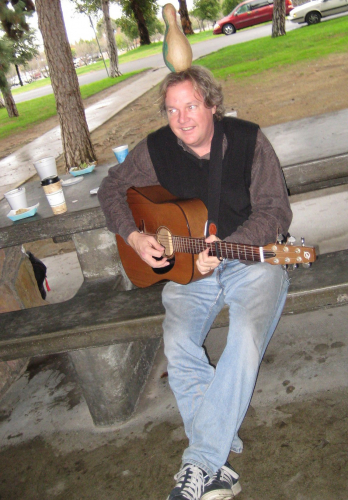 As many humans with varying degrees of damage or acuity might confess- some sounds you don't really hear.
But you can still feel them or sense them in various, less direct ways. Many of these elusive audio cues travel above
our normal range of response, often interacting with each other to produce things we can perceive and enjoy. or not.

I am beginning to believe Blake Jones has a frequency response that extends far beyond the spectral envelopes of a Fender amplifier,
further even than the exciting reaches the Trike Shop will take a tune. Beyond digital audio recording limits, even.
Way out there.
I'm not just referring to the heterodyne-amite of this Theremin Lothario.
I have to include the cosmic ripples and waves he makes, while making his way through our local community's music history.
If you have not had the good fortune to grow up and become old enough to remember the halcyon days of a local music scene that blossomed under the Wild Blue Yonder,
gathered gladly at Club Fred's, or the many other generous venues that gave life to local music for the last several decades, then you might need a radar telescope to take in the big picture.
Just how much he has contributed to local music culture
while raising consciousness and appreciation for all aspects of our cultural music history,
particularly that stuff called Rock and Roll.
And frankly, he has been at it too long for beggared descriptions.
But some shenanigans need described.
Things that don't happen on stage or record. Not even on cassettes.
Which is completely understandable, because any fraction of what he has done as a benefactor,
orchestrating JUST ONE of the countless
(Seriously, I'm not counting the one they held while I was away, but I heard it was fantastic)
live benefit concerts for Fresno Food Not Bombs
would never fit on a 90 minute TDK.
Now multiply that kind of effort over the last 18 years on a nearly annual basis.
You can even include the one I missed.
SO, he does it again and again. Must be a cake walk.
Lining up multiple groups and performers, like Mr. Kite's Benefit,
spectacle assured, jaw dropping talent coordinated,
a broad range of effect across all these distinctly different shows
and that points at something or someone special.
I. for one, can see that neon finger light flashing all the time.
I thought it was for the men's room at the Full Circle Brewery where he held all of these fabulous shows.
But when I went inside there was Blake and I realized what it signified.
He's the guy.
with a bunch of guys and some girls
and bunches of more groups of musicians and dancers and you name it, putting on just amazing shows.
All for the benefit of a meal served at noon on Saturdays at Roeding Park, here in Fresno California.
A meal which very recently, perhaps miraculously, reached a 25-year milestone in unbroken Saturday servings.
Difficult to admit, but a significant role therein was played by this shadowy organizer, putting money in a budget,
where neither previously existed, allowing us to consistently supply our own staples such as beans and rice,
assuring a quality meal resource every time,
always meeting the need for serving containers, spoons, whatever is required to deliver hot beans, soup and salad safely to whoever wants some enough to join the line leading to the FNB banquet every Saturday.
The list of materials, necessary tasks and out of pocket expenses could discourage a smaller group of individuals
or a less dedicated lot.
Working with resources and supplies that fluctuate week to week encourages flexibility and imagination.
But all of that is nearly nothing in comparison to the logistical time suck of putting together a single event with multiple participants on a particular day.
Just once.
But- Not once!
Many, many, and a few more times.
so far.
I suppose Blake has enough charm, skill and appeal to put it all together in a heartbeat.
I could be wrong though. It might have taken some doing.
If so, I can only hope he enjoyed it enough to continue as he has.
It could be the story of Sisyphus, and Blake will roll our rock uphill forever.

I'm voting for that.

What an amazing self-created job, entirely his idea,
done with such virtuous virtuosity, for quite some time now (but not long enough),
you could almost resent the guy for wielding so much creative power with such flair.
A compassionate soul and appreciative eye,
tying together the sophisticated independent music world across California and further still,
while nourishing local music history and traditions with acclaim and involvement.
And for God's sake,
helping FNB make a long-term difference
in the Roeding Park area,
for a very long time.
So far.

Let the wider community of mindful, creative solution-oriented observers
join in a chorus of appreciation for this unbalanced act of pure giving.
For which he has not so much as taken a proper bow.
He continues to coax contributions and crack the whip of "Hey guys and gals, Let's put on a show!"
despite the limitations of social gathering, a virtual caucus of the incredibly numerous performance artists
who have participated in a mile long, decades old string of events to further the cause of a simple meal,
every Saturday at Roeding Park. This is his latest effort at bringing attention to the good works of others,
these amazing performers he summoned forth to take the stage on our behalf.
For this, please keep your eyes peeled...

Do not let the prestidigitation fool you. He may not touch his Theremin when it is in full flight,
but he has touched more lives than anyone could count, because that largely inaudible, unseen effort
maintained a frequency that might have been mistaken for background noise or the conversation of angels.
But we know what that neon finger is trying to tell us, now.

Thank you, Mr. Jones.

And thank you all, as well, to the many, many performers who have followed those waving hands
in support of Fresno Food Not Bombs.
What an amazing act.
What incredible shows.
What a great band!

Despite a giant catalog of unforgettably heartfelt, community conscious music and performance-

That is Sweet, Sweet Blakes Badass Song.

We are 100% volunteer and depend on your participation to sustain our efforts!
Get Involved
If you'd like to help with maintaining or developing the website, contact us.