From the Open-Publishing Calendar
From the Open-Publishing Newswire
Indybay Feature
Defend UCSF Bernard Zakheim Murals & Keep Them At UCSF-Protect The "Biddie" Mason Story
A press conference was held at UCSF Parnassus campus on 11/19/20 to call for the proper protection of the Bernard Zakheim Toland Hall murals on the history of medicine in California. They include "Biddie" Mason the most famous early Back Californian who came to California as a slave, freed herself and was a midwife medical worker. She later was able to buy property in Los Angeles and contribute to a church and other activities. Speakers also called for them to stay at the campus.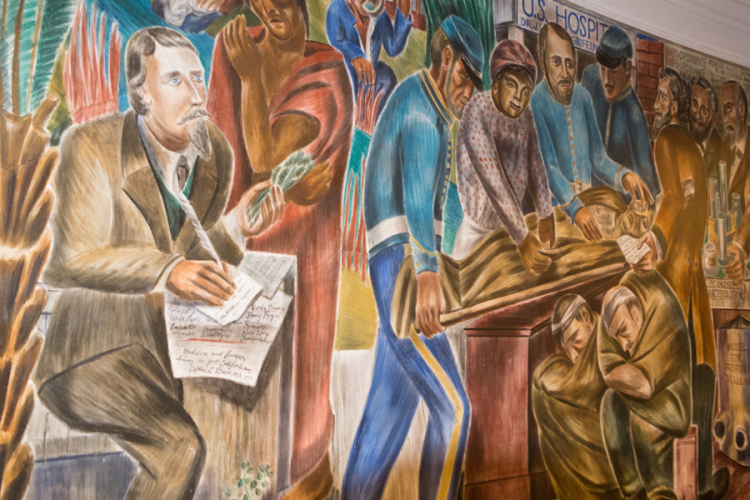 UCSF executives and administrators have been trying to destroy and permanently remove the UCSF Toland Hall Bernard Zakheim murals.
They first proposed that they did not have the money to preserve them for a new building and then after publicity and protests said they would preserve them but did not say that they would stay the UCSF.
A press conference was held on 11/19/20 in front of UCSF to call for the protection of the murals and for them to remain on public view at the campus.
Speakers included Lope Yapa Jr. GWHS Alumni Ass. VP, Lisa Milos UPTE UCSF worker rank and file member, Steve Zeltzer LaborFest and by remote Nathan Zakheim Art Restorer and son of Muralist Bernard Zakheim and Harvey Smith with People's Park Historic District Advocacy Group.
Additional media:
SF Murals Under Assault: From The Arnautoff GWHS Murals to Zakheim UCSF Toland Hall Murals
https://www.youtube.com/watch?v=xF58DB38SdE
CA Black History Under Attack By UCSF Execs, Bernard Zakheim's Murals & Bridget "Biddy" Mason
https://www.youtube.com/watch?v=XJ-1jwjDC_s
The Arnautoff GWHS Murals, Identity Politics, Privatization & Public Education
https://www.youtube.com/watch?v=iVF0eDdK5iw&t=29s
Production of Labor Video Project
http://www.laborvideo.org
UC – Public Institution or Predatory Corporate Institution?
November 19, 2020 Contact: Harvey Smith, harveysmithberkeley(at)yahoo.com
The following comments are made on behalf of People's Park Historic District Advocacy Group, a nonprofit organization dedicated to the preservation and improvement of the People's Park as both an important historical site and neighborhood open space. We see the struggle to preserve the "History of Medicine in California" murals as the West Bay version of the struggle to preserve People's Park in Berkeley.
UC is operating in a similar manner in both San Francisco and Berkeley, showing a lack of concern for its surrounding communities. Its behavior is more akin to a predatory corporation than a public institution by threatening destruction of public art, demolition of three historic buildings, eviction of rent-controlled tenants, destruction of a cultural and history legacy and public open space, and formation of a partnership with an anti-tenant real estate corporation.
The plan by UCSF to demolish the frescoes created by Bernard Zakheim in the Toland Hall auditorium in UC Hall needs to be replaced with an alternative that would preserve the murals and display them for the public on the UCSF Parnassus Heights campus.
These murals, created in the 1930s through support from the Works Progress Administration, have educated and inspired generations of the public and students of UCSF. They are threatened with destruction when UCSF demolishes Toland Hall to make way for a new building. However, the murals are entirely removable and could be conserved, removed, stored, and reinstalled by UCSF in its new facility. Instead UCSF contacted the family of the artist and asked it to remove the murals at the family's expense. Additionally the ownership status is under review by the federal General Services Administration calling into question UCSF's right to destroy artwork it does not own.
We disagree with these actions of UCSF and are aware that the Mission Bay campus of UCSF has a public art program to which a percentage of construction cost was dedicated. Surely a small fraction of new construction cost at Parnassus Heights would fund a public art collection that could include the historic Zakheim murals and many new art works. Why is the Mission Bay precedent not being followed for the new multi-billion dollar facility on Parnassus Heights?
This is all particularly disturbing because the multicultural content of the murals portrays the long history of the diverse people who have participated in the healing arts within our state. Why would UCSF suppress this history at a time when California is seen as a state that has made some successful strides in tackling the issue of diversity within the health professions?
Although our major issue is with the murals, we are also concerned about the "Carved Frame" oak carving (Carved Frame) by Michael Von Meyer and James Warrender that was also commissioned as part of the WPA Federal Art Project and is located in Toland Hall. Likewise it should be conserved, removed, stored, and reinstalled by UCSF in its new facilities.
Both the murals and the wood carving are part of an amazing array of public art in San Francisco created by the New Deal. This heritage is recognized worldwide and brings viewers to the City to see it. Many of them go to Coit Tower where Bernard Zakheim's work is also represented. Stripping part of this legacy from public view is unacceptable; conversely ways of making it more accessible should be sought.
UC is not bound by local landmark status and has stated it is above any local regulations or resolutions. In its arrogance, does it also feel it is above local sentiment and local pride in the City's artistic and historical legacy?
We urge the Board of Regents to address the general issue of public art. The purpose of Dr. J. Michael Bishop, Nobel Laureate and Emeritus UCSF Chancellor, in establishing the Mission Bay art collection was "to create an environment that will be a credit and benefit to the entire community, a stimulating and pleasant place to work and visit, and a permanent legacy to the city." This purpose should apply equally to UCSF Parnassus Heights. Why is Chancellor Hawgood not advocating for public art in general and in particular defending the Zakheim murals?
San Francisco and many other California cities have percent for art programs, as do 23 states. California and its public university system do not, and this allows UC at whim to have a percent for art policy or not. Now is the time for the UC Regents to correct this and develop a UC statewide percent for art program, as well as developing an alternative to destroying the art in Toland Hall.
We demand UCSF include project alternatives that protect all of the art work in Toland Hall and develop a plan for its display in preferably a new location on the UCSF Parnassus Heights campus with increased public accessibility and interpretation.
Meanwhile, across the Bay UC Berkeley staff is making the rounds of Berkeley's City Council and commissions presenting its Long Range Development Plan (LRDP). After its presentations, UCB staff have gotten a lot of critical comments, for example, being accused of attempting to devour Berkeley and turn it into another Irvine, CA, with its ghastly array of glass-box high rises. UCB's Project #1 was skewered, a proposal to build a multi-story housing and commercial block on Oxford Street between University Avenue and Berkeley Way, which would unnecessarily destroy three historic buildings (one of them is by one of Berkeley's master architects) and displace residents of 1921 Walnut Street – a rent-controlled building with many longtime tenants.
UCB plans a public-private partnership for the project, teaming up with the Prometheus Real Estate Group. This is the same corporation that spent many millions as the fourth largest contributor fighting the passage of the rent control initiative, Proposition 21. Prometheus is headed by Jackie Safier whose foundation is contributing $500 million to the Parnassus Heights project.
UCB is partnering with an exploitive corporation to deal with its budget deficit created in part by its ill-fated investment in a new (now empty) football stadium with luxury boxes that never produced a profit and the added deficit created by the COVID crisis. In its scramble for cash, UCB is monetizing land it's purchased in Berkeley outside the campus boundaries.
The City of Berkeley and neighborhood groups are involved with lawsuits regarding UC overreach and its potential impact on the community.
In the time of a pandemic with no foreseeable end, the eminent threat of urban-wildland fires, and the ever present threat of a major earthquake, it is difficult to contemplate why UC would think of giving up the open space of People's Park, the Project #2 site.
The recent growth plans of the university will push Berkeley to the limits and override its capacity to accommodate this unfettered growth. The two proposed housing projects with their proposed public-private-partnership investment schemes seem to be a vehicle for capitalizing on the need for housing by selling out the Berkeley community to pad the university's budget. At the rate it's going, soon the university will surround Berkeley, not the other way around.
People's Park Historic District Advocacy Group has an alternative that would bring the city, the university, and the South Campus community together to preserve and improve the park as both an important historical site and an important neighborhood open space. For details, go to peoplesparkhxdist.org.
San Francisco, Berkeley, or California doesn't expect UC to be pushing destruction of public art or disruptive real estate plans. A world-class institution of public education should not behave in this manner.
UCSF should save this California monument to Black history-Racist UC Executives Aim To Destroy Zakheim Murals
Murals painted at UCSF in the late 1930s by artist Bernard Zakheim depict scenes from California's medical history, from the Spanish era into the early twentieth century. Zakheim, a Diego Rivera-collaborator, was regarded as one of the finest muralists of his day. The most celebrated panel features Biddy Mason, a Georgia slave turned California philanthropist and entrepreneur. (Photo courtesy Richard Rothman)
https://www.sfexaminer.com/opinion/ucsf-should-save-this-california-monument-to-black-history/
COMMUNITY CONTRIBUTOR
Oct. 7, 2020 4:30 p.m.
By Kevin Waite
The long, hot summer of protest is drawing to a close in an unexpected way: not with the toppling of another Confederate monument, but with the removal of a mural celebrating a former slave.
None of the common combatants in the culture wars – antiracist activists, QAnon conspiracists, or even your casually bigoted uncle – are present this time. The culprit here is one of the nation's wealthiest universities located in one of its most progressive cities.
UC San Francisco (UCSF) kicked off a firestorm of protest this summer when it announced plans to remove ten New Deal-era murals, including one featuring an African American pioneer, from a central campus building. The removal was necessary, university spokespeople claimed, to make way for a multi-billion dollar campus redevelopment project. As of yet, there are no plans to display the murals again – they'll simply be stashed in a warehouse – despite loud complaints from virtually every corner of the state.
The murals that UCSF seems so eager to forget were once hailed as the "jewel of the university's art collection." The Jewish-immigrant artist Bernard Zakheim painted them at UCSF's request in the late 1930s. They depict scenes from California's medical history, from the Spanish era into the early twentieth century. Zakheim, a Diego Rivera-collaborator, was regarded as one of the finest muralists of his day.
The murals are significant not only for their aesthetic value but also for their subject matter.
The most celebrated panel features Biddy Mason, a Georgia slave turned California philanthropist and entrepreneur. Born into slavery in 1818, Mason's road to freedom and eventual fortune was long and tortured. She was forcibly taken from Georgia to Mississippi to Utah and finally to Southern California in the early 1850s. Across this 3,000-mile journey, she remained enslaved.
Only in 1856 – six years after California had technically outlawed human bondage – did Mason finally win her freedom in a Los Angeles courtroom. Despite persistent gender and racial discrimination, she launched a long, successful career in nursing and real estate, eventually accumulating a fortune that made her among the wealthiest women of color in the American West.
The mural – the first known artistic representation of Mason – depicts her tending to patients in the streets of Los Angeles. Shown in the center of a group of white doctors, she radiates authority and healing power. Such positive portrayals of women of color from this period are exceedingly rare. The mural is a tribute to Black empowerment, an urgent symbol for our fractured age. It merits not only preservation but celebration.
The university was apparently ignorant of the mural's historic and symbolic significance until news broke this July in a Los Angeles Times op-ed. Despite the media scrutiny and public outrage that followed, UCSF has taken few meaningful steps toward safeguarding this important piece of Black history – or any of the other murals for that matter.
So far, the university has played the villain in this narrative. But it's not too late for administrators to step into the role of hero. To do so requires clear moral leadership and a relatively modest outlay of resources.
UCSF has a $4 billion endowment. Use a tiny sliver of that immense wealth in the service of art and history. Issue a concrete proposal to not only preserve but also to redisplay the murals, whether in a campus building or a designated museum. Numerous art and heritage experts have already stepped forward over the course of this controversy. Draw on their expertise to ensure these murals receive the care and the prominence they deserve.
The historic nature of our present moment lends a special urgency (and irony) to UCSF's actions.
While Kamala Harris makes history as the first woman of color on a presidential ticket, one of the most powerful institutions in her hometown plans to remove a tribute to another Black female pioneer. As this mural attests, Harris is merely the latest in a long line of barrier-breaking Black women in California.
If there was ever a time to celebrate Biddy Mason and the legacy she left, it's now.
What UCSF does (or fails to do) will have an impact far beyond the halls of the university or even San Francisco's arts community. The decision will say a great deal about what images merit preservation, whose stories get told, and ultimately whose history matters.
When even the wealthiest institutions fail to honor our shared cultural heritage, to celebrate Black advancement and the American past, how can we expect others to do the same?
Kevin Waite is an assistant professor of history at Durham University in Britain, and the co-director of a collaborative research project on the life and times of Biddy Mason, funded by the National Endowment for the Humanities.
Save the UCSF Murals
https://sfrichmondreview.com/2020/09/05/commentary-save-the-ucsf-murals/
BYSUNSET BEACONON SEPTEMBER 5, 2020 • ( 1 COMMENT )
It's Happening…Again?
Things should go well for UC San Francisco. They're a major employer and – as pointed out in a recent Zoom presentation with Nancy Pelosi – their research and patient care have protected San Franciscans and benefited our country from the AIDS crisis to the current pandemic.
But hubris enters the picture when UCSF assumes that its priorities are the same as all San Franciscans. The case in point is their proposed redevelopment of the Parnassus Heights campus. Big. 'UGE. Too big to fail?
A section of "The History of Medicine in California" at UCSF by artist Bernard Zakhein. The mural faces an uncertain future as UCSF moves forward with redevelopment plans. Photo by Richard Rothman.
Some residents beg to differ. And among them are friends of the Zakheim murals. The series of 10 New Deal-era fresco panels, located in the one-story Toland Hall auditorium appended to UC Hall, portray "The History of Medicine in California" from before the Spanish conquest up until their 1938 painting. Seven stories in height, the 1917 UC Hall is the oldest building on campus, and served as its first hospital. UC Hall was on the chopping block in 1996, with the plan calling for the removal and conservation of the murals "at an appropriate facility." But it survived, and the 2014 long-range plan called for its being seismically-retrofitted and converted to housing by 2019. That didn't happen either.
This time, UCSF means it. In fact, they have issued a request for proposals to remove the Zakheim murals, possibly even before the environmental impact report (EIR) is certified. This poses problems. A lot of problems. 'uge problems.
Photo by Richard Rothman.
Under the California Environmental Quality Act (CEQA), an undertaking of this scope has to account for its impacts on a variety of environmental factors. One of these is cultural resources, such as historic buildings and murals that have been recommended as San Francisco landmarks. One of the purposes of the EIR is to account for these impacts, provide alternatives to avoid them, and offer mitigation for any they consider "unavoidable."
But draft EIR contains only the wimpy usual suspects, states the destruction of the Zakheim murals is likely "unavoidable," and offers digital representations on a website. Not only is that an insult to the nature of the WPA-funded public art – meant to be experienced by the public themselves – it is also not sitting well with those who honor Biddy Mason, a freed slave who is shown as an equal among white doctors in one panel. That was progressive in 1938, but in this summer of unrest over race and representation, UCSF hopes we won't notice if they, well, go away. In fact, they're counting on it.
So even before the draft EIR public comments are in, UCSF issued the request for proposals (RFP), with an original deadline of Aug. 28. Oops. That was too early on a number of counts. For one thing, UCSF gave the Zakheim family 90 days to remove the murals on their own, at their own expense, by Sept. 2. And AFTER that they would publish a RFP in the Chronicle. Oops again. So they quietly moved the RFP deadline back to Sept. 11 – that day of infamy that also happens to be the deadline for EIR comments. And then they plan to stash them in a UCSF warehouse, without climate control, for at least five years.
Want some more problems? If the Zakheim murals were paid for with WPA funding back in the 1930s, they belong to the American people, under the auspices of the General Services Administration. What happens if you take someone else's property and hide it in your garage – or, in UCSF's case, your warehouse, where nobody can see it?
And what about the artist's rights, under the California Art Preservation Act? More problems for UCSF.
A hand bill seeking supporters of the movement to save the murals. Photo by Lope Yap, Jr.
Will it happen this time? The friends of the Zakheim murals say no, that the murals' demolition is very much avoidable. They've said no in newspaper articles across the country, on the air at KGO Radio 810AM with John Rothmann, and even on stickers all around the UCSF campus. And they mean it. They won't be going along quietly. And some lawyers are going to be busy for the next year(s). Because while we may argue about the best way to portray our country's difficult history with race and representation, public art like this does belongs to all of us – giving us the opportunity to celebrate the overcomers like Biddy Mason, and to challenge us to find ways to talk about things like Indians and missions, quacks and snake oil salesmen – which are all in "The History of Medicine in California."
Is it happening? Watch this space.
IS THAT BIDDY MASON IN A UCSF TOLAND HALL FRESCO?
HTTPS://BIDDYMASONCOLLABORATIVE.COM/IS-THAT-BIDDY-MASON-IN-A-UCSF-TOLAND-HALL-FRESCO/
BY LAURA VOISIN GEORGE
May 26, 2020
Is that Biddy Mason in a UCSF Toland Hall fresco?
I first saw a photo of this mural during my Ph.D. research on U.S. Army Surgeon John S. Griffin. This remarkable scene shows Dr. Griffin being assisted by a black woman as he treats a soldier with malaria. While additional archival sleuthing is needed to definitively identify her, the assistant appears to be Biddy Mason. Beginning in 1856, she was employed in Dr. Griffin's civilian medical practice as a nurse, as well as being a renowned midwife and an expert in herbal medicines.
The image is one of ten frescoes on the walls of the Toland Hall auditorium, located on the Parnassus campus of the University of California, San Francisco. (A mural is an image painted on a wall or ceiling, while "fresco" refers to the technique of painting on wet plaster.) Together, the Toland Hall murals portray the history and development of medicine in California, from the healing practices of indigenous peoples through the first decades of the twentieth century. Toland Hall was built in 1917, and the murals were created between 1936 and 1938, with funding from the Federal Art Project, part of the WPA.
In 1934, at the height of the Great Depression, a group of San Francisco artists had lobbied for murals depicting contemporary San Francisco life on the recently-constructed Coit Tower. One of the artists who organized this local Public Works of Art Project, was Bernard Zakheim. Another Zakheim fresco, "Community Spirit" at the Alemany Health Center, inspired UCSF professor of pathology Isabella Perry to recommend the commissioning of Zakheim to paint murals in Toland Hall; this proposal was championed by UCSF professor (and medical historian) Chauncey Leake. Zakheim, a Jewish native of Poland, had been a prisoner of war during WW I and sought political asylum in the U.S., moving to San Francisco in 1920. Ten years later he met Diego Rivera, who – after creating a series of large-scale public murals in post-Revolution Mexico City – painted a number of murals in San Francisco in the early 1930s. Zakheim subsequently studied with Rivera in Mexico, and also in Paris.
Zakheim was assisted in the Toland Hall frescos by the artist Phyllis Wrightson, whose sketchbook for the project captures her extensive research into California's medical history. In part, she relied on Henry Harris' California's Medical Story (1932). Wrightson also designed some of the details in the murals, transferred them to the auditorium walls prior to the application of the plaster, and did some of the painting.
But the murals were controversial. Zakheim's Social Realism style and left-leaning politics led to protests about the murals (as well as faculty comments that the murals distracted students from lectures in the auditorium). Following Dr. Leake's departure from UCSF in 1942, the murals were covered with wallpaper, which was subsequently painted. Leake returned to the campus in 1962 and worked to have the murals uncovered; they were restored in the mid-1970s by Zakheim's son Nathan.
Zakheim's description of the murals, particularly of the panel of the history of medicine in 1840s-1860s Southern California with Dr. Griffin and the African-American woman, did not mention Biddy Mason. So how and why was she included? A tantalizing clue is that George D. Lyman was among the collaborative team of UCSF doctors involved in the Toland Hall murals. Dr. Lyman wrote the "Foreword" of A Doctor Comes to California: The Diary of John S. Griffin, Assistant Surgeon with Kearny's Dragoons, 1846-47, which was edited by George Ames and published in 1943. Lyman served as the President of the California Historical Society and he had an extensive private collection of historical sources. Although Dr. Griffin's diary only extends to 1847, Lyman may have done further research about him, including Griffin's post-1856 collaboration with Biddy Mason. The photograph of this panel that I first saw is included in the first of Viola Lockhart Warren's 1954-1955 series of articles about "Dr. John S. Griffin's Mail, 1846-1853." Warren's work (after Lyman's death in 1949) is the most extensive biography of Dr. Griffin to date, and she refers to "Bitty Mason" assisting him by providing nursing care to new mothers. Warren was a lecturer in medical history at the University of California, Los Angeles from 1953 to 1958, and she was the wife of Dr. Stafford L. Warren. They both received their bachelor's degrees at U.C. Berkeley in 1918 and married in 1920. Stafford went on to complete a medical degree at UCSF in 1922 and he was named the first dean of the UCLA Medical School beginning in 1947. Viola Lockhart Warren's later research about Griffin suggests that the Warrens knew Dr. Lyman – and that Biddy's identity (if not the correct spelling of her name!) was known among the doctors involved with the Toland Hall murals in the 1930s. This awareness of Biddy's importance to medical history likely led to her inclusion in the mural.
Once COVID-19 restrictions allow libraries and archives to re-open, perhaps Phyllis Wrightson's sketchbook for the Toland Hall murals in UCSF Special Collections will confirm that the name of the woman portrayed assisting Dr. Griffin is indeed Biddy Mason. Yet even if there is no further information there, the documentation of Biddy Mason's work with Griffin and the connections among the doctors and lecturers consulting on the UCSF murals who were familiar with it, make a case for this being a representation of Biddy's role in the development of medicine in 1850s and 1860s Los Angeles.
Sources
Allen J. Balderson, "Memorial Service for Artist Bernard Zakheim at UC-San Francisco, January 21," University of California San Francisco News/Public Information Services, published online,
https://books.google.com/books?id=n_c2AQAAMAAJ&pg=RA1-PA11&lpg=RA1-PA11&dq=alemany+public+health+center+zakheim&source=bl&ots=pQF0rQ1m0h&sig=ACfU3U0qx-rTznDIqTv0o4BKVkYwg8eUvw&hl=en&sa=X&ved=2ahUKEwiazsDXk5nqAhWTJzQIHQ6FCF8Q6AEwA3oECAoQAQ#v=onepage&q=alemany%20public%20health%20center%20zakheim&f=false
, accessed June 23, 2020.
"Bernard Baruch Zakheim" record, Bernard Zakheim Collection, 1902-2010, UCSF Library,
https://ucsfcat.library.ucsf.edu/search~S0/?searchtype=t&searcharg=bernard+zakheim+&SORT=D&extended=0&SUBMIT=Search&searchlimits=&searchorigarg=tzakheim+bernard
, accessed June 23, 2020.
"Diego Rivera," Encyclopaedia Britannica, published online by Encyclopaedia Britannica,
https://www.britannica.com/biography/Diego-Rivera
, accessed June 23, 2020.
Polina Ilieva, "Recent Acquisition: Bernard Zakheim Collection," published online by Brought to Light, UCSF Archives & Special Collections,
https://blogs.library.ucsf.edu/broughttolight/2015/02/24/recent-acquisition-bernard-zakheim-collection/
, accessed June 23, 2020.
Chauncey Leake, "Toland Hall mural tour by Chauncey Leake" video recording, 1976, published online by University of California, San Francisco,
https://archive.org/details/cum_000015
, accessed June 23, 2020.
Robert Schindler, "Toland Hall Murals: An Oral History" video recording, 1996, published online by University of California, San Francisco,
https://archive.org/details/cum_00001
, accessed June 23, 2020.
Jean Shiffman, "Restoration of Coit Tower's Murals: SF's Monument to the Fresco," published online by San Francisco Travel,
https://www.sftravel.com/article/restoration-coit-tower-murals-sf%E2%80%99s-monument-fresco
, accessed June 23, 2020.
Robert S. Sherins and Bernard Zakheim, History of Medicine in California, Articulated in Frescoes: The Story Behind the Murals of Toland Hall, UCSF, manuscript published online,
http://robertssherinsmd.com/files/books/7-Toland%20Manuscript.4.pdf
, accessed June 23, 2020.
Viola Lockhart Warren, "Foreign Doctors in the Pueblo of Los Angeles," The Historical Society of Southern California Quarterly, Vol. 34, No. 4 (December 1952), 309-326.
Biddy Mason: 5 years a slave in San Bernardino, she became wealthy in DTLA
https://www.dailybulletin.com/2020/08/30/biddy-mason-5-years-a-slave-in-san-bernardino-she-became-wealthy-in-dtla/
In downtown Los Angeles, Biddy Mason Memorial Park's timeline wall sketches the remarkable life of a 19th century slave who was brought to San Bernardino, won her freedom in court and became revered in L.A. as a nurse, midwife, property owner and philanthropist.
(Photo by David Allen, Inland Valley Daily Bulletin/SCNG)
By DAVID ALLEN |
dallen [at] scng.com
| Inland Valley Daily Bulletin
PUBLISHED: August 30, 2020 at 8:00 a.m. | UPDATED: August 30, 2020 at 8:00 a.m.
Her name was Bridget, but she was known as Biddy. Biddy Mason is one of the most consequential people ever to live in San Bernardino, a slave who became free, and, improbably, wealthy.
Do you know her story? Not enough do. Here's an abbreviated version.
Born into slavery in 1818 in Georgia, Mason was acquired by a Mississippi farmer who, with a caravan of other Mormon converts, traveled to Salt Lake City, Utah, in 1848.
Three years later, some 450 Mormons volunteered to start a colony in San Bernardino, including Mason's owner, Robert M. Smith. They trekked across the Mojave Desert, with Mason again walking most of the way, driving the animals and cooking.
In San Bernardino, which soon swelled to 3,000 people, the colony had at least 30 Black slaves, with Smith's 14 slaves making him the largest slaveholder in the western United States. Slaves in California? We were a free state on paper, but, already exemplifying our future "live and let live" philosophy, most Californians looked the other way.
Biddy Mason likely didn't know there was no legal force requiring her servitude. Who would have told her?
Fate intervened. A land dispute led Smith to quit the church and prepare to take his slaves and family to pro-slavery Texas. Someone ratted Smith out to authorities and a writ of habeas corpus compelled him to prove his slaves were leaving for a slave state willingly.
Smith would actually have had a good case based on state Supreme Court precedent, researcher Sarah Barringer Gordon told me. But after District Judge Benjamin Hayes issued a pre-trial opinion on Jan. 19, 1856 that Mason and the other slaves "are entitled to their freedom and are free forever," Smith skipped town, thus ending the case.
Mason stayed in Los Angeles, where she went to work for Dr. John Griffin, a White physician, as a nurse and midwife.
That is remarkable. So is this: The former slave and the doctor are depicted side by side in a 1930s WPA mural at UC San Francisco, ministering to a malaria patient as equals.
Then there was Mason's business acumen. In 1866, she paid $250 for two lots on then-rustic Spring Street, the first property she had ever owned. She built a wood-frame house that became a community hub and the meeting place of the First African Methodist Episcopal Church.
She continued buying property and made shrewd deals, even though she never learned to read or write and signed her name with an elaborate X. Considered a leading citizen, her occasional business disputes made the Times.
When she died, on Jan. 15, 1891, at age 72, she was worth $300,000, the equivalent today of $8.5 million.
Meanwhile, that UCSF mural, one of 10 panels illustrating highlights of California medical history, is now threatened with demolition. That sparked an op-ed in the L.A. Times last month that caught my eye.
I spoke Thursday with the co-writer, Kevin Waite, via a Zoom call to London. Yes, a transatlantic call, all to learn more about a woman from San Bernardino.
Waite, a Mason researcher and assistant professor of history at England's Durham University, is from Pasadena, so he's no stranger.
The facts of Mason's life are somewhat "elusive," Waite told me. But he and Barringer Gordon have a three-year grant from the National Endowment for the Humanities to research Mason and early Black life in Los Angeles.
They kicked things off in January with a presentation at the Huntington Library in San Marino and their website, BiddyMasonCollaborative.com, went live on Friday.
Gordon, a University of Pennsylvania professor of history and constitutional law, expects to make multiple visits to San Bernardino and Los Angeles in search of property and tax records, among other things. She's bought a condo in Pasadena as preparation.
"Already," she told me by phone Friday, "we've learned much more than we ever expected."
In writing the other day about my Metrolink trip, I mentioned here that I'd gone to downtown Los Angeles to visit a site connected with a San Bernardino historical figure and invited your guesses. Sue Payne, Mike Brossart and Ruby Leavitt got it right.
I was in search of Biddy Mason Memorial Park, 333 S. Spring St., tucked between a parking garage and the Bradbury Building.
I'd been there at least twice before, both times with pedestrian advocates from Claremont. Bob Herman had taken me by in 1999 while showing me the sights. That was my introduction to Mason's story. Jacqueline Chase and Grace Moremen had done the same in 2015.
This was the first time I was actively looking for the memorial, and naturally even with the address I couldn't find it. I'd remembered the location as the Reagan Building on the east side of Spring. After circling the block on foot, my maps app set me straight and I crossed Spring to the west.
This urban development was a far cry from the acre with a ditch of water and a willow fence Mason had bought more than 150 years earlier.
A corner by the elevators has a Betye Saar piece representing the wood-frame house. Then comes the plaza with its centerpiece, an 80-foot-long poured concrete wall with a timeline of Mason's life by Sheila Levrant de Bretteville.
It starts with "Biddy Mason born a slave" and ends "Los Angeles mourns and reveres Grandma Mason." Impressions of a wagon wheel, an agave leaf and a midwife's black bag are inset into the concrete along the way.
Thirty years after its completion, the memorial is startlingly modern. It's spare and elegant, like the "X" that Biddy Mason used as her signature.
Waite called her "an amazing woman who walked across this country as a slave and then won her freedom and went on to become one of the wealthiest women in L.A."
Barringer Gordon told me: "Her freedom unleashed what was clearly a remarkable talent."
There is, sadly, no memorial to
CA Black History Under Attack By UCSF Execs, Bernard Zakheim's Murals & Bridget "Biddy" Mason
https://www.youtube.com/watch?v=XJ-1jwjDC_s
University of California San Francisco executives are proposing the destruction of the historic Bernard Zakheim
WPA UCSF Toland Hall murals. They include the history of medicine in California including the role of
Bridget "Biddy" Mason who came to California as a slave and worked as a midwife in California.
She later became an important figure in Los Angeles and California history particularly for Black Californians.
Zakheim's murals at Coit Tower also came under attack and there was an effort to destroy them during the
1930's because they included images of Karl Marx and the Daily Worker.
Nathan Zakheim, the son of Bernard Zakheim who worked on the UCSF murals talked about their construction
and the reasons the University said they should be destroyed unless the family came up with $8 million.
Speakers in addition to Nathan Zackheim included Temi Washington – great great granddaughter of
Bridget "Biddy" Mason, Lope Yap Jr. – Vice President GWHSAA, Adam Gottstein – a native San Franciscan
and the grandson of Bernard Zakheim, Dr. Robert Sherins the author of The Story Behind The Toland
Hall Murals and Dr. Robert Cherny, author of Victor Arnautoff and the Politics of Art.
This panel was part of 2020 Laborfest.net and was held on July 25, 2020.
Additional media:
History of Medicine in California Articulated in Frescoes
The Story Behind the Murals of Toland Hall, UCSF
http://robertssherinsmd.com/files/books/7-Toland%20Manuscript.4.pdf
UCSF Toland Hall Bernard Zakheim mural tour by Chauncey Leake
https://archive.org/details/cum_000015
San Francisco university in talks with US government about preserving New Deal-era murals slated for destruction
https://www.theartnewspaper.com/news/san-francisco-university-in-talks-with-us-government-about-preserving-new-deal-era-murals-slated-for-destruction?fbclid=IwAR12UWwksSyYJh08fwOizcpVKEhDTfFSUuEpOSstpfewdgLrvvf5lGUC9Eo
The Biddy Mason Story
https://youtu.be/uvlXfCuCVAY
Bridget "Biddy" Mason (U.S. National Park Service)
https://www.nps.gov/people/biddymason.htm
We are 100% volunteer and depend on your participation to sustain our efforts!
Get Involved
If you'd like to help with maintaining or developing the website, contact us.