From the Open-Publishing Calendar
From the Open-Publishing Newswire
Indybay Feature
Bay Area Voter Rights & Election Defense: The NLG's Three Legal Hotlines
Election day is here! We will be sending out alerts every day this week with various resources and other announcements associated with voter and election defense. Please be sure to share out these resources to your communities and beyond.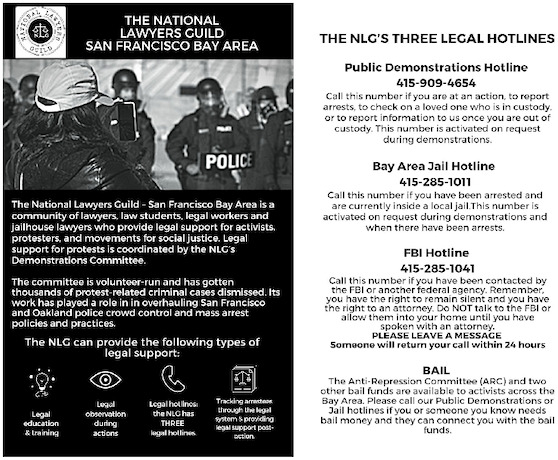 The National Lawyers Guild San Francisco Bay Area Chapter offers three legal support lines.
Download, print, and share these flyers with specifics about each hotline's purpose and contact details.
------------------------
NLGSF Legal Support & Hotlines Slide Deck
We have put together this visual resource for those within our community who are not completely familiar with the types of legal support we can provide.
Please download and share out this short slide deck we put together about our service offerings.
Download Slide Deck
------------------------
NLG Continues Intensified Mass Defense Efforts Amid Election
NEW YORK—The National Lawyers Guild (NLG) is continuing its mass defense efforts in preparation for the possibility of a contested US presidential election, and uprisings that may emerge as a result. Many
NLG chapters
are partnering with
Election Protection
to provide volunteer attorneys, legal workers, and law students in the interest of fair and free elections.
The
NLG Mass Defense Program
has had an extremely busy year following the police murder of George Floyd and the mass movements for racial justice that reemerged this summer—and which continue today. Fueled by our volunteer members at
local chapters
, the Mass Defense Program is an organized infrastructure of Legal Observers, arrest hotlines, and on-call defense attorneys responding to mass arrests and police violence. The NLG released this
elections know-your-rights page
to help voters protect themselves and their vote, and defend themselves from instances of voter suppression, harassment, or intimidation they may encounter at the polls.
Additionally, responding to broad concerns about the possibility for unlawful orders regarding the election, the NLG's
Military Law Task Force
(MLTF) is providing new and expanded resources for attorneys, GI rights advocates, and servicemembers, including a phone line (619-463-2369) for free, confidential telephone consultations with attorneys to discuss possible illegal orders and related issues.
See here for additional MLTF election-related resources for service members and advocates
.
As an organization committed to supporting peoples' struggles for liberation, the NLG categorically refuses to provide legal support to white supremacists or other hate groups, who are repeatedly encouraged and emboldened by Trump and his administration. Regardless of who becomes the next US President, the NLG will continue its 83-year-long legacy of working in solidarity with communities fighting for a better world, where people and the planet are valued over profit and property.
Resources:
•
Election Organizing: Know Your Rights & Legal Support
•
NLG Military Law Task Force: Election-Related Legal Resources for Service Members and Advocates
•
NLG Know Your Rights Booklets
(English, Spanish, Arabic, Urdu, Bengali, Farsi)
•
Protect My Protest: Know Your Rights Hub for Protesters
by
Defending Rights and Dissent
The National Lawyers Guild, whose membership includes lawyers, legal workers, jailhouse lawyers, and law students, was formed in 1937 as the United States' first racially-integrated bar association to advocate for the protection of constitutional, human and civil rights.
https://www.nlg.org/nlg-continues-intensified-mass-defense-efforts-amid-election/
We are 100% volunteer and depend on your participation to sustain our efforts!
Get Involved
If you'd like to help with maintaining or developing the website, contact us.