From the Open-Publishing Calendar
From the Open-Publishing Newswire
Indybay Feature
Trump regime falsely claims it ended coronavirus covid-19 pandemic
White House Statement Falsely Claiming Trump Has Ended Coronavirus Covid-19 Pandemic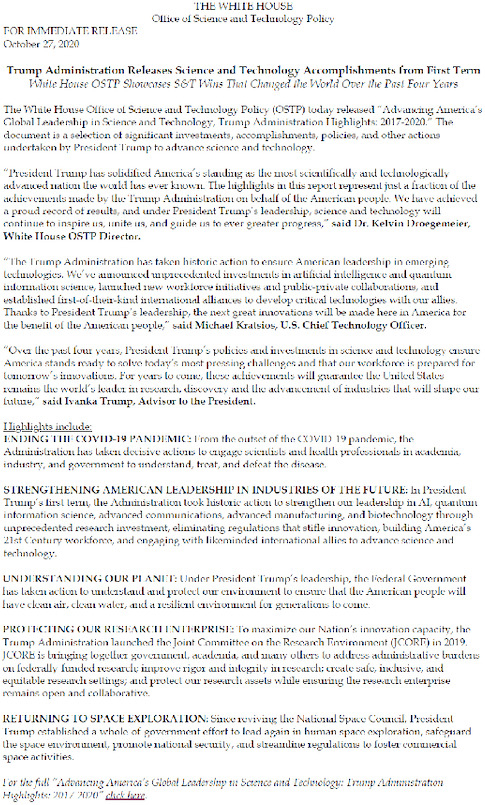 Trump regime falsely claims it ended coronavirus covid-19 pandemic
By Lynda Carson - October 28, 2020
Mocking the sick, dying, and those who are dead from the coronavirus covid-19 pandemic, in a bald face lie yesterday the
White House's science policy office ranked "ending the Covid-19 pandemic"
as one of the impeached President Donald J. Trump's top accomplishments, even as the pandemic presently is infecting around 70,000 people a day in the U.S., with over 8.8 million known coronavirus covid-19 cases across the nation, and around 227,673 loved ones who have died from the virus since the pandemic began.
The head of the above mentioned White House science policy office that falsely claimed that the coronavirus covid-19 pandemic has ended is a
Trump loyalist moron from Oklahoma named Kelvin K. Droegemeier.
Kelvin K. Droegemeier was a professor of meteorology at the University of Oklahoma, and is the impeached President Donald J. Trump's science advisor.
As of today in California, there are 914,888 confirmed covid-19 cases, with 17,460 deaths.
In Alameda County there are 23,576 known cases, with 462 deaths. As the hotspot for the coronavirus covid-19 pandemic in Alameda County, Oakland has 9,096 known cases.
In comparison, as recent as Sunday October 25, in Alameda County, there were 23,312 known cases of covid-19, with 461 total known deaths. Oakland is the hotspot in Alameda County, with 9,021 known covid-19 cases.
Coronavirus Covid-19 Pandemic Has Not Ended - CDC Guidelines
In contrast to the bald face lie of the White House's science policy office which ranked "ending the Covid-19 pandemic" as one of the impeached President Donald J. Trump's top accomplishments, there is no mention with the
Centers for Disease Control and Prevention that the coronavirus covid-19 pandemic has ended.
People are still advised to wear a face mask to protect themselves and others from the virus, to practice social distancing, wash hands often, to stay at home if sick, and to quarantine yourself if exposed to the virus.
The CDC also recommends that landlords should be deferring maintenance inside rental units for non-critical or non-life-threatening problems, and deferring routine in-unit inspections,
especially for assisted units which may have regular mandatory inspections. Owners and operators of assisted units should be aware that authorities may have issued temporary waivers or guidance regarding inspections during the pandemic.
Considerations for the unhoused in tent encampments. If individual housing options are not available, allow people who are living unsheltered or in encampments to remain where they are. Clearing encampments can cause people to disperse throughout the community and break connections with service providers. This increases the potential for infectious disease spread.
Despite the CDC guidelines and moratorium against evictions,
big corporate landlords have evicted over 10,000 people since September in five states.
Lynda Carson may be reached at
newzland2 [at] gmail.com
>>>>>>
>>>>>>
We are 100% volunteer and depend on your participation to sustain our efforts!
Get Involved
If you'd like to help with maintaining or developing the website, contact us.