From the Open-Publishing Calendar
From the Open-Publishing Newswire
Indybay Feature
Eviction crisis across the nation threatens 30-40 million people
Protesting Tenants Demanding That The Rent Must Be Cancelled: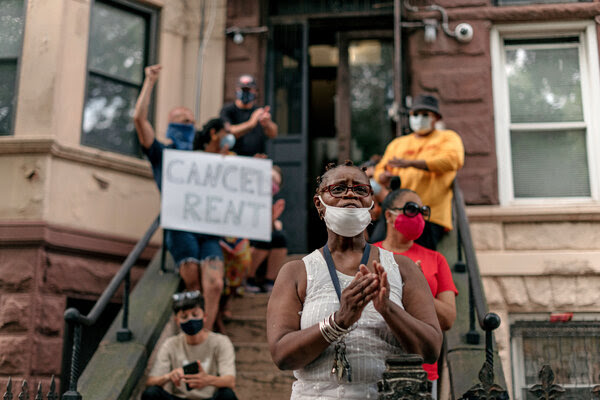 Eviction crisis across the nation threatens 30-40 million people
By Lynda Carson - August 10, 2020
Since our nation has embraced the coronavirus Covid-19 pandemic during the past 6 months due to the incompetence of the chaotic Trump regime, the U.S. may soon become the 'EVICTION NATION' of epic proportions, threatening 30-40 million people with homelessness, and food insecurity. According to the National Low-Income Housing Coalition (NLIHC), the U.S. may be facing the most severe housing crisis in its history.
NLIHC Report On The U.S. Census Eviction Data Report:
In an August 7, 2020, report from the NLIHC and its affiliates, in part it reads,
"According to the latest analysis of weekly U.S. Census data, as federal, state and local protections and resources expire and in the absence of robust and swift intervention, an estimated 30–40 million people in America could be at risk of eviction in the next several months. Many property owners, who lack the credit or financial ability to cover rental payment arrears, will struggle to pay their mortgages and property taxes, and maintain properties. The COVID-19 housing crisis has sharply increased the risk of foreclosure and bankruptcy, especially among small property owners; long-term harm to renter families and individuals; disruption of the affordable housing market; and destabilization of communities across the United States."
The Golden State Leads The Eviction Nation:
In California, the so-called Golden State, it leads the nation (#1 in probable evictions in coming months) with 31% — 48% of households at risk of eviction, including 4,149,000 — 5,384,000 people at risk of eviction, or 1,804,000 — 2,345,000 households at risk of eviction in the coming months.
According to the National Alliance to End Homelessness,
there are presently around 129,972 unhoused persons in California on any given night, with around 5,496 unhoused people in Alameda County on any given night. Around 4,071 people are unhoused in the city of Oakland, according to a different report around a year ago.
Just try to imagine around an additional million, to a million and a half more people being unhoused in the Bay Area in the coming months due to the coronavirus Covid-19 pandemic that has killed over 185,000 people across the nation, with no end in sight.
This would be a disaster of epic proportions if nothing is done to 'cancel the rents' that people have been unable to pay due to no fault of their own.
Grass roots organizations such as
Food Not Bombs would be incapable of feeding all the hungry people
that are about to be tossed out of their housing in the Bay Area in the coming months.
Additionally, according to an August 10, 2020,
rent payment tracker report by the National Multifamily Housing Council (NMHC),
out of 11.4 million residential rental units they are tracking, in comparison to August of 2019, there are 233,000 fewer households who paid their rent during August of 2020.
Bloomberg news
offers a bleak assessment of the housing eviction situation in a story
with a headline that says, "One-Third of American Renters Expected to Miss Their August Payment."
According to the Department of Housing and Urban Development (HUD)
there are around 48.5 million residential rental units in the U.S.
Just try to imagine one-third of the head-of-households residing in around 48.5 residential rental units who were not able to pay the rent during the month of August 2020, with eviction protections no longer in place in many states, and cities all across the nation.
Meanwhile,
tenants and tenant activists across the nation are protesting and demanding that rents must be canceled,
to avoid the coming eviction catastrophe unfolding before our very eyes.
Lynda Carson may be reached at
tenantsrule [at] yahoo.com
>>>>>
>>>>>
We are 100% volunteer and depend on your participation to sustain our efforts!
Get Involved
If you'd like to help with maintaining or developing the website, contact us.