From the Open-Publishing Calendar
From the Open-Publishing Newswire
Indybay Feature
Stop SF Privatization Of Balboa Reservoir & Defend SF Community College
The land grab of SF PUC owned Balboa reservoir by the developer Avalon was opposed by speakers at the Ocean campus of San Francisco Community College on July 23, 2020. They also discussed the destruction of ESL classes and the closure of Fort Mason and other campuses. The CCSF administration and Board of Trustees speakers charged are dismembering the community college and destroying the futures of immigrants, Blacks, Latinos, working class youth and the faculty and staff of the college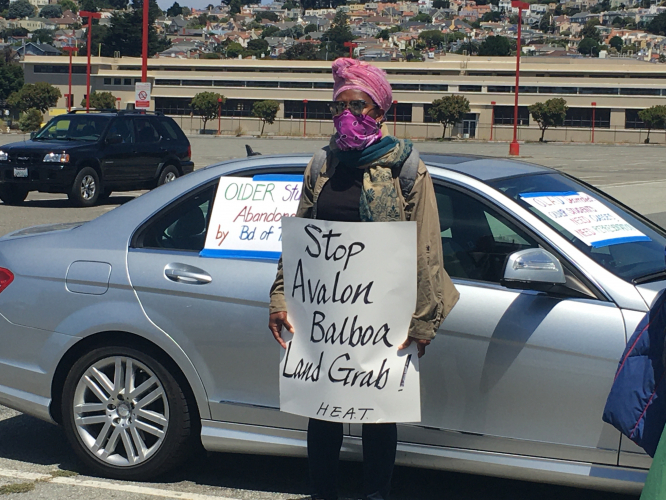 Students, faculty and supporters of public education spoke out on July 23, 2020 in front of the SF PUC owned Balboa reservoir that the City of San Francisco planning department and Mayor London Breed want to turn over the public space over to the Avalon developers for 1100 condos mostly for high paid tech workers.
Speakers talked about how it would harm the students and the future of the community college.
They also talked about the layoff of 30% of the ESL faculty destroying their opportunities to learn English. Also speakers talked about the closure of Fort Mason and the threat to other campuses.
The new Chancellor has also laid off all part time librarians threatening the right of students to have a library at SF. City college.
This even was sponsored by Higher Education Action Team HEAT
Additional media:
Stop The Closure of CCSF Ft. Mason & Other Campuses & Classes At SF Community College
https://www.youtube.com/watch?v=KUlfNdGgUVY
CCSF Art Students Do Art & MusicTo Save Ft. Mason & Stop Privatization Of Balboa Reservoir
https://www.youtube.com/watch?v=o3jdKvOHzls
Protest To Stop The Destruction of CCSF Through Elimination of ESL, Shuttering of Campuses, Privatization & Union Busting
https://youtu.be/GzGEZRrOWqY
Stop The Cuts! Hundreds of CCSF Students & Faculty Protest 300 Class Cuts AT BOT Meet-SF & CA Demos Lead The Attack On Public Education
https://youtu.be/7ohpgRD_cOg
CCSF Board Of Trustees At Meeting All Support Chancellor Rocha Cuts & Union Busting
https://youtu.be/2uwdqug6Ii4
AFT 2121 CCSF Faculty Speak Out On Rocha Budget Cuts & Public Education
https://www.youtube.com/watch?v=DCjhCG0wunc
Students, Faculty & Community Demand STOP The CUTS At CCSF With Funeral
https://youtu.be/2caDc_WN60g
Shooting Yourself In The Foot & Increasing Executive Salaries At CCSF By Chancellor Rocha
https://youtu.be/3esO55xUlp8
Speak-out On Privatization of Balboa Reservoir For Developers Which Threatens SF City College
https://www.youtube.com/watch?v=SbeRvY-HRhY
BUSTING up CCSF! CCSF Chancellor, Bd President & Bd Majority Wrecking City College
https://youtu.be/pizpoBQcQuQ
The Downsizing & Privatization Of CCSF "Vision 2025" & The Secret Illegal CCSF Board Meetings
https://youtu.be/JhDq_BakeQo
Privatization and Destruction of CCSF
https://www.youtube.com/watch?v=SnDjK5RAkes&t=2s
Build The PAEC NOW! Stop The Privatization & Developers Rip-off Scam
https://www.youtube.com/watch?v=xkGMe_w6JaU
Conflicts of Interest, CCSF & The Attack On Public Education Privatization With Kathy Carroll
https://www.youtube.com/watch?v=ux4mRloWBEA&t=3s
Public Education, Privatization, Corruption And The
Destruction Of Our Schools
https://www.youtube.com/watch?v=S_eu5u70tTE
"Are You Out Of Your Minds"? AFT 2121 Faculty Challenge CCSF Board On Mark Rocha Appointment
https://www.youtube.com/watch?v=CEZpOS8p4gQ
For more information:
https://ccsfheat.wordpress.com
CCSF Collective
https://www.ccsfcollective.org
Production of Labor Video Project
http://www.laborvideo.org
Balboa Reservoir project appeal filed by CCSF community members
https://www.sfexaminer.com/news/balboa-reservoir-project-appeal-filed-by-ccsf-community-members/
IDA MOJADAD
Jul. 21, 2020 5:30 p.m.
An appeal of the Balboa Reservoir project's environmental review filed by City College of San Francisco community members will be heard next month, the group announced Tuesday.
The appeal was filed June 19 on behalf of Madeline Mueller, Wynd Kaufmyn, and Alvin Ja and is backed by the Public Land For Public Good coalition, which is seeking to boost the 1,100-unit development's affordable housing ratio. It calls for an Environmental Impact Report (EIR) to be conducted for a version of the project that is 100 percent below-market-rate housing.
"You cannot approve a project based on a defective EIR," said Stuart Flashman, the attorney representing the trio. "You're buying a pig in a poke."
The Planning Commission approved the environmental review in May, recommending that the Board of Supervisors rezone the Public Utilities Commission-owned land west of City College's Ocean Campus and south of Archbishop Riordan High School.
Core issues with the EIR revolve around a lack of transit access and affordability, and the fact that the analysis that doesn't take coronavirus impacts into account, the appeal said. Developer AvalonBay would pay $10 million in fees for transportation sustainability but opponents remain concerned about traffic congestion.
The San Francisco Municipal Transit Authority has cut most bus service across The City due to the coronavirus pandemic and expects up to 40 bus lines, some of which run by City College, to remain cut until a different source of revenue arrives.
The appeal also takes issue with the assessment and funding of affordable units, which would make up half the planned units. The City is supposed to fund 17 percent of the total units but faces a projected $1.7 billion deficit over the next two years.
Below-market-rate units would be reserved for residents who make up to 120 percent of the area median income, or about $143,000. About 150 units would be reserved for City College faculty.
Some opponents also object to the sale of public land to a developer to make 550 units of market-rate housing for $11.4 million — a fraction of the usual cost for San Francisco property, the Chronicle reported.
Some neighbors support the project, however, saying it will bring affordable units and public benefits to the area. About four of the 17.6 acres would be reserved for public uses, like a childcare facility and play space.
"The City really can be proud of going about this process the right way," wrote Steve Marzo, an Ingleside resident, in an Examiner op-ed. "At a time when the city needs housing above all and the budget is incredibly strained, we can't let this opportunity slip away."
The Board of Supervisors will hear the appeal in August.
We are 100% volunteer and depend on your participation to sustain our efforts!
Get Involved
If you'd like to help with maintaining or developing the website, contact us.