From the Open-Publishing Calendar
From the Open-Publishing Newswire
Indybay Feature
Today in the early morning, a broad coalition of organizations — including APTP — held a series of coordinated actions to "wake-up" City Councilmembers at their homes and demand they #DefundOPD and #DefendBlackLife.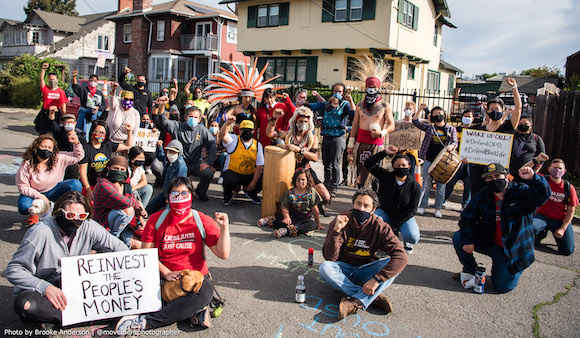 GOOD NEWS: we got Councilmember Gallo to verbally commit to a $150 million cut at this morning's action outside of his house!

Now we have to do everything we can to hold Gallo and the rest of Oakland city leadership accountable to the people's demands: DEFUND OPD AND INVEST IN COMMUNITIES!

We need you to send emails, call, show up at the next city council meetings and more.
For the past 5 years, APTP's Defund OPD committee has been leading the call to defund the police and invest in our communities.

Spurred by the murders of George Floyd, Breonna Taylor, Tony McDade, Steven Taylor, Dujuan Armstrong, and too many other Black lives taken by police, tens of thousands of Oaklanders have taken to the streets to demand that the City #DefundOPD.

Yet Libby Schaaf continues to dig her heels in and say she will not do it, but instead will waste more of our dollars on police reforms.

Send an email to Libby and to the Oakland City Council demanding that they defund OPD!*
*Note: when drafting your email, make sure to add your own unique subject line, and for best results, a short personalized message at the very top of your email.

Oakland is in the middle of its mid-cycle Budget Revision. We have an opportunity RIGHT NOW to reduce the police budget.
Join us in demanding that Libby Schaaf and the Oakland City Council:
Reduce OPD's allocation from the General Fund by 50% (roughly $150 Million);
Disallow unauthorized overtime by OPD;
Invest in housing, jobs, youth programs, restorative justice, mental health workers and other services that actually keep the community safe.
50% is only the first step. Our ultimate goal is to disband and abolish OPD.



Why? We've seen reforms tried: body cameras, cultural competency trainings, implicit bias trainings, crisis intervention trainings, oversight bodies, reports and studies. Nothing has worked.

That's because the very foundation of policing doesn't work. If police, policing, and incarceration kept us safe, we would be the safest country in the world because we criminalize and incarcerate more people than any other country on the planet.

The People of Oakland are sick of seeing OPD's budget bloated, while every other service in our city that could actually keep us safe — like housing, healthcare, education, and youth programs — get starved.

It is time to divest from the police and invest in the people. We Keep Us Safe.
On MONDAY the Oakland City Council will submit their budget amendments and on TUESDAY they're meeting to make considerations on these amendments.
Once you've emailed Libby and the Oakland City Council, starting tomorrow, we also need you to call our city council targets. 
Here's how:
Dial 510-238-7001 for Councilmember Dan Kalb, District 1
Dial 510-238-7005 for Councilmember Noel Gallo, Distrcit 5
Dial 510-238-7006 for Councilmember Loren Taylor, District 6
 
Once a staff person answers, state your name, that you're a resident of Oakland, and:

"OPD takes almost HALF of Oakland's general fund each year, and that percentage has skyrocketed in the past two decades — consuming desperately needed resources from essential city programs and vital services.

The investment in policing has not made us safer. OPD remains an embarrassment to the city and a lethal threat to Oakland's Black and Brown communities.

I demand that the city: (1) Defund OPD's share of the general fund by at least 50%; (2) discontinue unauthorized overtime by OPD; and (3) invest in housing, jobs, youth programs, restorative justice, mental health workers, and other services that make communities stronger and keep us safe."
Cops taking a knee while murders continue and Libby hosting town halls on "structural racism" are platitudes.

We need to divest from the system that is harming Black lives. Period. Anything else is just media talking points and pointless pacification.
Once you've emailed and called, make sure to join us at the upcoming City Council meeting this Tuesday at 1:30pm to make your voices heard!
What: Oakland City Council Meeting
When: Tuesday, June 16 at 1:30 pm
Where: Online or via telephone
To observe the meeting by video conference, please click on this link at 1:30 pm on Tuesday: https://us02web.zoom.us/j/86285023815

To listen to the meeting by phone, please call this number at the noticed meeting time: (669) 900-6833, Webinar ID: 862 8502 3815 (If asked for a participant ID or code, press #)
To make public comment: ALL PUBLIC COMMENT ON ACTION ITEMS WILL BE TAKEN AT THE BEGINNING OF THE MEETING UNDER ITEM 1 OF THE AGENDA, so please login at 1:30 pm to put yourself on the queue to speak.

Once you've placed yourself in the queue to speak, the City Clerk will call your name or phone number when it's your turn to speak. You will need to unmute yourself to speak when you are called.

At the beginning of your comment, please note that you are speaking on agenda item #7 (FY2020-21 Midcycle Budget Amendments). You will be given a limited time to speak (most likely 1 minute). 
Click here to find the full meeting agenda.
Finally, if you're new to Anti Police-Terror Project, we meet on the 3rd Wednesday of every month, which means our monthly general meeting is coming up!
We are 100% volunteer and depend on your participation to sustain our efforts!
Get Involved
If you'd like to help with maintaining or developing the website, contact us.