From the Open-Publishing Calendar
From the Open-Publishing Newswire
Indybay Feature
SFUSD School District Ignored Plans to Save GWHS Victor Arnautoff Murals
The SFUSD school board in previous years agreed to put up signage for the GWHS Victor Arnautoff murals but never carried out the agreement.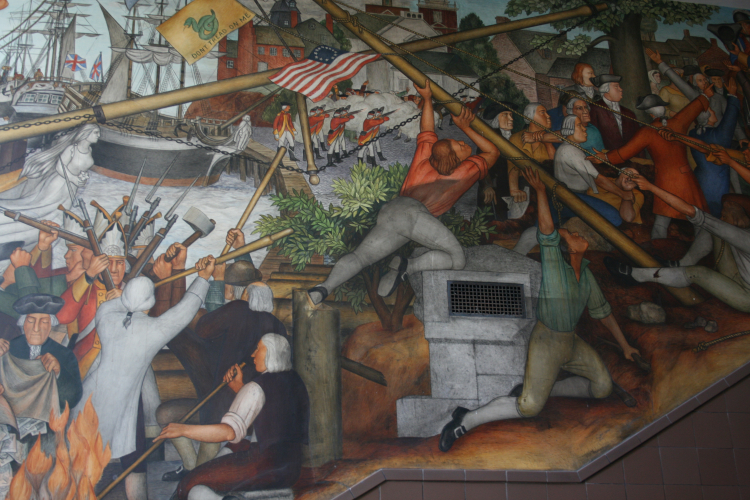 SFUSD School District Ignored Plans to Save GWHS Murals

BYSAN FRANCISCO RICHMOND REVIEWON FEBRUARY 28, 2020 •
(Editor's note: this is an updated version of the story that ran in the March issue of the Richmond Review newspaper. A minor error has been corrected.)

By Thomas K. Pendergast

New information has emerged that the San Francisco Unified School District's (SFUSD) Board of Education broke a deal decades ago, setting the stage for the present controversy about the George Washington High School murals. A 1968 agreement indicates that a deal was reached to keep the murals in place but include plaques beneath each one explaining the history left out of the murals, which was not done.

The agreement also included a plan to paint a new alternative mural, which was eventually commissioned and completed.

The school's alumni association recently proposed six points to resolve the issue.

Last August, the board, on a 4-3 vote, backed off a previous unanimous vote in June to cover more than a dozen "Life of George Washington" murals with paint, thus permanently destroying the artwork. Now the plan is to preserve them but cover them over with some kind of solid material.


A section of the controversial mural at George Washington High School. Courtesy photo.
The artwork is controversial because it includes images of Afro-American slaves that Washington owned, and pioneers walking past the corpse of a First Nation warrior, with the first president standing off to the side and pointing the way forward. Critics of the 83-year-old murals say these images are not appropriate for a high school because they traumatize some students.

Artist Victor Arnautoff painted the series of frescoes in the school's lobby area as the building was completed in 1936, during President Franklin Roosevelt's New Deal era. The project was funded through the federal Works Progress Administration (WPA), which created many public schools and libraries throughout San Francisco and the nation, including George Washington High School.

A Russian immigrant who became a communist after studying art under the renowned muralist Diego Rivera, Arnautoff practiced "social realism" with his art, which often contained critical social commentary from a leftist point of view.

Members of the Reflections and Action Committee which called for the destruction of the murals, however, say the artwork does not represent SF Unified School District values and that the depictions in the mural "glorify slavery, genocide, colonization, manifest destiny, white supremacy and oppression."

Because covering the murals with panels would require an Environmental Impact Report, plus materials, the project would likely cost between $645,000 and $825,000 and take about a year to complete.

The high school's alumni association recently proposed six ideas to avoid all this:

First, recognize that this mural series is "one of the finest collections of New Deal art in the entire nation;" retain the existing Arnautoff and Crumpler murals and also honor the 1974 commitment to muralist Dewey Crumpler to preserve Arnautoff and Crumpler murals into the future; prepare mural plaques which provide mural education and explanations; establish annual mural and art teaching week, to begin with an all-day assembly and workshop; establish a $500,000 endowment to protect the murals and create and fund a special permanent scholarship program for five graduating seniors annually; recommend the GWHS Alumni Association and the SF Unified School Board jointly accept and approve the proposed "six-point GWHS Mural Teaching and Educational Program."

"These recommendations represent a package or suite of programmatic actions that, taken together, can provide the students, George Washington High School faculty and staff, school board and the entire community a working and lasting solution to the challenges before us all," they wrote to the school board, in a letter signed by alumni president John Rothmann and vice president Lope Yap.

Meanwhile, archived in a box within the San Francisco Public Library system are several documents which shed some light on the history of this controversy.

There is, for example, a small paragraph in a program from the 25th anniversary celebration of Washington High School in 1961 which clearly states "the famous murals in the main lobby were the source of another famous tradition. 'Meet you under the dead indian' is a familiar sound you will hear."

But it is a copy of a letter from Nov. 4, 1968, that opens up a window into the time of the previous controversy involving these murals, when some students wanted them to go.

The report is from Herbert R. Simon of the district's Department of Art Education to the superintendent at the time, Dr. Robert Jenkins. It details a series of meetings between board members and students from the Black Students Union about the murals.

According to the report, a board member offered that the "slave panel" be covered over and that a supplementary mural be planned for another location in the school.

"The student reaction to these proposals was negative," the report said. "They felt that the slave panel should be left uncovered and that the other panels should be covered. The reason for this suggestion was that the slave panel was the only panel that 'told the truth.' The other panels did not tell the truth because the contributions of the Black Man were omitted. The reaction to a supplementary panel was also not acceptable.

"A short discussion followed on the Arnautoff murals and how they did not tell the full story. One of the student representatives suggested that a plaque be placed under the mural pointing out the 'lacks' in the mural. This suggestion was well received and much discussion followed. It was finally recommended that a plaque be placed under each panel. The information to be included on the plaque would be prepared by students under the supervision of a consultant. Several Black historians were mentioned as possible consultants. …

"At the close of the meeting the above notes were reviewed and it was agreed that the following course of action would be taken: the murals will remain as they are; plaques will be placed under each panel of the mural. The content of the plaque will be prepared by the students under the direction of a consultant; a supplementary mural will be planned for a suitable location in the school. The planning for this mural will include the entire student body, under the direction of a faculty sponsor selected by the Black students."

The artist eventually chosen to paint the alternative murals, Dewey Crumpler, recently commented on that time and the years that followed, during a forum at the Palace of Fine Arts on Feb. 22.

"Even though the school board neglected the point that I made 50 years ago, that unless they permitted and created a plaque to explain those murals, that we would be right back in this space again, the murals sufficed but time is irrelevant when the information is not available and young people need information, and they need guidance," Crumpler said. "The school board's decision to erase history is not a good one. And thank goodness we have people who have arisen to this task to fight ignorance and erasure."

But people at the forum were not all of the same opinion, as Kanyon Sayers-Roods, of the Mutsun Ohlone tribe, made clear.

"This particular conversation is very one-sided," Sayers-Roods said. "There is an agenda. There is bias. And in a lot of your arguments there have been dismissals, multiple…. This is one-sided, and it's very aggressive in using civility politics to silence voices. It is not a safe space here.

"Fifty years," she said. "Why haven't the students been educated about it in the way that we keep hypothesizing and projecting? Do it."

San Francisco public defender and former SF Supervisor Matt Gonzalez pointed out that as times change, so do standards.

"There has been an evolution of standards and how we think about things," Gonzalez said. "I do not believe that art is so pure that you can never take it down. I think that monuments to public figures should be revisited and make sure they're meaningful from our contemporary time and place."

He said that he was shocked, however, when he heard that some students were reportedly traumatized by the murals.

"But I wanted to be open to that. And I want to be sensitive that that could in fact be happening. But I also want to then try to step back from it and say 'what would be the rule that we adopt if we simply go with that one response to the murals.' I mean, are we going to impose a rule that says whenever a group of us are traumatized by something that we're going to tear that down?"
Alice Walker Letter To Lope Yap, Jr. On Victor Arnautoff Murals

February 5, 2020
Sent Via Email to Lope Yap, Jr.

To Whom It May Concern re: the Victor Arnautoff murals at Washington High School in San Francisco
From Alice Walker, writer, poet, and mother of a Washington High School Student

It is never a good idea to destroy art; it is a better idea to explain
it. That is what education helps us do; that is what Washington High School can help us do, with the present controversy over the Victor Arnautoff murals that depict George Washington in a truer light than most other works and histories. Sometimes it is hard to see what is good for us; that is why we have teachers. Teachers are some of my favorite people in the world because of this. Though it is a heavy burden, the attempt to depict truthfully some of our often disastrous history, it is one that the dedicated teachers of our children must undertake.

We do not want ignorance for our young; that is why we send them to school. We do not want them to face life in a rosy colored fantasy whose every perceived "truth" is a fabrication designed to keep them
enslaved. Ignorance is a kind of slavery, perhaps the most
profound. George Washington, like other presidents the US has had, was in many ways, a monster. It is well known, now, though this was hidden for a couple of centuries, that he was chasing (his slave catchers were)to recapture her, a runaway woman, Ona Judge,* whom he owned, at the time of his death. After his death, his wife, Martha, continued the chase. The reality that he, and subsequent US presidents, presided over the genocide of the Indigenous population of this land, the Native Americans, and over the enslavement of Africans brought here to basically build the country, is not possible, any longer, to cover up.

What to do? Washington High is an institute of learning: Learn from this history.

Blessings on all who struggle with this issue. It is well to do so.

This is our country. It is time we begin to create it in the image we prefer.
Truth, though harsh, is also a wonderful light. We can be brave and truly comprehend where we've been, and from that experience, see more clearly where we need to go.

With love and faith, Alice Walker

*Never Caught page2image1636512Ona Judge by

My contribution to this endeavor to live with the truth rather than fantasy is to offer ten copies of Dunbar's book to the school library and to visit the school at some point to discuss it with selected students. I will also invite my daughter and grandson to accompany me. From my experience, true learning is a grassroots effort, our own enthusiasm is ignited when those who love us demonstrate their concern.

Letter From Danny Glover To George Washington High School Alumni Association On Victor Arnautoff

FROM THE DESK OF DANNY GLOVER


February 24, 2020

Lope Yap, Jr.
George Washington High School Alumni Association

Dear Lope,

I attended George Washington High School. I walked those long halls. And, as a young man still in school with my life before me, I saw those murals every day. They are part of my education. They are part of me. Arnautoff, back in 1936, saw President Washington two ways: As a champion of democracy AND as a deeply flawed slavery owner. He recognized the paradox and used 22 fresco paintings to reveal a brutal honesty.

As an actor, activist and as a human being, I look back on that part of our Nation's history with pain and shame. As a civil rights activist and as one who strives to improve the human condition, I seek to make lives better for all. Burning books is never an answer. Painting over is never an answer. Hammers and nails to cover up the murals are not the answer. As an artist, a performer, and an actor, I have a unique understanding of the power of story – and how stories teach.

Those murals are a platform for "never again." They are an opportunity to teach.
And, they represent an obligation that we have to each and every student that now walks

the same long halls. To Susan Cervantes, Dr. Cherny, John Learned, Barth Chief Eagle Robinson, Enrique Chagoya, Professor Crumpler, Matt Gonzalez, Dr. Gray Brechin and Robert Flynn Johnson – I send my profound thanks to each for standing up, speaking out and challenging the School Board to do better and to be better.

To John Rothmann and Lope Yap at the Alumni Association, and the many others who organized this important event, I thank you for the invitation to participate.

Mural Strong.

Sincerely,

Danny Glover


We are 100% volunteer and depend on your participation to sustain our efforts!
Get Involved
If you'd like to help with maintaining or developing the website, contact us.