From the Open-Publishing Calendar
From the Open-Publishing Newswire
Indybay Feature
Pacifica Corporate Bylaw Sabrina Jacobs Was In Charge of "Rebuild WBAI Project"
KPFA programmer, former Vice Chair of Pacifica and supporter of the Pacifica bylaws that would eliminate staff representatives was also put in charge of "rebuilding WBAI". She supported the shutdown of the station and prevented the WBAI members from speaking at a Pacifica Board meeting saying that they had a conflict of interest.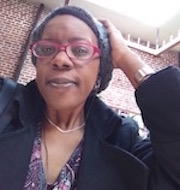 Sabrina Jacobs of Pacifica Foundation Proudly Announces the Rebuild WBAI Project

From: Ilene Proctor
Date: Monday, October 28, 2019
Subject: Sabrina Jacobs of Pacifica Foundation Proudly Announces the Rebuild WBAI Project

Media Contact, Ilene Proctor

310-858-6643 Cell: +1 310-721-2336


FOR IMMEDIATE RELEASE


Spokeswoman: Sabrina Jacobs
Vice Chair/Acting Chair
Pacifica Foundation
Parent organization of
WBAI 99.5FM NYC

The Pacifica Foundation is excited to announce the Rebuild WBAI Project.
Because of WBAI-FM's severe budget crisis, previously hired staff had to be laid off. Contrary to the ongoing misinformation campaign, WBAI has never left the air, was not shut down, nor is it being sold. The move was necessary due to WBAI's desperate financial situation, which jeopardized the station and all of Pacifica's other units and affiliates across the country. The only way to prevent the demise of WBAI and Pacifica as a whole was to halt the financial hemorrhaging in New York.

The Pacifica Foundation, the parent organization of WBAI, introduced new temporary WBAI programming with the goal of re-introducing locally produced shows as quickly as possible. That service, Pacifica Across America which was launched on October 7th 2019, is a compilation of the network's best, current and archived broadcasts. Important shows like Democracy Now!, The Thom Hartmann Show, The Jimmy Dore Show have remained on the air.

The Rebuild WBAI Plan offers a starting point for our New York audience to discuss how sustainable local programming can be introduced, and to begin the work of making WBAI a relevant service that impacts the lives and informs a critical mass of the Metro New Yorker listenership.

WBAI will produce unique programming of regional, national and international importance. This new and improved programming will include conversations about income and wealth inequality, climate crisis, immigration, white supremacy, racism, corporate power and militarism -- WBAI will be fearless in examining some of the most pressing issues of our time.

Pacifica is committed to making WBAI a station that will produce serious radio for these perilous times. Based on available funding and keeping with best journalistic practices for fairness and accuracy, the station will introduce locally produced content focused on the New York metropolitan area.

John Vernile, interim Executive Director, will be rebuilding WBAI's staffing and operations. Working with the Pacifica National Board, Vernile has and will continue to dedicate himself to establishing a financially viable plan to restore WBAI. Jerry Paris, the general manager of WPFW, will be temporarily serving as Interim General Manager of WBAI. Moe Thomas, will continue to serve as the Chief Engineer of Pacifica's Eastern Division.

WBAI resides in the largest radio market in the U.S. The Rebuild WBAI project is a chance for New Yorkers to step up to the challenge and make WBAI a station that provides quality programming that can attract and retain a supportive, engaged listenership.

To listen to WBAI, go to 99.5 FM or stream at WBAI.ORG

The new chapter of WBAI's story begins now.

Stay tuned!

The Pacifica Foundation Mission Statement

To establish a Foundation organized and operated exclusively for educational purposes no part of the net earnings of which inures to the benefit of any member of the Foundation.

To establish and operate for educational purposes, in such manner that the facilities involved shall be as nearly self-sustaining as possible, one or more radio broadcasting stations licensed by the Federal Communications Commission and subject in their operation to the regulatory actions of the Commission under the Communications Act of 1934, As Amended.

In radio broadcasting operations to encourage and provide outlets for the creative skills and energies of the community; to conduct classes and workshops in the writing and producing of drama; to establish awards and scholarships for creative writing; to offer performance facilities to amateur instrumentalists, choral groups, orchestral groups and music students; and to promote and aid other creative activities which will serve the cultural welfare of the community.

In radio broadcasting operations: to engage in any activity that shall contribute to a lasting understanding between nations and between the individuals of all nations, races, creeds and colors; to gather and disseminate information on the causes of conflict between any and all of such groups; and through any and all means compatible with the purposes of this corporation to promote the study of political and economic problems and of the causes of religious, philosophical and racial antagonisms.

In radio broadcasting operations: to promote the full distribution of public information; to obtain access to sources of news not commonly brought together in the same medium; and to employ such varied sources in the public presentation of accurate, objective, comprehensive news on all matters vitally affecting the community.

If you would rather not receive future communications from Ilene Proctor International Public Realt, let us know by clicking here.
Ilene Proctor International Public Realt, 9427 Charleville Blvd., Beverly Hills, CA 90212 United States
We are 100% volunteer and depend on your participation to sustain our efforts!
Get Involved
If you'd like to help with maintaining or developing the website, contact us.