From the Open-Publishing Calendar
From the Open-Publishing Newswire
Indybay Feature
The beautiful sound of vintage guitars
This is a very rare Kay electric lap steel guitar made around 1939 that was bought at a flea market at Laney College for me by
Oakland's Master Luthier Ervin Somogyi
back around 1985 for only $25.00. It still works though I had to replace the original crumbling Kluson machine heads on it. Some of the first commercially made electric lap steel guitars came out around 1932 by Rickenbacker guitars with what was called the Frying Pan electric lap steel guitar. Charlie Christian helped to make electric guitars popular in the late 1930s and he paved the way for modern electric guitar players.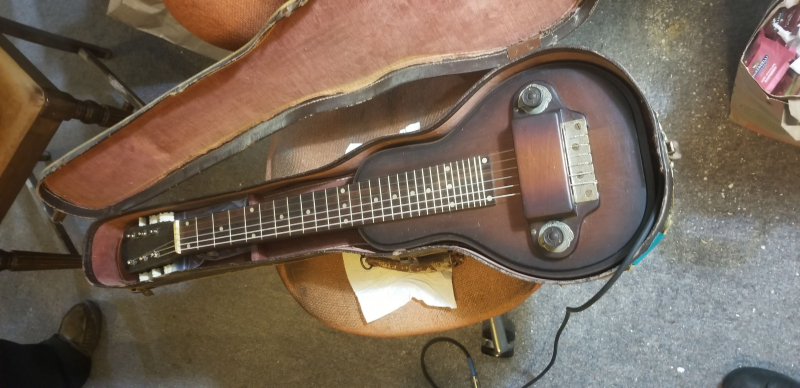 The beautiful sound of vintage guitars
By Lynda Carson - January 2, 2020
Years ago back in the early 1980s, I had the wonderful experience of being around and working on many beautiful vintage guitars. After a while I could easily tell the sound of a Gibson Les Paul, compared to a Fender Stratocaster. For those of you who may not know, years ago the big five American guitar builders were known as Gibson, Fender, Martin, Guild and Gretsch, and many of the serial numbers used to determine the age of
many of these guitars may be found by clicking here,
or
here.
Reportedly, some of the most expensive guitars in the world
may be found by clicking here,
and
here.
Back in the early 1980s, I used to repair guitars in Hollywood at Guitar Villa for store owner Pak Lew, and I later took care of around 100 vintage guitars being rented out at nearby Studio Instrument Rentals (S.I.R).
At the time
Guitar Villa
specialized in selling vintage guitars to many of the professional musicians recording nearby at
Clover Studios,
and Goldstar Studios, Crystal Sound Studios, Paramount Recording Studios, and Studio Instrument Rentals (S.I.R.) had some recording studios directly across the street from Guitar Villa, which was different than S.I.R.'s main studios and headquarters nearby on Sunset BLVD.
PaK Lew had many vintage guitars at Guitar Villa to offer to the many professional musicians recording nearby, including some beautiful old vintage Rickenbacker guitars, Vox tear drop guitars, many Gibson guitars, Fender and Martin guitars. I used to love the sound of the old vintage Rickenbacker guitars and Vox tear drop guitars that looked so beautiful.
Sometimes
Mark Mothersbaugh of Devo
who was a friend of Pak Lew would hang out at Guitar Villa, and I recall the day when
Wendy O, and the Plasmatics
came into Guitar Villa on a buying spree with lots of money from a record label recording contract. On Saturdays, Guitar Villa would fill up with many students from nearby
Guitar Institute of Technology (GIT)
to try out the guitars, and show off their latest licks they learned in school. It seemed like there were a lot of Al DiMeola wannabees at the time showing off their guitar licks at Guitar Villa back in those days from GIT.
While I was at Guitar Villa, John Entwistle the former bass player of the WHO bought a vintage Gibson RD bass guitar that I worked on for him and set it up the way he wanted me to. After working on his vintage bass guitar, one evening we kept the store open late just for John Entwistle to pick up his guitar. He hung out for around a half an hour chatting with Pak Lew and myself, and he was excited to try out his new bass guitar that became
part of his legendary guitar collection
before he passed away at a hotel in Las Vegas years later. He sounded great on that bass guitar that evening as he showed off his licks to Pak and myself.
Guitar Villa had many musicians coming by from the legendary
Goldstar Recording Studios
a few doors away to have their guitars repaired, or to buy some vintage guitars. For years, Goldstar Recording Studios had the legendary
Wrecking Crew working in the studios
recording many of the classic rock songs from the 1960s and 1970s, which was not disclosed on most record albums at the time. The record companies felt that the albums would not sell very well if the public knew that much of the pop and rock songs that were top 100 hits back then were actually being performed by a small group of fantastic musicians, instead of the musicians listed on the albums.
Clover Studios also had many musicians that would come into Guitar Villa
including Bob Dylan at times to buy guitar strings,
and the same fellow who owned the building that Clover Studios was in, also owned the building that Guitar Villa was in.
While I was repairing stringed instruments at Guitar Villa in Hollywood,
famed jazz guitarist John Collins
who spent years as the guitarist for Nat King Cole, rented a room above Guitar Villa that he gave guitar lessons in for many years. John used to have some vintage Gibson L-5 guitars that I would take care of for him, and he used to hang out in the repair shop at Guitar Villa chatting with me when I would work on his guitars. He enjoyed playing some music for me on his guitar after I strung it up and set it up for him, and
he was a great jazz musician
before he passed away.
Back then a friend of mine named Ron Viola who also worked at Guitar Villa was also a saxophone player for a famous band at the time called
Billy Vera & The Beaters.
At times Ron would invite me to listen to them record at
Cherokee Studios,
and that was very exciting.
I later took care of around 100 vintage guitars at Studio Instrument Rentals (S.I.R.) in Hollywood on Sunset BLVD, for the
many famous musicians and clients rehearsing at S.I.R.
who would rent the guitars for rehearsals, recording sessions, concerts and for going on tour.
I had a small guitar repair shop in a loft above the music room at S.I.R. that was managed by a fellow named Val St.Regis, and directly below my repair shop there were around 100 vintage guitars including a beautiful Corral Sitar guitar available to rent out. All the vintage guitars were sitting in a row in a large display case protected by glass, which I had the keys to. I restrung all of those guitars and set the action of everyone of those guitars real low, just like Pak Lew had me do with his guitars at Guitar Villa. I loved playing them to try them out after I worked on them, and sometimes I would invite my friend Waldo to play some music with with me using these these fine vintage guitars. Before he died, I knew
Waldo (Paul Jarvis)
who was a second engineer at nearby Music Grinders Recording Studio since we were both in grade school in Wheaton, Illinois, where I also knew John & Jim Belushi, and Wendy Woodward, the sister of famed journalist Bob Woodward.
I used to sleep on the floor of my repair shop at S.I.R. and I can recall how excited it felt to be able to listen to Stevie Nicks, Tom Petty, and the members of Fleetwood Mac rehearsing all night long at times in a room next to my repair shop. I also felt amazed one day when famed rock and roll star Chuck Berry came in to S.I.R. to buy a vintage Tweed Fender amp for his guitar from Val St.Regis. S.I.R was or still is an amazing place.
Sometimes I made some extra cash at night when Val St.Regis would set me up with some work as a roadie at the nearby
Troubadour nightclub,
and that was a real cool place with lots of history.
Two fellows named
Dolph Rempp and Ken Berry owned S.I.R.
while I was there, and sometimes Ken Berry would pay me some money to take out his expensive gray Mercedes Benz to get some gas for the car. I sure needed some extra cash at the time, and was happy to help out. I recall that Dolph Rempp used to have a beautiful vintage classic Duesenberg car, and often he would leave S.I.R. in the afternoons to go and play Polo.
For some reason there used to be a feud going on between Pak Lew of Guitar Villa at the time, and Dolph Rempp of S.I.R., and it was because of the guitar business that was very competitive in Hollywood at the time.
While I was at S.I.R. Dolph Rempp gave me two large white beautiful display cases for my repair shop I called The Loft at S.I.R., that I displayed things in. When I left S.I.R., I gave the display cases to Pak Lew and signed a receipt, and gave it to Pak. Later when Dolph found out that I gave the display cases to Pak when Pak came by to pick them up at S.I.R., Pak Lew later told me that Dolph was really pissed off at me for giving them to Pak. What a world…
After leaving Hollywood and working on all of those vintage guitars at Guitar Villa and S.I.R., I have never forgotten how exciting those times were for me to be around so many beautiful vintage guitars. That's in addition to being around all of the fantastic musicians, and being able to play so many vintage guitars that sounded fantastic, which are so valuable now.
From what I can tell, Paul Heumiller of
Dream Guitars handles many of the old vintage guitars at times,
and it would be my guess that it feels real cool for Paul to be around so many beautiful vintage guitars, and
handmade guitars at times.
For educational purposes, see a few links below to be able to hear what some of those fine vintage guitars sound like.
Lynda Carson may be reached at
tenantsrule [at] yahoo.com
>>>>>>
>>>>>>
Vintage Guitar Sounds:
Click on the link below of your choice to download as a Zip, or click on image to hear the song of your choice to hear what the vintage guitars sound like for educational purposes.
Vintage Guitar Sounds #1
https://mega.nz/#F!amBSTC6T!glBBGTilEz6FiVI0XRuouw
>>>>>>
Vintage Guitar Sounds #2
https://mega.nz/#F!n2IUyCiQ!OtgPTx0prsZ8eEkoxMBnNA
>>>>>>
Vintage Guitar Sounds #3
https://mega.nz/#F!2uYSGS7Q!-XGnF9Fs38ch8Lgk7jow0w
>>>>>>
Vintage Guitar Sounds #4
https://mega.nz/#F!r6YS0IpB!l3AqASM_XJr-HJ8ti5pvkA
>>>>>>
Vintage Guitar Sounds #5
https://mega.nz/#F!DzQEwYYQ!YFZbMqtJ--j1MAGep_21ew
>>>>>>
Vintage Guitar Sounds #6
https://mega.nz/#F!SvBGwaLK!LoEvSdzzBb-89jpFDknM_Q
>>>>>>
Vintage Guitar Sounds #7
https://mega.nz/#F!emJmhYIb!v7yM7NWg-e0RSh16EHWnHw
>>>>>>
Vintage Guitar Sounds #8
https://mega.nz/#F!ivQEFQQA!jJCK76fWDz2TZ9kO9Ov9aw
>>>>>>>
We are 100% volunteer and depend on your participation to sustain our efforts!
Get Involved
If you'd like to help with maintaining or developing the website, contact us.