From the Open-Publishing Calendar
From the Open-Publishing Newswire
Indybay Feature
Mid City Market Graduates From SF's Healthy Retail Program
Graduation Ceremony and Community Celebration for Mid City Market, a member of the "first class" of HealthyRetailSF stores, held Thursday, September 12.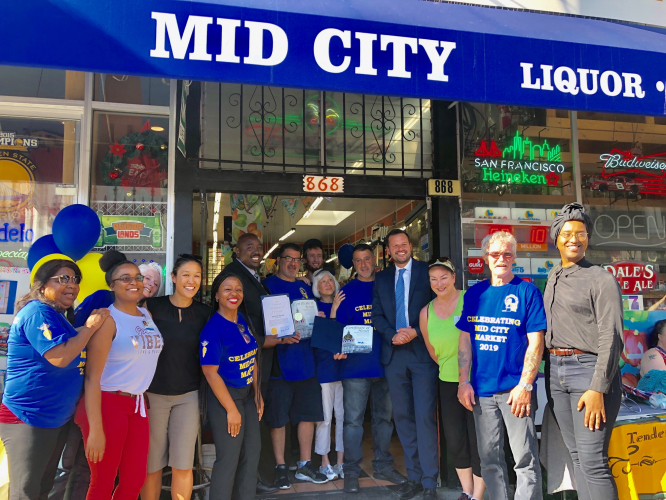 A Graduation Ceremony and Community Celebration for Mid City Market, a member of the "first class" of HealthyRetailSF stores, was held on Thursday, September 12 from 4:00 – 5:30pm. The graduation ceremony took place at Mid City Market at 868 Geary Street in San Francisco's Tenderloin and included Certificate of Recognition Ceremony with storeowners Eyad (Eddie) and Ehab Shqair, San Francisco Supervisor Matt Haney and a host of community partners.
In 2015, Mid City Market was one of five stores in the Tenderloin to undergo a healthy retail transformation through San Francisco's new HealthyRetailSF Program. Like most stores in the Tenderloin at the time, Mid City Market had a storefront covered with alcohol and tobacco advertisements and aisles and counters where unhealthy food, beverage and tobacco choices edged out the healthy options.
Historically the Tenderloin has been a neighborhood with limited options for healthy food. Many Tenderloin residents are seniors and people living with disabilities, with no supermarket, healthy food options are difficult to obtain. With energized store owners like Eyad (Eddie) and Ehab Shqair, and the support of the Tenderloin Healthy Corner Store Coalition (TLHCSC), the HealthyRetailSF Program, the Tenderloin Community, and several other community-based organizations, Mid City Market transformed into a community market that now provides its Tenderloin neighbors with a healthy balance of merchandise that includes lots of fresh fruits and vegetables and healthy snacks and beverages. And its storefront, once covered with alcohol and tobacco advertising is now filled with colorful posters of fruits and vegetables.
The transformation has been a financial success as well – overall sales of Mid City Market have increased since 2015; and the sales of produce have increased by 48%. In addition to the increase in revenue, Mid City Market saw an increase in its stature within the community; through its mentorship of new stores, Mid City Market has become a role model for store owners entering the Program and undergoing HealthyRetailSF transformations.
Mid City Market marked its "graduation" from the HealthyRetailSF program with a community celebration hosted by the TLHCSC and resident Food Justice Leaders featuring healthy food and recipe samples, games, prizes and a raffle. This was an opportunity for the Shaqairs and the community to come together to celebrate the success of bringing healthy foods and beverages into a neighborhood that was once severely lacking healthy options.
The Shqairs were on hand to celebrate and receive a certificate of recognition for their accomplishments. Their transformation and successes would not have been made possible without these additional organizations that have collaborated with Mid City Market and other Tenderloin stores: Feeling Good Project; EatSF Vouchers 4 Veggies Program; and Yerba Buena Center of the Arts.
About HealthyRetailSF
Launched in 2013, out of a partnership between San Francisco's Office of Economic and Workforce Development (OEWD) and Department of Public Health (SFDPH), HealthyRetailSF is an incentive-based, voluntary program for merchants to shift business models and make the changes they need to remain competitive, but to also provide healthier food alternatives in their communities. The HealthyRetailSF Program was established by legislation to promote healthy eating and make fresh produce and healthy products available to existing residents. It combines a community engagement approach along with store redesign and technical assistance and brings together facets of business, government, and community to make transformations a reality.
HealthyRetailSF and Tenderloin Healthy Corner Store Coalition are supported by Tenderloin Neighborhood Development Corporation, Sugary Drinks Distributor Tax funding, OEWD Invest In Neighborhoods, and the San Francisco Tobacco-Free Project. For more information about the Tenderloin Healthy Corner Stores Coalition, visit facebook.com/healthyTL and follow @tlhealthycornerstore on Instagram. For more information about HealthyRetailSF, visit:
http://www.healthyretailsf.org
.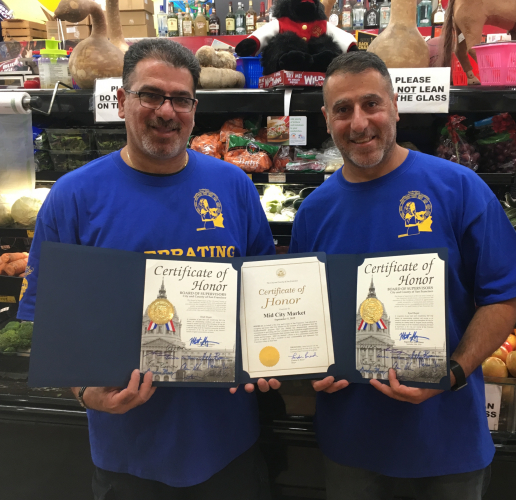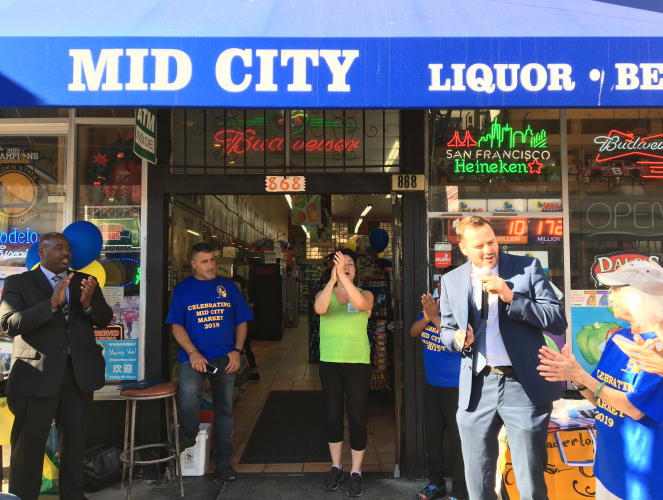 We are 100% volunteer and depend on your participation to sustain our efforts!
Get Involved
If you'd like to help with maintaining or developing the website, contact us.