From the Open-Publishing Calendar
From the Open-Publishing Newswire
Indybay Feature
Shock Doctrine: Power Grab At Pacifica To Destroy WBAI By KPFA Cabal
Using "Shock Doctrine" a cabal of people at Pacifica are trying to shutdown WBAI. It includes people at KPFA including Donald Goldmacher from KPFA, Chris Cory from KPFA and Sabrina Jacobs, the Vice-Chair of the PNB, also from KPFA a network of individuals from the Bay Area long associated with KPFA. They are supporters of "Save KPFA" and "United For Independent Radio"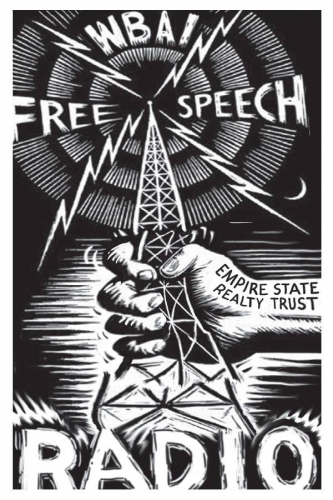 Shock Doctrine: Power Grab At Pacifica To Destroy WBAI By KPFA Cabal
September 11, 2019
Director's Report to the WBAI LSB
Presentation by Directors Rhodes, Sagurton and Steinberg
The future of Pacifica and 'Plan B'
We, the undersigned Directors from WBAI, wish to bring to the attention of the WBAI LSB and the public that a series of events has transpired in the past two weeks that should raise the alarm bells about the continued existence of WBAI as an independent radio station beaming a powerful signal in the largest media market in the country. We believe WBAI is in grave danger. Some of these events we cannot discuss explicitly because they took place in a closed session of the Pacifica National Board while other events involve confidential personnel issues. What we can tell you, based on discussions with a number of individuals that are not covered by confidentiality rules, the proceedings of open sessions of the PNB and its committees, as well as a paper trail of documents and emails and past actions by certain individuals with a history within Pacifica, is that a group of Directors on the PNB is intent on usurping the role of the WBAI LSB in evaluating management. They are intent on removing WBAI's management team by executive fiat. Furthermore the goal of these behind the scene machinations is not the revival of WBAI but its dismantling. The group of Directors behind these actions are led by Bill Crosier from KPFT, who is currently the Secretary of the PNB. Crosier has the strong backing of Director Adrienne LaViollette from KPFT, Mansour Sabbagh from KPFK, Donald Goldmacher from KPFA, Chris Cory from KPFA and Sabrina Jacobs, the Vice-Chair of the PNB, also from KPFA a network of individuals from the Bay Area long associated with KPFA. The general outlines of their plan for WBAI and Pacifica are no mystery. A recent document by long-time KPFA insider Peter Franck, called 'Plan B' makes clear exactly what they want to do.
Franck's 'Plan B' (see the appendix to this document) calls for the dismantling of Pacifica as a network and the devolution of each of the radio stations into its own legal entity. This will be accomplished by essentially scrapping the current bylaws either through a lawsuit or through the intervention of the California Attorney General. Democratically elected Local Station Boards will be gone. They will be replaced by purely advisory bodies appointed by management. The Pacifica National Board will be left to preside over a ghost of what the Pacifica Foundation has been, being left with a modest programming service. The new PNB will be smaller and weaker, ceding much more authority to the Executive Director. It will also have at least some members who are appointed rather than elected. Franck's document makes the case that starting the new legal entities and energizing the stations will take a lot of start-up cash. How is this cash going to be raised? He says the solution is simple, we can easily raise between $10 to $15 million by "swapping or selling one of our signals." Guess which signal he has in mind to finance his reorganization plan? Hint, it's not KPFA.
A little bit of recent history
It is public knowledge that Director Crosier, when he was interim Executive Director in 2017, was a strong advocate of the sale or swap, first of the WPFW license, and then of the WBAI license. Crosier was also a strong advocate, along with then CFO Sam Agarwal, of Pacifica going into Chapter 11 bankruptcy. Crosier and Agarwal opposed all efforts to find an alternative to bankruptcy in dealing with the ESRT lawsuit.
Crosier and Agarwal strongly opposed the loan that made possible the settlement of the ESRT lawsuit and the move to 4 Times Square. The people most involved in negotiating that loan, Directors Nancy Sorden, Jan Goodman and Grace Aaron, did their work in spite of the hostile reception from Pacifica's iED at the time, Bill Crosier, and CFO Sam Agarwal. Let us remind this audience that the settlement with ESRT saved us $1.9 million that would have been due if we had not gotten out of the remainder of our lease. It also reduced our monthly tower rent costs from something between $60-$70K per month to approximately $18K per month. Not only did we see a 400% saving on our Tower Rent in moving to 4 Times Square but we kept 100% of our listener coverage area and actually have a better signal than we had at Empire State thanks to a brand-new transmitter that was part of the deal with 4 Times Square.
So Crosier, who was proved dead wrong in 2017 when he said there was no good alternative to bankruptcy, is back at it again in 2019. He has once more bought into the idea, originating from some quarters in KPFA, indeed it appears he never really abandoned it, that all the problems of Pacifica could be solved by sacrificing WBAI.
The game plan
How do the group of Directors on board with Peter Franck's 'Plan B', intend to force the liquidation, one way or another, of WBAI? We already know their game plan by once more looking at some recent history. Back in the summer of 2017, Pacifica was without question in a genuine crisis. We were facing a lawsuit from Empire State for Tower rent that had not been paid in over a year and considerable penalties. WBAI, along with some other stations, also had a very poor fund drive. iED Crosier decided that the way to deal with this crisis was to send a "rescue team" to WBAI. The ostensible purpose of this "rescue team" was to help management fix WBAI. But the real purpose, it soon became clear, was to replace the WBAI General Manager and interim Program Director with a hand-picked team from KPFA. Director Sabrina Jacobs, who had absolutely no management experience, was supposed to lead this "rescue team". When we found out about this plan it struck some of the Directors at the time, notably Directors Steinberg and Aaron, as a completely irrational and panic-driven approach to a real problem. How in the world would a team from California, who knew nothing about WBAI and its culture and who had no management experience, be able to fix a problem that had been festering for years. And while it is certainly legitimate to critique the management of WBAI, it should be kept in mind that the bulk of the problems at WBAI were due to outside events about which WBAI management had no control, namely the impossible Empire State lease approved by a past PNB 15 years previously and the stripping down of three quarters of WBAI's staff by a previous PNB shortly after hurricane Sandy, leaving WBAI with less than a skeleton crew. It seemed to some of us that this plan, if it were carried out, could only destabilize WBAI and deepen its crisis further. It made absolutely no sense and we managed to shut down this idea literally at the last minute before it was launched.
Is WBAI a "failed station"?
Now move forward two years to the late summer of 2019. The Pacifica Foundation in 2019 and WBAI are in much better shape now than they were in 2017 prior to the settlement with ESRT, when things looked so bleak. We completed our 2017 audit and are close to completing our 2018 audit. Once that is done, we will be current with our audits and work can begin on the 2019 audit as soon as we close out the 2019 fiscal year at the end of September. We have pretty much paid all obligations that we owed on our pension plans, debts that had triggered off a Department of Labor investigation in 2017. Democracy Now, to whom we owed several million, forgave us that debt, thereby immediately improving Pacifica's financial profile. We have an accounting and financial infrastructure in place now that was sadly lacking in 2017 as a result of hiring NETA to do our books and provide us with other services that were once handled by the National Office. When the 2018 audit is completed and we are current with our audits, will be in a position to try to regain our CPB funding, the lack of which for the past 5 years has cost us $4-$5 million. We will also be in a position to approach foundations and major donor who all require up to date audits before considering grants. That's the situation at the national level.
At the local level we have seen some significant improvements at WBAI. The number of members rose by 1,400 over last year. That's a gain of roughly 20%. Not only is our membership up, but listenership is also up as confirmed by Nielsen ratings. This is largely due to a series of programming changes aimed at improving their quality, especially of drive time programs. And for the first time in a long time, an influx of producers has joined the WBAI staff who are under 60. In fact many of them are in their 20's and 30's. Overall this is good news for WBAI.
As for the purely financial picture at WBAI, it is considerably better than it was in 2017. Yet, WBAI is still not where we would like it to be. The improvements in members and listeners have not yet translated into significantly increased contributions from our listeners. WBAI is today still running a deficit, though one that is dramatically reduced compared to the nightmare scenario of 2017. Our general manager estimates that the total deficit for 2019 will be approximately $160K. A significant figure to be sure, but not an intractable one. To put that number into perspective, if we had our CPB funding restored to the levels we used to receive, that deficit would turn into a surplus of approximately $160K. Our monthly deficit is less than our Tower Rental expenses which are approximately $18K monthly. That is an expense that none of the California stations have. Their Tower rent is close to zero. In addition we have an expense of approximately $6,500 in studio rent. That is also an expense that the California and Houston stations do not have since they own their buildings. In addition, WBAI has recently been the recipient of significant bequests. The bulk of those bequests were given to Pacifica to use as they wish while the remainder went to paying off some past debts at WBAI. Yet despite these signs of improvement at WBAI when you consider its health in the context of other Pacifica stations, we still hear a narrative emanating from Berkeley that WBAI is "underperforming", that it is a "failed station" and that only a drastic solution can turn WBAI around. They simply ignore the incremental changes that have taken place.
WBAI is actually improving
To be sure WBAI is underperforming in the sense that it is performing well below its potential. But if you consider WBAI in relation to the other Pacifica stations, then you can hardly say it is "underperforming". All measurable criteria that we have indicates that WBAI is actually improving. It is performing better than KPFT, a station whose membership and listeners have shrunk dramatically. It is performing better than KPFK, a station that was once the power-house of Pacifica when it came to fund drives but is now facing huge shortfalls. In any case, the purpose of an assessment of the health of WBAI is not to compare it to other Pacifica stations, but to see how it can be improved further to realize its great potential.
Back to the Future
In spite of all these signs of significant improvement in the overall health of Pacifica and of WBAI, we are faced with a very real cash flow crisis that reached a critical point in September of 2019. In addition, an incident involving one WBAI producer who, according to the opinion of Pacifica's counsel, stepped over the line in terms of certain regulations, has been used to drum up an atmosphere of panic. We are hearing things like "WBAI is out of control". While these problems - the cash flow crisis, and possible violations of regulations are real enough - they are being used as a wedge in order to convince a number of Directors that the aborted Crosier plan from 2017 should be replayed in 2019. Thus we are once more hearing about why a team from California should be sent immediately to take over and manage WBAI. The goal, we believe, based on our observations not only of the words, but also of the actions of the principal players in this drama, is to turn WBAI into either a repeater station, without any local programming or staff, or to sell or swap the signal, thereby fulfilling an important part of Peter Franck's 'Plan B'. They are using the atmosphere of crisis in order to convince a number of other Directors to go along with their scheme, Directors who otherwise would be more prudent.
The shock doctrine
The mechanism of achieving consensus based on exploiting a crisis has been well documented in Naomi Klein's best-selling book from 2007, The Shock Doctrine: The Rise of Disaster Capitalism. Klein's brilliant insight was to examine how crises and disasters can be used by businesses and governments to their advantage. Under conditions of crisis, whether real or manufactured, many people are prone to let their natural defenses down and convince themselves that they must listen to "experts" who can help lead them out of the crisis by agreeing to accept harsh measures that under normal conditions they would never agree to. That is how unions are convinced to scrap decades old pension plans and benefits in order to "save jobs". That is how international financial institutions convince governments to sign onto decades of austerity. The same methods can be used on a much smaller scale, to convince a Board of Directors to take actions that are destructive of the organization in order to overcome a crisis. Indeed Klein showed that often it is advantageous to those exploiting the atmosphere of crisis to deliberately stoke the crisis and make it worse. Can this be happening at WBAI?
What about that loan?
A final footnote to this report. There has been a lot of discussion about the loan and what plans the PNB and Pacifica management have for repaying the loan. At the National level much of these discussions have been occurring on the Strategic Planning Committee, of which Director Steinberg is the Chair. Most of these discussions have been in open session and the recordings are available to anyone who wishes to listen. A plan introduced by Steinberg had been discussed for several weeks. The plan consisted essentially in holding a series of national fund drives, similar to the national fund drive in 2017 that raised significant funds to allow us to hire auditors. It was also recognized that these fund drives and other initiatives were not likely to come up with the entire balance of the loan by the time it is due. The remainder of the balance were to be handled by refinancing that portion of the loan. It is always possible to refinance a loan and is considered a standard business practice. The terms and conditions for refinancing the loan vary widely, depending on the financial condition and credit-worthiness of the borrower. We felt that since Pacifica is on the precipice of being up to date with our audits and showing other signs that our financial situation has improved, that we may be able to get some relatively good terms for a refinanced loan. We were surprised however at the reaction of our new iED, John Vernile, to this plan. He stated at the last Strategic Planning Committee meeting that the goal of fund drives should be for the entire balance of the loan, not just the $1 million projected by us. It's certainly a nice goal, but how realistic is it? Not only that but somehow this goal would be achieved on a greatly reduced schedule of national fund drives, perhaps only two Christmas special fund drives. When the question was asked how this goal can be achieved Mr. Vernile answered that the fund drives can be supplemented by approaching major donors and having a more systematic approach to soliciting bequests. It seemed to some of us that was this not a realistic plan. We also wondered why Mr. Vernile appeared to take the option of refinancing a portion of the loan off the table. It leads us to wonder where iED Vernile stands on the core issues facing Pacifica and WBAI.
What next?
This report is meant to alert the WBAI LSB and WBAI staff, listeners and supporters to the dangers we are facing. The ideological divide is between those who think the future of Pacifica is to circle the wagons in order to protect their own turf, even at the expense of a key player in the most important media market in the country, and those who think the future of Pacifica lies in revitalizing all the stations we now have and work much more closely toward becoming a genuine nation-wide network while at the same time maintaining close ties to their local communities. We believe that Pacifica and WBAI can have a real influence on the politics and culture of this country which is now plagued by a rise of neo-fascism, a newly invigorated racism and anti-Semitism, attacks on the working class, the poor and immigrants, denial of climate change and science and the rise of authoritarian, anti-democratic values. The mainstream media is not part of the solution. Indeed they are part of the problem. As is NPR. This is where Pacifica can make a difference – if it has the courage and the vision and rejects all the tribalistic pressures to only tend to one's "own" garden.
Alex Steinberg
James Sagurton
Appendix: Peter Franck's 'Plan B'*
*from his web site,
https://culturelaw.com/special-information/plan-b/
PLAN B
A "Friendly Divorce" to Save the Stations
Introduction. Six years ago, Carol Spooner circulated a letter she called "Time for an Amicable Divorce at Pacifica?" Without speaking for her, I believe she saw then, as a very close observer of the Pacifica scene, that attempting to govern and run the five Pacifica Foundation Radio stations under a single corporate umbrella, Pacifica Foundation, was not working, and indeed could be a threat to the survival of at least some of the stations. Observing recent crises, some of us have now come to the same conclusion. This paper will attempt to outline how such a "friendly divorce" could happen. Its goal is the preservation of all of the Pacifica stations in a manner which will enable them to continue carrying out the Pacifica mission.
There are a number of ways in which the "friendly divorce" plan could be initiated. They include; (a) decision by the Pacifica National Board; (b) legal action under California Corporations' Code Section 6510; (c) the exercise of certain rights which FJC has under the terms of the $3.7 million Loan Agreement of April 2, 2018; (d) a vote of the Pacifica membership. It is not the purpose of this paper to discuss how such a plan may come to be initiated, but to acknowledge it as a possibility and discuss what it would look like.
Outline of a plan.
1. Legal Separation.
a. Establishment of independent 501(c)3 non-profit corporations based in each of the cities in which current Pacifica stations are located, thus establishing local station entities. In most states, any person or legal entity can establish a new non-profit organization by filing Articles of Incorporation with the respective Secretary of State. For all five stations Pacifica Foundation itself would be the Incorporator. As the Incorporator, Pacifica would establish bylaws 1 for the new non-profits and appoint their initial Board of Directors.
b. Appointment of the current members of the stations' Local Station Board and transfer of the licenses would be conditioned on the agreement of all current board members to suspend intramural fighting during the transition period. They would start with a simplified initial set of by-laws, with a provision that they could be amended by a simple majority of the board during the first 60 days. A simple set of by-laws, providing for a smaller board, with most of its members elected, and some seats with particular competencies to be filled by appointment.
c. In the event that a Local Station Board does not unanimously commit to suspending a factional fighting during the transition period Pacifica would put out a notice to all relevant non profit organizations in the signal area, inviting them to apply for that communities' license. Who would be the decider would depend on how the process was initiated (see paragraph 2 of the introduction above).
2. Transfer of licenses. License transfer must be approved by the Federal Communications Commission. Pacifica would file with the FCC an application to transfer the current licenses to the new local entities. Filing a Petition for Consent to Transfer does not open the license to third parties. The only action open to the FCC, if there was any properly filed opposition, would be to either grant the transfer or deny the transfer. If granted, the licensee would become the new local non-profit. If denied Pacifica would remain the licenser. The Application to Transfer the licenses would only happen if the local Board has agreed to suspend intramural disputes (as provided in Section 1 b, above). Under FCC regulations, transfer of licenses is subject to the timely filing, by any concerned party of a Petition to Deny. There would have been prior agreement that no such Petition would be filed on or behalf of any present Board Members.
3. Funding. Pacifica will have to engage in a signal swap which could net as much as $15,000,000 (probably reducing the number of people potentially, but not currently listening to one or two of the stations by about 40%). The impact on actual listenership Pacifica will be minimal. Pacifica will use the funds to pay off all current debts and divide the balance (which could be as much as $9,000,000) among the five new non-profit corporations.
4. Reorganization and Revitalizing the New Stations. From the funds left after paying the debt Pacifica would make each newly independent station a restricted "Reorganization and Development grant" (R&D grant) so they can reorganize and modernize; the terms of the R&D grant will be to conduct a reorganization of programming and operations along the lines outlined in attachment A.
5. The Pacifica Archives will be placed with the University of Santa Barbara or such other entity as has a proven capability of completing the technical preservation work and a commitment to making the contents freely available;
6. The Pacifica Program Service. as the one cash positive entity of Pacifica will continue to operate much as it does at present, under the guidance of a reduced and streamlined Pacifica
Board.
The Save KPFA grouping and their candidates want to liquidate WBAI to supposedly save KPFA.
Another grouping linked up with Save KPFA is United For Independent Radio who wanted to declare bankruptcy so they could break KPFA from the rest of the Pacifica Network.
We are 100% volunteer and depend on your participation to sustain our efforts!
Get Involved
If you'd like to help with maintaining or developing the website, contact us.