From the Open-Publishing Calendar
From the Open-Publishing Newswire
Indybay Feature
ORVs Drive Spike in Protected Shorebird Deaths at California's Oceano Dunes
OCEANO, Calif., September 4, 2019 — Western snowy plover deaths have risen dramatically at Oceano Dunes State Vehicular Recreation Area, according to reports from environmental monitors working for California State Parks.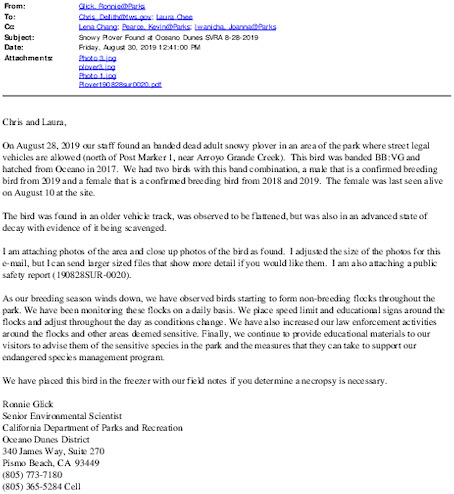 The tiny birds have been found dead on four different occasions recently. Three protected plovers were likely run over by vehicles. The state park has a long history of harm to endangered species and their habitats caused by off-road vehicle activities.
To help remedy the situation, conservationists are urging California State Parks to implement measures recommended by the U.S. Fish and Wildlife Service and California Coastal Commission to avoid plover deaths. These include decreasing vehicle numbers, prohibiting night riding, and making seasonal plover habitat closures permanent.
"Pint-sized plovers don't stand a chance if vehicles and dune buggies are tearing through their beach and dune habitat," said Jeff Miller, a senior conservation advocate at the Center for Biological Diversity. "State Parks officials need to reduce off-road vehicle use immediately and rein in riding in areas where protected species are in harm's way."
The Oceano Dunes recreation area is managed by the California State Parks' Off-Highway Motor Vehicle Recreation Division. The area includes about 1,500 acres of sand dunes and six miles of beachfront where motorized and off-road vehicles are driven.
Vehicles continue to kill and harass protected birds in the park, crushing snowy plovers and flushing nesting California least terns. This is the only California beach where resting marine mammals like sea lions and harbor seals are in such danger from vehicles that they need to be rescued and relocated.
Individual snowy plovers were found dead at Oceano Dunes on Aug. 19, 23, 24 and 28, even before the huge influx of vehicles during Labor Day weekend. One bird had clearly been run over by a vehicle. Another plover was found dead in an area with numerous vehicle tracks, and a third was found flattened in vehicle tracks.
Background
Western snowy plovers are one of the most threatened shorebirds in North America and have been protected under the Endangered Species Act since 1993. Although plover numbers along the West Coast are slowly increasing, and habitat conditions have improved, these birds are still threatened by loss of nesting habitat and habitat degradation from development, recreation and sea-level rise. Other threats are disturbance by humans and off-leash dogs and predation.
Snowy plovers breed at Oceano Dunes between March and September. Most individual birds return year after year to the same nesting spots, generally in flat, open areas such as beaches and sand spits. Many plovers remain after the end of breeding season and throughout the fall and winter, where they are vulnerable to vehicular disturbance.
After the Fish and Wildlife Service warned State Parks that it was violating the Endangered Species Act for allowing the harassment and killing of plovers at Oceano Dunes, in 2017 the Center for Biological Diversity filed a notice of its intent to sue the agency over harm to protected species.
For decades State Parks has delayed development of a promised habitat conservation plan to protect plovers and other endangered and threatened plants and animals at Oceano Dunes. The agency recently announced that a draft version of the habitat conservation plan will be released this fall.
The Center for Biological Diversity is a national, nonprofit conservation organization with more than 1.6 million members and online activists dedicated to the protection of endangered species and wild places.
https://biologicaldiversity.org/w/news/press-releases/orvs-drive-spike-in-protected-shorebird-deaths-at-californias-oceano-dunes-2019-09-04/
We are 100% volunteer and depend on your participation to sustain our efforts!
Get Involved
If you'd like to help with maintaining or developing the website, contact us.