From the Open-Publishing Calendar
From the Open-Publishing Newswire
Indybay Feature
Dautch Proposes Elder Justice Coordinator for SF District Attorney's Office
San Francisco District Attorney candidate Leif Dautch calls for the creation of an Elder Justice Coordinator to address the recent spike in crimes against elderly victims.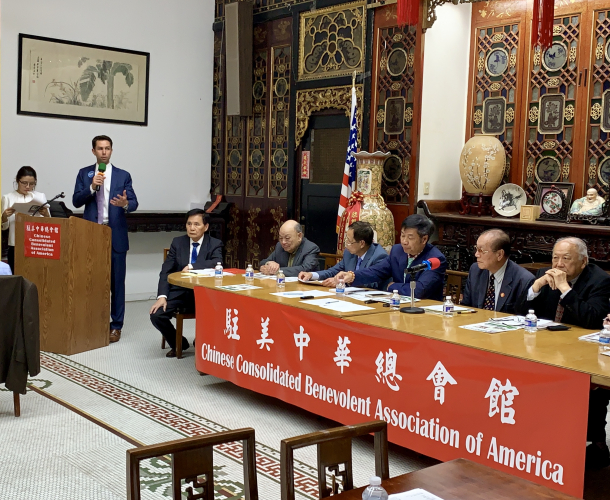 In a speech to the Chinese Consolidated Benevolent Association, District Attorney candidate Leif Dautch announced his commitment to protecting seniors from crimes—such as elder abuse, financial exploitation, and assault—and to seeking justice for crimes committed against seniors. These reforms are particularly needed given the recent spike in violent attacks against elderly members of the Asian American community.

In the United States, 5 million seniors are financially exploited each year by scammers, losing an estimated $36.5 billion annually due to scams and exploitation by relatives and friends. But only one of every 25 cases of elder financial exploitation are reported. Additionally, one of every 10 Americans ages 60 and over have experienced some form of elder abuse, but only 1 in 14 cases of elder abuse are reported to authorities. In San Francisco alone, there have been eight high-profile attacks and robberies of Chinese seniors in 2019, including an assault and robbery in broad daylight in Chinatown earlier this month.

Despite the prevalence of crimes against seniors, between 2011 and 2019, the San Francisco District Attorney's Office only brought one defendant to trial for financial elder abuse. According to the DA's website, that case did not result in a conviction, meaning the office has not secured any financial elder abuse convictions during the past eight years. Over the same period, the District Attorney Office's only brought 10 defendants to trial for physical elder abuse.

After speaking with seniors, government officials, and non-profit organizations serving seniors, the Dautch campaign has announced the following initiatives to better protect seniors from crime:

1. Create a public database on elder financial exploitation and other crimes against seniors. This data would enable the District Attorney's Office to track the types of crimes reported by seniors, the number of these crimes that lead to arrests, and their conviction rates. This data would also enable the District Attorney's Office to detect any spikes in violent crimes against seniors, which neighborhoods the crimes are occurring in, and any emerging crime trends targeting seniors, such as cyber crimes, unlawful evictions, or immigration fraud.

2. Establish an Elder Justice Coordinator in the District Attorney's Office. At last week's public safety meeting in Chinatown, neither the District Attorney nor a representative from the office was present. As DA, Dautch would hire an Elder Justice Coordinator, who would serve as the District Attorney's liaison to seniors and to governmental agencies and community groups serving seniors. The Coordinator would be responsible for community outreach and public awareness campaigns, educating seniors about how to avoid financial scams and alerting them about new types of financial scams being employed. Dautch would seek to fund the position through grants, such as the 2017 Elder Abuse Prevention and Prosecution Act.

3. Improve language access to 911 dispatchers, law enforcement agencies, and prosecutors. Reducing these language barriers will increase the reporting of crime.

4. Reconfigure the District Attorney's website so that it contains complete and timely information about preventing and reporting crimes against seniors. Currently, many parts of the DA's Consumer Protection website do not contain relevant information or simply do not work.

5. Strengthen collaboration with the San Francisco Adult Abuse Forensic Center to increase detection and successful prosecutions cases of elder financial exploitation and physical abuse.

Leif Dautch grew up on an organic farm along the Central Coast of California and went on to graduate with honors from Yale and Harvard Law School. After clerking on the Ninth Circuit Court of Appeals in San Francisco, he joined the California Department of Justice, working as a prosecutor for Attorneys General Kamala Harris and Xavier Becerra. In six years as a Deputy Attorney General, Dautch has prosecuted more than 400 criminal cases in state and federal court, from trials to arguments before the California Supreme Court. He is an assistant supervisor, helping manage a team of 10 attorneys, and has testified before the California State Assembly and State Senate on issues ranging from human trafficking to environmental protection.

In 2016, Mayor Ed Lee appointed Dautch to the San Francisco Juvenile Probation Commission, where he was elected Commission President by his peers. In that capacity, he oversaw a $40 million budget and 240-person City Department. Dautch also serves as the Vice Chair of the California State Bar's Criminal Law Executive Committee and its 2,000 members and has written for the San Francisco Chronicle and San Francisco Examiner on the auto burglary epidemic and environmental contamination at the Hunters Point Shipyard.

Since filing to run for District Attorney, Dautch has raised almost $250,000 and been endorsed by more than 100 elected officials, community leaders, and organizations, including California Treasurer Fiona Ma, the San Francisco Fire Fighters, and the Deputy Sheriffs Association.
We are 100% volunteer and depend on your participation to sustain our efforts!
Get Involved
If you'd like to help with maintaining or developing the website, contact us.