From the Open-Publishing Calendar
From the Open-Publishing Newswire
Indybay Feature
View other events for the week of

4/23/2019
Emergency Protest to Defend Those Without Housing
Import into your personal calendar
Date

Tuesday April 23

Time

12:00 PM

-

12:00 PM

Event Type

Protest

Organizer/Author
Keith McHenry
Email
keith [at] foodnotbombs.net
Location Details
809 Center St, Santa Cruz, California

EMERGENCY PROTEST TO DEFEND THOSE WITHOUT HOUSING

Tuesday, April 23, 2019, at 12 noon

809 Center St, Santa Cruz, California.

Santa Cruz City Council to vote to violate Martin v. Boise ruling against Cruel and Unusual Treatment.

The City of Santa Cruz is required to offer at least 800 indoor shelter beds to be in compliance with the Ninth Circuit Court of Appeals order. This proposal will force hundreds to seek shelter in the doorways, yards, and parks of Santa Cruz.

Please email Justin Cummings and ask him to vote against item 13 at this Tuesday, April 23, 2019, City Council Meeting

jcummings [at] cityofsantacruz.com

CITY COUNCIL AGENDA REPORT

DATE: April 14, 2019

AGENDA OF: April 23, 2019

DEPARTMENT: City Council

SUBJECT: Gateway Encampment Closure (CN)

Submitted by: Martine Watkins Justin Cummings Mayor Vice Mayor

RECOMMENDATION:Motion to: (1) direct the City Manager to implement the City Council-approved Standard Operating Procedures for a permanent closure of the Gateway Encampment with a target closure date of April 30, 2019 and coinciding with the opening of the 1220 River Street Camp; and, (2) convert any temporary relocation of the Gateway Encampment under the existing Council-directed Site Management Plan to this permanent closure and alternate shelter sites.

BACKGROUND: The City Council has been deeply entrenched in homelessness-related policy since February 12, 2019 at which time the Council adopted the County and City of Santa Cruz Joint Action Plan for Emergency Shelter Provision and Encampment Management (Action Plan). The Action Plan served as a collaborative plan to ensure the City and the County moved in unison to address the immediate health and safety challenges at the Gateway Encampment, develop sheltering programs to bolster our community's capacity, and close the unsanctioned encampment.

DISCUSSION: Since February, efforts have been made to advance several of the Action Plan objectives, and other ideas and considerations were explored to address the Gateway Encampment closure. At this time, we recommend proceeding with a full closure of the encampment. Closure is necessary to ensure better health and safety outcomes for the encampment residents and surrounding community, and to leverage to the maximum extent all shelter and safe storage resources that are available and secured including the 1220 River Street, Veterans of Foreign Wars (VFW) and Laurel Street Salvation Army programs, to provide alternate sleeping locations. If shelter options become unavailable during and after the closure, as the Council directed on April 9, 2019, the City will not enforce Santa Cruz Municipal Code Chapter 6.36 "Camping" against these homeless individuals, per the Martin v. Boise decision. Acting now will ensure the greatest success and impact in transferring Gateway Encampment sleepers to existing, supported and funded shelter programs.

FISCAL IMPACT: All budgetary requirements to fulfill this item's direction have been previously allocated by the Council.

Submitted by: Martine Watkins Justin Cummings Mayor Vice Mayor

http://scsire.cityofsantacruz.com/sirepub/cache/2/mclslhvm3zsovkxcblfbzba2/483031704182019095137631.PDF




Added to the calendar on Thursday Apr 18th, 2019 11:36 PM
Justin Cummings, I am shocked and very disappointed that you are cosponsoring the cruel and hateful proposal Item 13 at the April 23, 2019, City Council Meeting. I worked hard to help you get elected believing you would defend the rights of tenants and those who cannot afford housing.

Your proposed Item 13 if implemented would be illegal as I am sure you are aware. It does not provide shelter for hundreds of community members who live outside. It will increase the suffering of those who will be forced to seek shelter in the doorways, yards, and parks of our city where they will face the violence of those who support the elimination of the poor from our city.

For example, a woman who ate with Food Not Bombs last weekend told of being kicked in the head that week while finding shelter in a doorway. The man yelled at her to leave town and called her many abusive names as he beat her. Had she live at Heros Camp behind Ross she would have been safe as attested by the many women who live there. Her story is but one of the many people who report violence as a result of the City's campaign of hate.

Item 13 does not provide a compassionate solution to this crisis. It proposes to let hundreds of people seek shelter in the doorways and parks of our city where the police will be waking and citing them. Business and property owners are likely to be frustrated to find that people were not able to find a toilet encouraging more violence and hate against those who live outside.

If you vote for Item 13 you will send a loud message that elections do not matter. That those we support for office will side with corporate power and hate once in office. I am hearing from many of those who supported your campaign that they share my disappointment. It is possible that direct action and rebellion is the only way the poor and unhoused can defend their rights.

Please vote against Item 13 and take a stand against hate and violence. Support real solutions to those who have to find shelter behind Ross.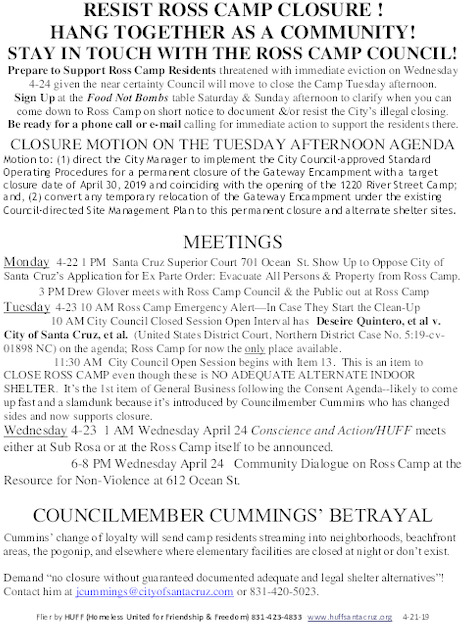 RESIST ROSS CAMP CLOSURE !
HANG TOGETHER AS A COMMUNITY!
STAY IN TOUCH WITH THE ROSS CAMP COUNCIL!
Prepare to Support Ross Camp Residents threatened with immediate eviction on Wednesday 4-24 given the near certainty Council will move to close the Camp Tuesday afternoon.
Sign Up to clarify when you can come down to Ross Camp on short notice to document &/or resist the City's illegal closing. E-mail
rnorse3 [at] hotmail.com
.
Be ready for a phone call or e-mail calling for immediate action to support the residents there when the eviction order comes.
CLOSURE MOTION ON THE TUESDAY AFTERNOON AGENDA
Motion to: (1) direct the City Manager to implement the City Council-approved Standard Operating Procedures for a permanent closure of the Gateway Encampment with a target closure date of April 30, 2019 and coinciding with the opening of the 1220 River Street Camp; and, (2) convert any temporary relocation of the Gateway Encampment under the existing Council-directed Site Management Plan to this permanent closure and alternate shelter sites.
MEETINGS
Monday 4-22 1 PM Santa Cruz Superior Court 701 Ocean St. Show Up to Oppose City of Santa Cruz's Application for Ex Parte Order: Evacuate All Persons & Property from Ross Camp.
3 PM Drew Glover meets with Ross Camp Council & the Public out at Ross Camp
Tuesday 4-23 10 AM Ross Camp Emergency Alert—In Case They Start the Clean-Up
10 AM City Council Closed Session Open Interval has Deseire Quintero, et al v. City of Santa Cruz, et al. (United States District Court, Northern District Case No. 5:19-cv-01898 NC) on the agenda; Ross Camp for now the only place available.
11:30 AM City Council Open Session begins with Item 13. This is an item to CLOSE ROSS CAMP even though these is NO ADEQUATE ALTERNATE INDOOR SHELTER. It's the 1st item of General Business following the Consent Agenda--likely to come up fast and a slamdunk because it's introduced by Councilmember Cummins who has changed sides and now supports closure.
Wednesday 4-23 11 AM Wednesday April 24 Conscience and Action/HUFF meets either at Sub Rosa or at the Ross Camp itself to be announced.
6-8 PM Wednesday April 24 Community Dialogue on Ross Camp at the Resource for Non-Violence at 612 Ocean St.
COUNCILMEMBER CUMMINGS' BETRAYAL
Cummins' change of loyalty will send camp residents streaming into neighborhoods, beachfront areas, the pogonip, and elsewhere where elementary facilities are closed at night or don't exist.
Demand "no closure without guaranteed documented adequate and legal shelter alternatives"!
Contact him at
jcummings [at] cityofsantacruz.com
or 831-420-5023.
Flier by HUFF (Homeless United for Friendship & Freedom) 831-423-4833
http://www.huffsantacruz.org
4-21-19
We are 100% volunteer and depend on your participation to sustain our efforts!
Get Involved
If you'd like to help with maintaining or developing the website, contact us.