From the Open-Publishing Calendar
From the Open-Publishing Newswire
Indybay Feature
Environmentalists, LA City Councilman demand answers on gas blowout in Marina Del Rey
"When the gas blowout occurred at Aliso Canyon, the health risks and seriousness of the event were downplayed by public officials and SoCalGas, the company responsible for the disaster there," said Alexandra Nagy, Senior Organizer with Food & Water Watch. "Families were not able to make urgent decisions about their health and safety. Once again, residents have not been notified of health risks associated with this week-long emergency in Marina del Rey. Just like the Aliso blowout three years ago, agencies are not monitoring toxins released at Playa del Rey, such as benzene or formaldehyde."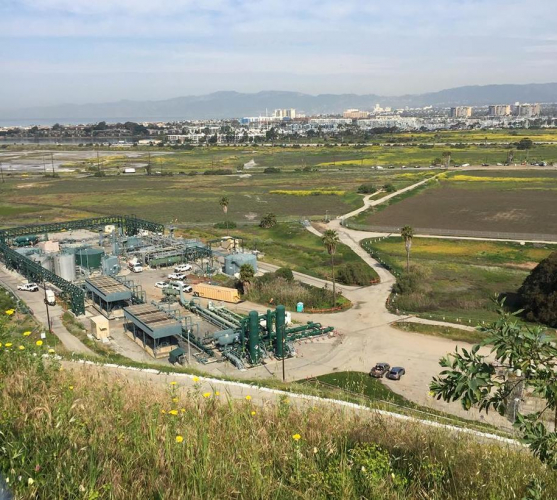 LOS ANGELES – Environmental leaders from the Protect Playa Now! coalition issued a statement on January 22 demanding answers and accountability for a methane gas blowout at a well in the Playa del Rey Oil Field, operated by MDR Hotels, LLC.
The coalition's call to action follow an emergency order released by the California State Department of Oil Gas & Geothermal Resources (DOGGR). Protect Playa Now is a watchdog coalition working to shut down the Playa del Rey gas storage field beneath the Ballona Wetlands and communities along the Los Angeles coast.
The blowout shot liquids and 100,000 cubic feet of natural gas 60 feet into the air for 10 minutes on January 11, according to the emergency order and a report by the Governor's Office of Emergency Services Hazardous Materials.
You can view a video of a worker escaping from the scene of the blowout here:
https://laist.com/2019/01/23/marina_del_rey_oil_well_blowout.php
On January 18, DOGGR issued an Emergency Order to: (1) bring the well under control, and (2) permanently plug the well, including cementing off the anomalous gas zone, to protect health, the environment, and property in this densely populated area.
"The Order also requires a battery of tests to determine why this incident occurred. A component of the Order is determining whether there is damage to the well deep underground that could allow natural gas to migrate to the surface in the future," according to DOGGR.
The emergency order indicated that the risk from the blown out well has not been entirely contained, the environmental leaders noted.
"The well is in a dense urban area on the coast and any such release threatens damage to life, health, property and natural resources," according to the emergency order. 
A land developer, MDR Hotels LLC, leased the property from Los Angeles County on the Marina del Rey waterfront to build a hotel, according to a statement from LA County. MDR Hotels LLC is constructing a six-story Residence Inn and five-story Courtyard Marriot on the site: 
https://www.lacounty.gov/wp-content/uploads/incident_update_01-23-2019-FINAL-8AM-V3.pdf
"As part of the work, MDR Hotels must 're-abandon' the well on the property to current standards. The well was originally abandoned and plugged in the 1950s," LA County stated. 
Alexandra Nagy, Senior Organizer with Food & Water Watch and a leader of Protect Playa Now!, called on elected officials to investigate the "current dangers posed by the blowout" and assess the need for relocation orders, health monitoring in nearby residences, a sensible and conservative safety perimeter and rigorous air monitoring to detect methane, and carcinogens know to be in the gas like benzene and formaldehyde. She said short term symptoms from exposure to these toxins may include irritation to eyes, skin, lungs and headaches. 
"When the gas blowout occurred at Aliso Canyon, the health risks and seriousness of the event were downplayed by public officials and SoCalGas, the company responsible for the disaster there. Families were not able to make urgent decisions about their health and safety," said Nagy. "Once again, residents have not been notified of health risks associated with this week-long emergency in Marina del Rey. Just like the Aliso blowout three years ago, agencies are not monitoring toxins released at Playa del Rey, such as benzene or formaldehyde."
Robert van de Hoek, President of the Ballona Institute, added, "The public deserves to know what is a safe distance to be driving, living or even walking by. A safety perimeter was supposed to be established within 12 hours of the emergency order, yet, residents who live directly across the street have not even been notified of the blowout."
"A public elementary school is within walking distance of the site, and it is possible there also are impacts to wildlife in the marina or in the nearby marine reserve lagoon. We will keep asking about these possible dangers until our questions are answered," said van de Hoek.
Van de Hoek said the blown out well is surrounded by boat slips, a heavily traveled road and thousands of residents and hotel dwellers. In addition, the blowout is near the City of Los Angeles' Ballona Lagoon Marine Preserve.
"Environmental leaders are demanding public accountability and notification to all in the area concerning the ongoing blowout and its impacts. They also demand to know if evacuations are planned if the leak continues," according to the coalition.
According to the emergency order, the blowout was controlled but remains an ongoing emergency risk due to the severe well integrity failure.
Coalition leaders noted that the Aliso Canyon gas blowout was at first reported to last only one week. As it turned out, Aliso Canyon blowout lasted for 112 days and displaced an estimated 25,000 people, becoming the worst recorded gas blowout in U.S. history.
"Three years later, families are still suffering from illnesses due to the Aliso Canyon gas blowout. Government agencies like DOGGR need to learn from experience and put families and public health as a first in the face of toxic releases and ongoing dangers to the community. Our communities deserve to be notified of the risk they face living next to a blown out well," said Nagy.
"Any emergency filling of the drill hole will cause pressure to build up in nearby wells which are also likely in a fragile state, as it is known that the wells from this former operational oil field were improperly capped in the early part of the last century. Therefore, an immediate halt to injecting new gases into the storage field is called for," Van de Hoek also warned. 
Also on January 22, LA City Councilmember Mike Bonin joined Food and Water Watch, Protect Playa Now and the Ballona Institute in criticizing the lack of notification to the neighbors of the abandoned well and the continued risks posed by a potential lack of structural integrity of the well. Bonin stated:
"This morning, I was notified by environmental activists that construction of a hotel in unincorporated Marina del Rey caused a methane gas leak from an abandoned underground oil well, prompting an emergency order from the state of California, directing immediate actions to protect life, health, property and natural resources in the surrounding neighborhood.
"While the construction project, the abandoned well, and the leak all happened outside the City of Los Angeles and outside of its jurisdiction, the site is immediately across the street from the homes of several hundred City residents I represent.
"I am particularly concerned at the lack of notification to neighbors, and at continued risks of leaks due to a potential lack of structural integrity of the well, which state officials said was a "serious concern." This incident also raises concerns about other old and abandoned wells in the Playa del Rey oilfield area.
"I share the concerns of immediate neighbors, Food & Water Watch, and Protect Playa Now regarding the health and safety of my constituents in the area, and I echo the calls for more information, greater transparency, and a halt to any further injection of gas into nearby storage fields until we can be sure it is safe. Due to the recent events in Aliso Canyon, residents are understandably skeptical of assurances of safety, deserve more information, and demand greater scrutiny.
"Fossil fuels are dangerous. Whether it is their production or their use, they threaten our environment and our safety. That is why I support aggressive measures to transition to 100% renewable energy sources, why I support the STAND-LA effort to impose a safe buffer from fossil fuel extraction and sensitive uses such as schools and residences, and why I am calling for additional investigation of this incident and greater assurances that my constituents are safe."
Bonin represents Westside neighborhoods on the Los Angeles City Council. His sprawling 11th District includes Pacific Palisades, Brentwood, West LA/Sawtelle, Mar Vista, Del Rey, Venice, Marina del Rey, Playa Vista, Playa del Rey, Westchester and Ladera.
The Playa del Rey gas storage field stores methane, piped in from Oklahoma and Texas, under very high pressure beneath the communities of Playa del Rey, Marina del Rey, Del Rey and parts of Venice, as well as under the Ballona Wetlands Ecological Reserve.  
LINKS:
Emergency order:
https://drive.google.com/file/d/1RatZOtJ5jUbklo71CD42CEgT0bKksvk8/view?fbclid=IwAR0NDbKV6FIYdy6PU81G4CmT62iOVr4dCb5RR61CJO352rAbfEhdbmiXcpA
Cal OES report:
https://w3.calema.ca.gov/operational/malhaz.nsf/f1841a103c102734882563e200760c4a/c89a78c29cde267388258386006488dd?OpenDocument&Highlight=0%2Cmarina&fbclid=IwAR3pzNfc5BiraW-SoYi8geSSR3ayG1O19dPcYQT_9gH4XtHiKnY_TXk7BeA
Food & Water Watch champions healthy food and clean water for all. They stand up to corporations that put profits before people, and advocate for a democracy that improves people's lives and protects our environment.
Protect Playa Now! is a collection of concerned citizens mobilizing to protect Playa del Rey, Playa Vista and the surrounding communities from the threat posed by the SoCalGas Playa del Rey Gas Storage Facility.
Ballona Institute advocates for the preservation of the Greater Ballona Wetlands Ecosystem, provides quality nature-themed education to schools and to the general public about the Los Angeles coastal environment, serves as a library for historical archives and scientific research about the natural resources of southern California, and organizes community in the furtherance of the goals of preservation and restoration of nature.
We are 100% volunteer and depend on your participation to sustain our efforts!
Get Involved
If you'd like to help with maintaining or developing the website, contact us.