From the Open-Publishing Calendar
From the Open-Publishing Newswire
Indybay Feature
Some project-based housing projects may face bankruptcy if government shutdown continues
San Rafael tenants meeting in 2004, teaching tenants how to fight back against HUD's funding cuts to the Section 8 voucher program (Housing Choice Voucher Program. Lydia Gans Photo.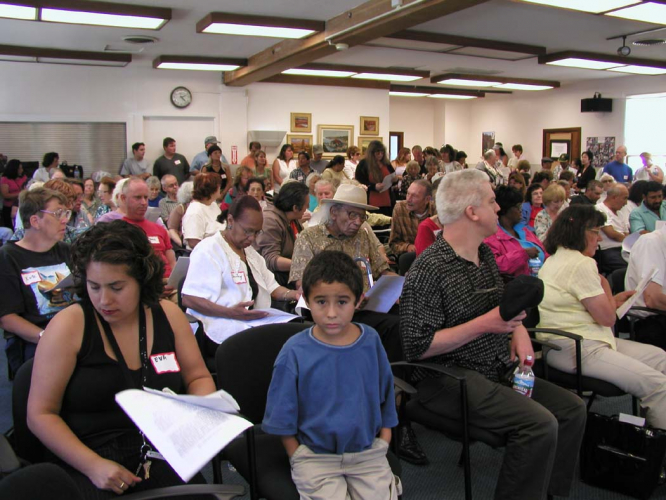 Some project-based housing projects may face bankruptcy if government shutdown continues
By Lynda Carson - January 12, 2019
Oakland - As Trump's government shutdown has become the longest government shutdown in U.S. history, tens of thousands of low-income, elderly, and disabled renters may face eviction, or huge rent increases by their landlords because the Department of Housing and Development (HUD) allowed around
1,150 Section 8 project-based housing contracts to expire
in December of 2018. The subsidized housing contracts cannot be renewed by HUD until Trump's government shutdown is over because it would be in violation of The Antideficiency Act.
Low-income renters, the disabled, and elderly are barely getting by as it is, and Trump's government shutdown, and the incompetence of HUD Secretary Ben Carson, has placed tens of thousands of project-based renters at risk.
Section 8 Project-Based projects in the Bay Area, and across the nation provide subsidized housing for low-income renters, the elderly, and disabled. The projects are subsidized by HUD, and the federal government.
Eric Johnson is the
CEO of the California Affordable Housing Initiatives, Inc. (CAHI),
and the Executive Director of the Oakland Housing Authority. Mr. Johnson is concerned that if the government shutdown continues that some Section 8 project-based housing projects may end up into foreclosure and bankruptcy.
According to a January 11, 2019,
NPR news story,
"Eric Johnson is the executive director of the Oakland Housing Authority which manages approximately 550 project-based properties on behalf of HUD.
Two properties he oversees, one in San Jose and another in Sacramento, have around 75 housing units between them. Johnson said neither of the properties received their January payments from HUD.
"So they're functioning right now without really having any income from the program to support their efforts." Johnson said.
He said those property owners, like many other across the country, will not be able to operate indefinitely from their reserves. He fears a prolonged shutdown is not good for the strength of the housing market overall.
"I'm more concerned about them ending up going into foreclosure and bankruptcy on these properties than I am really about them evicting residents," Johnson said."
HUD Notices Regarding Trump's Government Shutdown
In a
HUD email sent out to project-based landlords,
it read, "If your property is not receiving payment or is experiencing an emergency situation and has a Reserve for Replacement account subject to HUD oversight, you may request to utilize those funds to pay property operating expenses.
To ensure your request is promptly processed during the shutdown period, please complete form HUD-9250 and submit via email to the Asset Management Division Director of your assigned HUD field office. The form must include the current balance in the account, a withdrawal amount, and the remaining balance. It should also include a statement confirming that the released funds will be reimbursed to the reserve for replacement account once HUD appropriations funding is restored."
Reportedly on January 4,
HUD also issued a letter to around 1,500 landlords
in a last ditch effort to try to stop the possible eviction of thousands of low-income renters that may occur because of the HUD funding shortfalls, and Trump's government shutdown.
In a January 8, 2019, letter from the
Campaign for Housing and Community Development Funding (CHCDF),
to some of our nation's lawmakers, it was revealed that Trump's government shutdown has resulted in around 1,150
Section 8-Project Based contracts
that were not renewed in December of 2018, affecting around 70,000 to 85,000 low-income households.
Project-Based Contracts HUD Allowed To Expire In December
Among the project-based housing contracts that HUD allowed to expire during December of 2018 that are
listed by the National Low-Income Housing Coalition,
they include the La Playa Apartments in San Francisco (14 units), Octavia Courts in San Francisco (15 units), and the Vera Haile Senior Housing project in San Francisco (90 units).
Other project-based contracts that HUD allowed to expire in December of 2018, include the Casa Linda Apartments in Santa Cruz (21 units), Columbia Park Manor apartments in Pittsburg (78 units), Huff Gardens in San Jose (72 units), Redwood Shores Apartments in Vallejo (120 units), Henry House in Santa Rosa (4 units), Weinreb Place in Hayward (22 units), Jefferson Street Housing in Napa (77 units), Arbor Court Apartments in Fresno (19 units), Folsom Oaks Apartments in Sacramento (19 units), Providence Place Apartments in Sacramento (168 units), Eastern Gardens in Sacramento (112 units), and Russell Manor apartments in Sacramento (66 units).
On January 10, 2019, Congresswoman Maxine Waters (D-CA), Chairman of the House Financial Services Committee, released the following statement: "Today marks the 20th day of the second longest government shutdown in U.S. history. It is shameful that President Trump and Congressional Republicans are so desperate to secure taxpayer funding for a senseless border wall that they're willing to leave American families with uncertainty and instability, as an estimated 400,000 federal employees are still furloughed and another 420,000 are working without pay. 
"Additionally, 95% of Department of Housing and Urban Development (HUD) employees have been furloughed. 
"Millions of families that rely on HUD's rental assistance programs are dangerously close to losing their homes due to projected lapses in funding. What's more, it has been recently reported that HUD, under Secretary Carson's leadership, has failed to follow its own contingency plan, allowing 1,150 project-based rental assistance contracts to expire with hundreds more hanging in the balance if this shutdown isn't resolved.
"Families aspiring to become homeowners may see their Federal Housing Administration (FHA) or rural housing loans delayed or be unable to close on their loans altogether during the shutdown. In rural communities, very low-income, elderly homeowners who rely on HUD grants and loans to address health and safety hazards may not receive payments and be forced to live in dangerous conditions.
"There are also critical offices at HUD that are now severely understaffed, like the Office of Fair Housing and Equal Opportunity (FHEO). As a result, a backlog of over 600 fair housing complaints that have been filed with HUD's fair housing office is being exacerbated.
"These are just a few examples of the harm being caused by the third shutdown this nation has experienced since Trump took office and I continue to call on Republicans to protect the livelihoods of hardworking Americans by ending this shutdown immediately."
Reportedly,
"House Democrats are using their new oversight authority to investigate the Department of Housing and Urban Development's management of the shutdown, as questions mount about HUD's failure to renew low-income housing contracts for more than 1,000 properties across the country.
In a January 10, 2019,
release from the National Alliance of HUD Tenants (NAHT),
that tells low-income renters how to fight back against Trump's government shutdown, it read, "On Monday, January 7, HUD announced that no funds are available to renew 1,150 Section 8 contracts that expired in December 2018 and January 2019, or another 550 contracts that expire in February 2019 or beyond.  An estimated 100,000 low income households--elderly, people with disabilities and families with children-- already face repair and service cutbacks, and could face rent increases and displacement, if HUD funds are not restored soon."
HUD Funding Shortfalls In Alameda During 2004
Some of this sounds very familiar, and a look back at what was happening in Alameda during 2004, may help renters to better understand the desperate situation they may be in.
On May 14, 2004, Poor Magazine reported
"1,659 families and over 600 landlords received notice from the Public Housing Authority of Alameda, California, informing them that there may not be any rent money for the month of June. Tenants and landlords were advised to use their security deposits to pay the rent and to negotiate a way for the renters to repay back the spent security deposits. As well, tenants were given vaguely written "vouchers" that didn't list any guaranteed rental assistance amount along with lists of referrals to other counties that apparently weren't worth the paper they were printed on."
According to
ABC News on January 12, 2019,
Trump's government shutdown has become the longest in U.S. history,
Lynda Carson may be reached at
tenantsrule [at] yahoo.com
>>>>>>
>>>>>>
We are 100% volunteer and depend on your participation to sustain our efforts!
Get Involved
If you'd like to help with maintaining or developing the website, contact us.