From the Open-Publishing Calendar
From the Open-Publishing Newswire
Indybay Feature
Gateway Plaza Camp Providing Service to Our Community
Homeless Heroes Doing What Local Government Has Not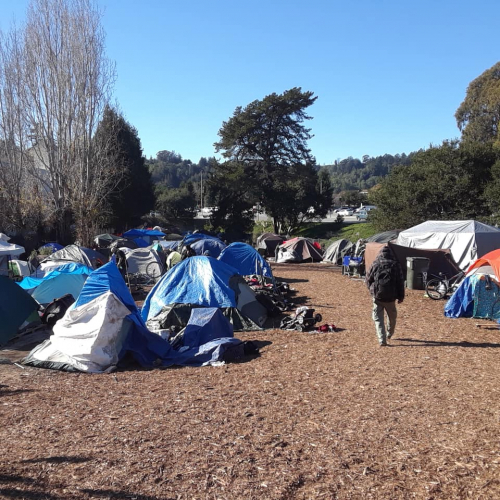 For those who complained most vocally about the more than $90,000 per month that was being spent on the late, unlamented River Street Camp, the spontaneous camp that has sprung up on a small parcel of land behind Gateway Plaza should be a dramatic and eye opening lesson on both a social and an economic level.

On a social level, the men and women who brought this camp to life are carving out a place for themselves in a community that has all but abandoned any meaningful attempt to provide shelter for our homeless residents. Whatever cooperation that previously existed between the city and county in terms of the creation of emergency shelter or a day services center has clearly stalled as we breathlessly await new policies regarding the homeless which are hopefully forthcoming from our new, more socially progressive city council. The fact that both the city and county are presently exposed to legal liability as the result of a binding federal court decision that requires those entities to create adequate shelter equal to the number of unsheltered residents of our community seems not to have prompted either urgent nor timely action.

On an economic level, the Gateway campers have assumed the responsibility for providing emergency shelter that has, arguably, been abdicated by local government and have done so at a fraction of the cost of the moribund River Street Camp. To be fair, the city has provided porta potties, hand washing stations and garbage bins, which are being regularly serviced, and most recently providing much needed ground cover in the form of moisture absorbent wood chips. But by any monetary reckoning, cost of these services and support is de minimis when compared to the monthly expense of the previously sanctioned camp. And yet the hue and cry about the camp continues unabated. The only change is that now those criticisms resonate in the social, rather than the economic, voice.

I am reminded, as we all should be, that our country's history is replete with examples of a displaced or ostracized group of people who created for themselves a community in which they could survive, and perhaps even thrive. And the Gateway Plaza campers, not unlike those groups shunned by the mainstream, have found a place to pursue their survival, and have done so without calling upon the citizens or the public fisc to pay the freight. That, in itself, is noteworthy and laudable in a time when so little concern, and far too few dollars, are being devoted to providing a hand up, rather than a hand out.

I could end this opinion piece by imploring the community to give the camp chance or by reminding our civic leaders of their stewardship responsibilities or by simply pointing out, as many have, that fully 70% of all unsheltered people, and many in the camp, were Santa Cruz residents before they become homeless. But in that regard I would just be preaching to the choir. So, I will offer a broader thought. It is not simply historical coincidence nor mere hyperbole that the most iconic and welcoming symbol of our country, the Statue of Liberty, speaks as if directly to our community. Send these, the homeless, tempest-tost to me, I lift my lamp beside the golden door!" Perhaps we can lift up our hearts as well.
We are 100% volunteer and depend on your participation to sustain our efforts!
Get Involved
If you'd like to help with maintaining or developing the website, contact us.