From the Open-Publishing Calendar
From the Open-Publishing Newswire
Indybay Feature
Kaiser picket line in Fresno this week
Mental health workers in the National Health Workers Union went on strike and picketed Kaiser throughout the week. Fresno was one of the locations that joined in the action.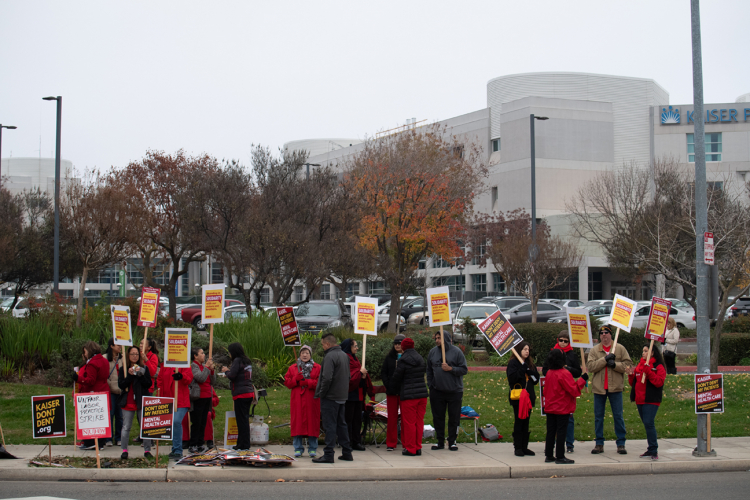 Kaiser Permanente, the healthcare giant, was the location for a picket line in Fresno December 10th to 14th by the National Union of Healthcare Workers. Mental health workers in the NUHW, 4,000 statewide, struck to pressure Kaiser to improve staffing and scheduling to meet the needs of patients. Kaiser was fined $4 million by the State of California five years ago, and another million-dollar fine is threatened, because they do not give parity to mental health care. Parity means a mental health patient must be given the same standard of care as a patient with a broken bone or diabetes. There is only one full time mental health clinician for every 3,000 Kaiser members, and wait times for mental health care is a critical issue.

Kaiser brought in a $3.8 billion profit last year. It holds cash reserves of $28 billion.

The strikers, who include therapists, psychologists, social workers and psychiatric nurses, took the week without pay or strike pay. I spoke to three of them on the picket line at Fresno Medical Center on December 10. They gave their names as Terry, Greg and Christine.

Terry said, "The standard of care is [meeting patients] weekly or every other week, so when you are [only able to schedule] a return appointment every four to six weeks, typically out in the community that would be just a 'Hey, you're doing great, let's check back in in four to six weeks …' But when people are really in desperate need, when they're in a crisis, and you're telling them 'Hey, I don't have an appointment for you for another four to six weeks,' that's not meeting the standard of care."

Greg added, "This has been going on throughout the time that I've worked at Kaiser, at least ten years."

All three agreed that therapy sessions needed to be once a week or once every two weeks for the patient and therapist to feel a continuity in the care. Otherwise they spend too much time getting acquainted and re-acquainted, and don't get to dealing with issues.

A Kaiser statement said the strikers are after economic gains first and foremost.

Christine felt differently: "There are some economic issues that we're fighting for, but none of them are things that Kaiser hasn't already given to other unions. They're simple things like cost of living increases; we're not looking for huge increases in salaries or anything like that. I'm not here for an increased wage. I'm here to provide better care for the people that I serve … At least we're having a dialogue about what can make things different. I realize that would take a lot of creativity. We believe that Kaiser leadership is capable of creativity, it's an amazing organization, we wouldn't work for it if we didn't have faith in [it]. We´re asking them to join us in a creative solution to this problem that's affecting people all up and down the region."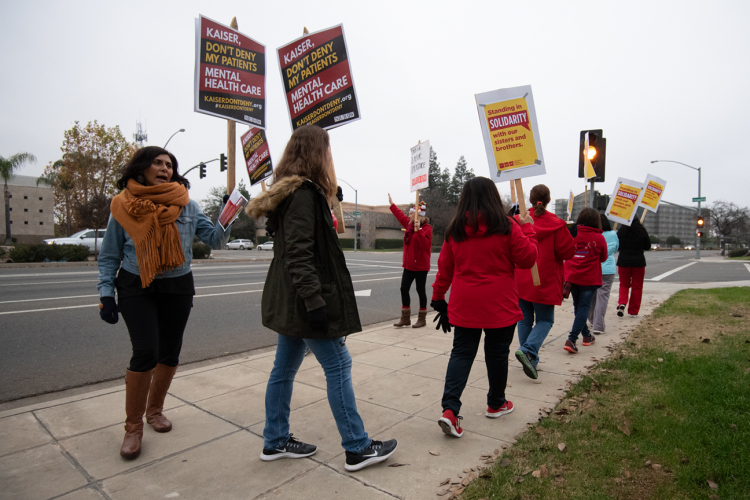 We are 100% volunteer and depend on your participation to sustain our efforts!
Get Involved
If you'd like to help with maintaining or developing the website, contact us.