From the Open-Publishing Calendar
From the Open-Publishing Newswire
Indybay Feature
Australia's First Nations prepare legal way forward for sovereign rights
28th November 2018
To counter the disastrous effects Native Title is having on Australian First Nations communities, a gathering of First Nations from across Australia is to prepare a legal way forward in pursuit of their sovereign rights and control of their own affairs.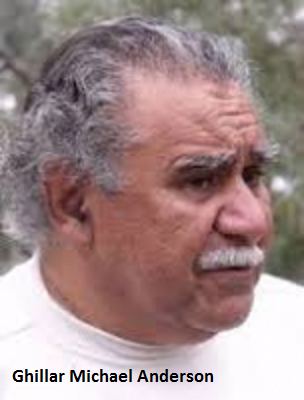 Links to a selection of brief videos are at the end of the article.
28 November 2018
By Ghillar, Michael Anderson, Convenor of Sovereign Union of First Nations and Peoples in Australia and Head of State of the Euahlayi Peoples Republic
To counter the disastrous effects Native Title is having on First Nations communities, a gathering of First Nations from across Australia is to prepare a legal way forward in pursuit of their sovereign rights, real self-determination and control of their own affairs.
The Sovereign Union Gathering of Nations held at the Yarramundi Cultural Centre, Canberra, from 23 to 25 November 2018 successfully dealt with key issues facing First Nations. Those attending came from across the continent and welcomed the opportunity to raise the problems they face and to understand ways of dealing with them, while joining the dots to understand the bigger picture of forced assimilation through fraud and deceit.
Nations with members attending the Sovereign Union Gathering of Nations:
Arrente Matuntara, Bundjalung, Euahlayi, Gomeroi, Gunnai, Gurindji, Guugu Yimithirr, Kuwarra/Tjalkadjara, Mantjinjarra, Martu, Mbarbram, Minjungbal, Noongar & Spinifex Anangu, Nyikina Mangala, Pitjantjatjara/ Yankunytjatjara, Tjapwurong, Wiradjuri, Yorta Yorta, Yugunga-nya, Yuin.
Context
The Sovereign Union Gathering of Nations put today's predicament into context. The mid-1970s witnessed a great deal of Aboriginal advancement and development, triggered by the efforts of the Black Power movement which confronted Australia's colonial authorities face-to-face through street marches, TV, print media and radio.
Our demands were very simple: self-determination, and thus control of our own affairs. We no longer wanted mission managers and never did want them. We no longer needed minders and never needed them.
The assertive action of the Black Power movement created a mind shift no Australian government had ever had to contend with before. What the establishment feared most was the level of mass support we were engendering, which emphathically brought home to the Australian public that Aboriginal and Torres Strait Islander Peoples had had enough.
Tjilpi Murray George from Anangu PitjantjatjaraYankunytjatjara (APY) lands came to our Gathering of Nations in 2014 and 2016 with an urgent request: How do we get our Law on top of the invaders' colonial law? Tjilpi Murray George is absolutely correct when he asserts that our Law is the Law of the land and always has been. The Peoples' position is that we have a responsibility to our culture and our land and we have no responsibility to those who just want to destroy the lands for profit and avarice. The land provided for our needs before first contact with the invaders and will do so again. The Sovereign Union position is what was said in the PowerPoint I presented:
Until the aboriginal natives of this Country shall consent, either actually or by implication, to the interposition of our laws in the administration of justice for acts committed by themselves upon themselves, I know of no reason human, or divine, which ought to justify us in interfering with their institutions even if such interference were practicable. …
But all analogy fails when it is attempted to enforce the laws of a foreign country amongst a race of people, who owe no fealty to us, and over whom we have no natural claim of acknowledgment or supremacy. - Justice Dowling in Rex v Ballard 1829, NSW Supreme Court[1]
1969 Eleven Point Plan of assimilation
The Eleven Point Plan of assimilation decided on in 1969 at the Darwin conference of Commonwealth and State officials was to be rolled out, but the question was how and by what means. It is important to understand that in 1969 there was bi-partisan agreement for the assimilation policy to continue for as long as it took. I recommend to our people that you study this Eleven Point Plan and consider what has taken place since the 1970s, especially the federal government's push to now promote and offer money for First Nations' entrepreneurship.
Black Power movement
The assertive confrontations of the Black Power movement were like an earthquake to the then established colonial order. Clearly, the politicians at the time reacted because the world was now watching. Our efforts on the streets forced a reactionary movement within the government which quickly found money to attempt to shut down our voices for justice.
Dousing the flames of resistance
One thing the British perfected was dousing the flames of resistance, but they did not quench them entirely. In ancient times they used their templar knights, then their ships of war and now, in our time, have mastered the art of psychology, which directed them to address the surging hunger for justice and control over our affairs.
Because of the master plan the British had devised, the government quickly pacified the Black Power resistance and demand for justice and self-determination, by creating a mirage, or should we say, a hologram that falsely and deceitfully represented the advancement of Aboriginal affairs by establishing such locally-controlled organisations for our people as the legal services, medical services and housing companies.
Land Rights
Land Rights was an issue that had to be dealt with, but this was a harder task for governments to address. Native Title has been contrived specifically to undermine land rights.
Fraud and deceit
The Sovereign Union Gathering of Nations examined the fraud and deceit committed against our Peoples over the last 45 years. The Aboriginal Embassy was established in Canberra because the then Prime Minister, William McMahon, announced on 26 January 1972 that the Commonwealth Parliament would facilitate the leasing of land back to Aboriginal People, through State regimes.
The rejection of this notion by the Black Power movement triggered the establishment of the Aboriginal Embassy, which took the call for Land Rights one step further –– with the catchcry 'Sovereignty Never Ceded'.
Only one social scientist recognised what the Aboriginal Embassy stood for (at least publicly acknowledging it in print) and that was CD Rowley, who said words to the effect that this was an ingenious political move because it demonstrated publicly that there was another sovereign entity on this land and that sovereignty was an issue that had to be dealt with. It has taken us nearly 46 years now to be confronting governments, in a purposeful and assertive way, arguing that the pre-existing and continuing sovereignty of First Nations throughout Australia is "one that will not go away".
Leasing land to First Nations now a reality
Let me return to the metaphors of the mirage and hologram. Do our people now realise that Billy McMahon's policy of leasing land to First Nations Peoples has become a reality? Let me demonstrate this reality.
The 1983 NSW Land Rights Act gave back 3,000 hectares of land, but refused to return 33,000 hectares taken from former missions and other lands set aside for Aboriginal people, for returning soldiers, who became the recipients of socage for their services in the armed forces.
The seized lands were allotted as 'soldier settlement grants'. England granted land to their returning soldiers in countries like Kenya and modern-day Zimbabwe etc., where they became the white-owned farms within the British colonies in Africa. They displaced the owners to achieve this in Africa, just as they did in Australia. This system denied Aboriginal land ownership. The New South Wales government cleverly deceived our people in more ways than one when they introduced the 1983 Land Rights Act. They reduced our land rights to mere land claims.
New South Wales refuses to process thousands of land claims
Some may argue that the 1983 NSW Land Rights Act was good because we got the right to claim all Crown lands in New South Wales, but we should consider that the government has failed to process many thousands of land claims, which are still yet to be finalised.
Current political concerns suggest that the New South Wales government may never finalise all Aboriginal land claims but instead sell claimed lands off, including Stock Routes, to adjacent farm owners.
But the biggest deceit of all was to set up a $2 billion fund for the NSW Aboriginal Land Council (NSWALC). This fund can now be said to have been the total amount the New South Wales government was prepared to pay for ALL the land of New South Wales, without ever informing us of this hidden reality.
One NSW minister controls the NSW Aboriginal Land Council (NSWALC)
Another fraud committed against our people at this time, which is much more clearly visible now, is the way the Land Council systems now operate. Aboriginal people from the grassroots community of NSW can only become members of their Local Aboriginal Land Councils (LALC). No Aboriginal person can become a member of the State Land Council.
In this case there is only ONE member and that person is the NSW Minister of Aboriginal Affairs. Those who are elected every four years to govern and control the Land Council network, conform to the terms prescribed for them in the New South Wales Land Rights Act 1983. It should also be noted that they "govern" the Land Council system at the sole pleasure of the Minister.
This unitary member can direct those elected to act on any commands that he or she may give through this Land Rights Act. Local Land Councils understand the absolute inflexibility of the administration of their Land Councils. They no longer have the power to sell or transfer their land in any way, shape or form without the State Land Council's approval via the Registrar's and the Minister's office.
Again ownership is just a mirage. It is governed entirely by caprice – devoid of due process, natural justice or procedural fairness.
Paying leases and rates on Aboriginal land
In Western Australia vast tracts of land have always been set aside for the sole use of Aboriginal people. These lands today are administered by the Western Australian Aboriginal Lands Trust (ALT).
I have learned in the past 12 months that these lands are now leased to the Aboriginal people whose Country it is. The irony is that they are also obligated to pay rates to local governments, as well as obliged to pay lease monies. This is paying rates to live on your own lands. This is why the Black Power movement called for Land Rights and set up the Embassy because we did not agree with having to lease our own lands.
Why Native Title claims on WA Aboriginal Land Trust (ALT) lands?
Adding to this frustration is the fact that the evil Native Title processes that pass through the Kimberley Land Council (KLC) and similar organisations throughout Australia, place Native Title claims over lands that we already own, since time immemorial, as freehold in many cases.
We now realise that organisations in Western Australia, such as KRED Enterprises and ARMA Legal services, are making huge amounts of money by placing Native Title claims over lands that they already own. Our grassroots communities don't understand how this fraud works.
If the WA Aboriginal Lands Trust was honourable with intact integrity as the administrator of all this land in Western Australia, they would NOT permit Native Title claims to be placed over Aboriginal lands in the State. With this being the case, where the Aboriginal Lands Trust permits Native Title claims over lands it holds in trust, the obvious question is: Who is actually benefitting from permitting and facilitating this?
Grassroots community members allege that corruption is rife in the Western Australian administration and that 'incestuous' criminal wrongdoings are taking place between the WA Aboriginal Lands Trust and Native Title service organisations. The losers are the people.
Our people have now learned and do understand that another aspect of criminality that is taking place is that the Aboriginal Lands Trust permits Native Title to be placed over their ALT lands solely to facilitate these Native Title service organisations' financial aspirations under the Native Title Act section 29: the Right To Negotiate (RTN). I can see no other reason for placing Native Title claims over freehold land that is already owned by the people.
Native Title determinations
Our people have now come to realise that when Native Title claims are finalised the land title is inalienable. What does this mean for the people?
They cannot raise any finance using their vast tracts of land as collateral.
They are completely locked out of the commercial world and the do-gooders in government argue it is in the best interest of the Aboriginal people to have their lands protected in this way.
The mission manager did not go away.
It is argued by government that if Aboriginal people want to develop their land and seek seed funding for any enterprise on their lands, they are encouraged to submit their corporate plans to Indigenous Business Australia (IBA); but we all know that to obtain a loan or seed funding it is like selling your soul to the devil, and that once he grabs you, you will never be free.
In most cases it may be that the grant or loan will be conditional on the IBA appointing an administrator to oversee your business, limiting and restricting your decision-making. This is another mirage of self-determination.
ILUAs surrender Homelands
The Sovereign Union Gathering of Nations heard from the people of the criminal wrongdoing being perpetrated against our peoples through Native Title. The people are being deceived by signing Indigenous Land Use Agreements (ILUAs) which surrender future claims and authorise past and future acts.
It is very clear that people who have had Native Title determinations made have never been informed of what past acts they are authorising and how far back do they go in time. The lawyers facilitating and encouraging the signing of these ILUAs are themselves perpetrating a fraud by deceit against the claimants whom they purport to represent. It is a clear case of 'non est factum'.
Clearly, they do not tell the claimant groups that it is absolutely illegal for anyone to sign documents granting future acts which, by the way, are unknown, and have them classified as past acts. The criminality of this is that it denies the common law holders any right to say what can and cannot be done on their lands in the future and the fact that they surrender all future claims and that it takes away, in law, any rights even to consider attempting to circumvent future acts that may impact on sacred Country or places of special significance.
For that matter, claimants are denied the right to negotiate any mining royalties or arrangements in the future. To do this is illegal, as a fraudulent misrepresentation, and the lawyers who purport to represent you should know this. There is no statute of limitation on fraud.
Prescribed Bodies Corporate block Traditional Owners from decision-making
Prescribed Bodies Corporate (PBsC) are nothing but a tyrannical system of governance that truly does not work for common law landholders. Not many people have a clear understanding of the true nature of the powers and authority of these Prescribed Bodies Corporate.
It is true that some Prescribed Bodies Corporate are welcomed by their constituency because, in most cases, they do the right thing.
But the Sovereign Union Gathering of Nations heard that many of these Prescribed Bodies Corporate create great barriers for common law landholders, who believe that they have the right to maximise their benefits from their Native Title lands, but many Prescribed Bodies Corporate block the common law holders from exercising their rights. Many PBsC end up being run by people considered outsiders to the grassroots community belonging to the Native Title claim.
Mining royalties in Trust squandered by trust administrators
It was also stated that royalty monies held in trust should be formally investigated because trust money is being siphoned off by those who administer trusts for purposes other than for the benefit of common law landholders.
Principally, enormous amounts of money are charged for the administration of trusts. It is reported by the delegation from the Western Desert Cultural block in Western Australia that when they convene meetings, they are charged between $400,000 and $500,000. The costs are not just to cover the attendance of common law landholders but to pay for security, police and for non-Aboriginal administrators who all fly in and hire cars for one-day meetings.
The Nations' participants all asked the same question: "How do we stop this fraud against us?" As they said: "We don't need them. We seek to govern ourselves. Royalty money can make this possible for us. It can also provide seed funding for us to be social entrepreneurs and provide for our own people."
Only treaties between genuine sovereign nations are valid
The Gathering was informed by international legal experts and economic entrepreneurs that there is no need for Aboriginal treaties with the Commonwealth. Since 1829 the British instructed their vassal colonies by way of Letters Patent and Orders-in-Council to counter the Aboriginal resistance, but this established legal obligations which Britain and the colonial authorities in Australia have failed to honour.
Only treaties between legitimate Sovereign Nations, not vassals, are valid and are overseen by the 1969 Vienna Convention on the Law of Treaties, which came into force on 27 January 1980. Quasi-treaties such as the State of Victoria is promoting, are more mirage, as they are in fact merely an agreement without the oversight of the Vienna Convention on the Law of Treaties.
Nation meetings on Country
The Sovereign Union will now prepare a legal way forward for First Nations Peoples to pursue First Nations sovereign rights with great vigour and, in doing this, it will be the sovereign First Nations Peoples who will decide what a settlement will look like, if indeed we choose to go down that road.
In this regard the Nations' delegates, who attended the Gathering of Nations, have established an agenda for Nation meetings on Country commencing in 2019. Nations will host these meetings of experts, who will guide them on their path to securing and exercising their right to be self-determining and in exercising this right they freely determine their own national identity; speak their own language within their own Country boundary and beyond; govern all within their lands; maintain cultural integrity; and pursue their own economic advancement.
A grassroots education system must be established that will encourage our people to think as the First Nations people who they really are. This will go against the Commonwealth government's Aboriginal envoy, Tony Abbott, whose stated assimilation ambition is that Aboriginal people MUST think in English!
SELECTION of BRIEF VIDEOS from the GATHERING:
KNOWING YOUR RIGHTS (extract) – Ghillar , Euahlayi
https://vimeo.com/303380737
$500 000 spent by Rep Body on ONE MEETING - Ted Jones, Martu
https://vimeo.com/303236986
CORRUPTION in PBC – Jaxon Motlap, Mbarbram
https://vimeo.com/303384966
ONE MINISTER CONTROLS NSWALC –Ghillar, Euahlayi
https://vimeo.com/303385372
FRAUD and TREATIES – Prof Gary Lilienthal
https://vimeo.com/303386582
STOLEN ICONS – Uncle Col Walker
https://vimeo.com/303237281
EXCHANGING KNOWLEDGE – Paul Brown, Yuin
https://vimeo.com/303218174
WORKSHOP - WIRADJURI OBJECTIVES -
https://vimeo.com/303384687
SOCIAL ENTREPRENEURS – Sorin Blaga -
https://vimeo.com/303387760
Contact: Ghillar, Michael Anderson, Convenor of Sovereign Union of First Nations and Peoples in Australia and Head of State of the Euahlayi Peoples Republic, Mogila Station, Goodooga, NSW 2838,
ghillar29 [at] gmail.com
, 0499 080 660,
http://www.sovereignunion.mobi
[1] R. v. Ballard or Barrett [1829] NSWSupC 26; sub nom. R. v. Dirty Dick (1828) NSW Sel Cas (Dowling) 2. Source Sydney Gazette, 23 April 1829.
We are 100% volunteer and depend on your participation to sustain our efforts!
Get Involved
If you'd like to help with maintaining or developing the website, contact us.