From the Open-Publishing Calendar
From the Open-Publishing Newswire
Indybay Feature
Interior and Commerce Secretaries sign agreement to expedite Big Ag water deliveries
The Golden Gate Salmon Association (GGSA) blasted the agreement as a move by Deputy Interior Director David Bernhardt to "seize and consolidate control of northern CA water needed by salmon for use of his former clients in the western San Joaquin Valley to grow nut crops for export to China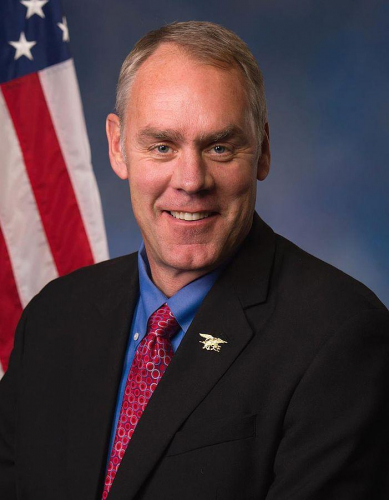 The Departments of the Interior and Commerce today announced the signing of a controversial Memorandum of Agreement (MOA) to expedite the "reliable delivery and supply of water" to Western water users, a deal that has ominous implications for the future of salmon, steelhead and other fish species in California and the West.  
Fishing groups slammed the agreement for engineering a corporate take over of precious water that is needed to keep salmon, the San Francisco Bay-Delta and West Coast fisheries alive. 
This agreement comes at a time when many salmon populations on the West Coast, including Sacramento River winter and spring Chinook salmon and Klamath and Trinity salmon spring and fall Chinook populations, are in peril due to decades of water diversions, water exports and poor dam and reservoir management by the state and federal governments.
Secretary of Interior Ryan Zinke and Secretary of Commerce Wilbur Ross last week signed the MOA, claiming that the agreement will ensure that the Presidential Memorandum on Promoting the Reliable Supply and Delivery of Water in the West is "implemented as quickly and smoothly as possible."
The memorandum that Trump issued on October 19 directs Interior and Commerce to "do what it takes to ensure that western water users have what they need to irrigate millions of acres of farmland and provide water and power to millions of Americans."
The Presidential Memorandum directed the Interior and Commerce Departments to take several specific actions, including:
• Expediting regulatory actions essential to the operation of water infrastructure while ensuring compliance with the Endangered Species Act and National Environmental Policy Act;
• Improving the information and modeling capabilities related to water availability;
• Expanding use of water desalination and water recycling;
• Removing unnecessary burdens unique to the operation of the Columbia River Basin's water infrastructure.
"We look forward to collaborating with the Department of Commerce on reducing the regulatory burden on these critical infrastructure projects," said Interior Secretary Ryan Zinke. "This Memorandum moves us one step closer toward ensuring Western water infrastructure can meet the demands of water users today, and in the future."
"Streamlining the regulatory process and removing unnecessary burdens on Western infrastructure projects will help ensure the reliable supply and delivery of water in the region," said Secretary of Commerce Wilbur Ross. "We look forward to working with the Department of the Interior to remove the red tape preventing the American West from improving the infrastructure it needs to thrive and grow."
The MOA has designated Mr. Paul Souza, Regional Director for the Pacific Southwest Region of the U.S Fish and Wildlife Service, as the lead official in charge of managing the "Klamath Irrigation and Central Valley Project's compliance with the Presidential Memorandum's requirements."
That means Souza will be in charge of slashing the amount of water provided for fish and ecosystem survival in the Sacramento-San Joaquin and Klamath River systems — and increase the supplies of water to agribusiness and other water users.
The Golden Gate Salmon Association (GGSA) blasted the agreement as a move by Deputy Interior Director David Bernhardt to "seize and consolidate control of northern CA water needed by salmon for use of his former clients in the western San Joaquin Valley to grow nut crops for export to China."
"This is the Trump administration throwing California salmon and fishing communities under the bus," said John McManus, GGSA President. "David Bernhardt, the former lobbyist and lawyer for the Westlands Water District, is attempting a takeover of California's water needed to keep salmon alive. He's moving to gag federal biologists that understand salmon protections while he seizes salmon water and diverts it to his former clients, the nut growers in the western San Joaquin desert." 
Bernhardt, who has dedicated much of his career lobbying to eviscerate environmental protections for Central Valley salmon and other species and to export more Delta water to corporate agribusiness interests on the west side of the San Joaquin Valley, is the heir-apparent to Zinke's position, according to an article in Politico:
https://www.politico.com/story/2018/10/31/ryan-zinke-interior-department-possible-successor-bernhardt-952984
"Zinke has long been expected to join a post-election exodus from the Trump administration, even before this week's reports that Interior's internal watchdog had referred at least one investigation into the secretary's ethical problems to the Justice Department," according to Politico. "And he already has an heir apparent: Deputy Secretary David Bernhardt, a longtime lobbyist for the oil and gas and water industries, who would be well placed to execute President Donald Trump's pro-fossil fuel, anti-regulatory policies." 
Financial disclosure forms filed with the Independent Office of Government Ethics on March 6, 2017, more than a month before President Trump nominated him for the Interior post, reveal that Bernhardt received at least $80,000 in 2016 working for energy and agribusiness corporations, reported E&E news.
According to the disclosure report, clients who paid Bernhardt at least $5,000 for his legal services in 2016 include Targa Resources Co. LLC, Noble Energy Co. LLC, NRG Energy Inc., Sempra Energy, Lafarge North America–Western Region, Safari Club International Foundation, Active Network LLC, Statoil Gulf Services LLC, Cobalt International Energy, Rosemont Copper Co., Independent Petroleum Association of America, Taylor Energy Co. LLC, Garrison Diversion Irrigation District, the Forest County Potawatomi Community and Westlands Water District.
We are 100% volunteer and depend on your participation to sustain our efforts!
Get Involved
If you'd like to help with maintaining or developing the website, contact us.