From the Open-Publishing Calendar
From the Open-Publishing Newswire
Indybay Feature
Why Can't KPFA Local Station Board Officers & The Board Majority Support & Defend Assange
Despite the growing danger of the arrest and imprisonment of journalist and whistleblower Julian Assange the KPFA Local Station Board and the majority of it's members have refused to call for his defense and freedom. The question is why?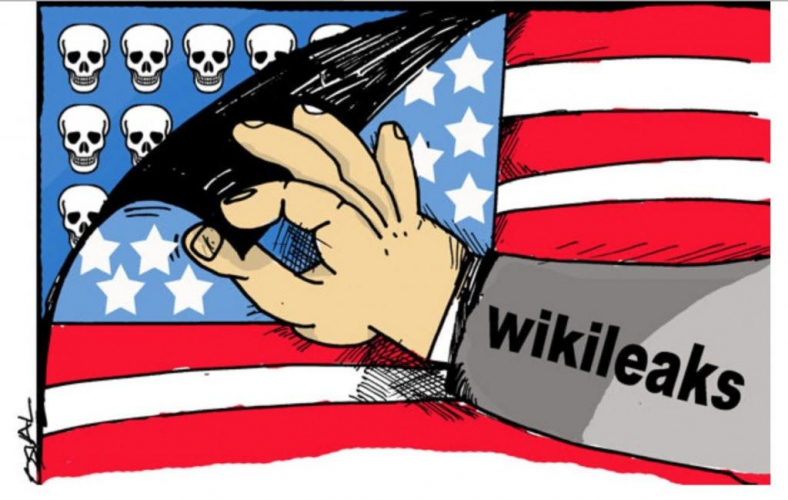 Why KPFA Local Station Board Officers and The Board Majority Can't Support And Defend Julian Assange
By Steve Zeltzer
11/16/18
This week, the New York Times reported that the US government had apparently released information that it has a secret unopen indictment against whistleblower and journalist Julian Assange. Assange who is the founder of Wikileaks has been targeted by the US government for release of large amounts of secret emails and other information exposing US war crimes and other illegal and embarrassing revelations about US politicians, corporations and efforts to fix the US elections by manipulations to prevent Bernie Sanders becoming the candidate of the Democratic party in the primaries.
A major campaign of the Democratic party leadership including Hillary Clinton and her supporters is that the reason for her loss were the release of emails prior to the election by Julian Assange and Wikileaks. They have launched a major political propaganda campaign to blame Russia and Putin for the election loss. They have also targeted Pacifica journalist Randy Credico in New York.
This massive hysteria against Russia of course is not new. Ever since the Russian revolution the US government and capitalists have not only targeted Russia and the Soviet Union but even invade Russia in 1917 with 21 countries.
The New York Times in it's report says that one reason the Obama administration did not want to go after Assange criminally is that if this happened they could also go after the New York Times itself and the Washington Post for publishing the revelations in the emails that Wikileaks exposed.
They now worry that this could in fact lead them to being targeted as well and they have reason to worry. The propensity of the Trump administration is to call the press scum and even encourage physical attacks on them. The defense of Julian Assange is therefore not just a question about Assange but about the right of all whistleblowers and journalists to expose war crimes, government and corporate corruption. Julian Assange has also been accepted by the Austrial journalists union Media Entertainment and Arts Alliance
In an effort to place Pacifica and KPFA in the frontlines of defending Assange I as a member of the KPFA Local Station Board representing the staff introduced a motion that called for the defense and freedom of Assange where he has been forced to stay in the Ecuadorian consulate in London for over 5 years. He has health problems and also the US government has pressurized the Ecuadorian government to hand him over the the Theresa May and then the US Justice Department. Some politicians have also called for his torture and even murder.
It was also endorsed by Project Censored, Dennis Bernstein and KPFA journalist Ann Garrison among others.
While waiting for the resolution to come up to the KPFA LSB, the Pacifica National Board endorsed a similar resolution 12 to 0 on October 11, 2018. It was also backed by the journalists and political activists that KPFA and Pacifica like to broadcast and interview to raise money for the station and network. They included Chris Hedges, Oliver Stone, Daniel Ellsberg and Ken Loach.
https://pacifica.org/documents/Press%20Release-Pacifica%20supports%20Julian%20Assange%202018-10-07%20(1).htm
After three months the resolution finally came up for a vote at the KFPA LSB and interestingly the KPFA LSB Secretary tried to negotiate with me to delete the clause calling for the defense and freedom of Julian Assange. What she and her supporters who control the majority of the board argued is that KPFA should just put out information about Assange but not take a political position to support him.
I did not accept this proposed change and she introduced a substitute motion deleting the specific language calling for the defense and freedom of Julian Assange. Some of have argued that what KPFA and Pacifica does really doesn't matter anyway so why take a public stand. This view forgets why Pacifica and KPFA were established. They were founded in the fight against war by the United States and other countries. KPFA was also founded against the backdrop of the US anti-communist witch hunt to silence and shutdown not only Communists and leftists but all critics of US policy.
At the same time the KPFA LSB officers and board majority have banned the video taping of KPFA LSB meetings and also sought to prevent roll calls on important issues being debated at the board. This is the case even though most state and government agencies are required to allow video taping under the Brown action. One has to ask where is KPFA going?
This history is as relevant as it was then as it is today as the US government and both parties move toward war against not only Russia but China and Venezuela. The members and supporters of Pacifica and KPFA need to investigate these issues and start to demand that KPFA begin to stand up not only for Julian Assange but all whistleblowers and journalists. The need to defend our democratic communication rights are at risk and those who are unwilling to take a principled stand on these life and death issues need to be challenged
Steve Zeltzer
KPFA WorkWeek Radio
labormedia1(at)gmail.com
There will also be a public meeting on Julian Assanges case on
Sunday December 9, 2018 at 1:30 PM at
518 Valencia St./16th St.
San Francisco, CA
For further information:
https://www.abc.net.au/news/2010-12-23/journalists-union-shows-support-for-assange/2383428
https://consortiumnews.com/2018/11/14/us-intel-will-bring-assange-to-us-in-chains/
https://www.youtube.com/watch?v=PLDGwPw_TuE&t=73s
https://www.youtube.com/watch?v=d4yHvfVMiVE
https://pacifica.org/documents/Press%20Release-Pacifica%20supports%20Julian%20Assange%202018-10-07%20(1).htm
https://original.antiwar.com/Nozomi_Hayase/2018/11/01/julian-assange-modern-day-political-prisoner
We are 100% volunteer and depend on your participation to sustain our efforts!
Get Involved
If you'd like to help with maintaining or developing the website, contact us.