From the Open-Publishing Calendar
From the Open-Publishing Newswire
Indybay Feature
The Movement is Only Getting Started
We are sad to announce that Measure M will not pass, but we are not discouraged! The Movement for Housing Justice is only getting started.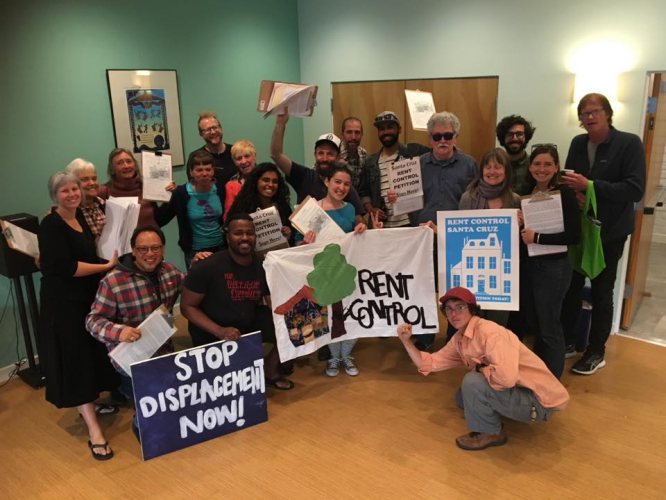 When this movement began, it was more than just a ballot measure or about winning rent control for Santa Cruz, although that continues to be one of the goals. It was about changing the narrative of housing in our society. It was about offering a better way: housing as a human right. While we may have not succeeded in passing rent control in 2018, we have succeeded in so many other ways with more successes to come.

The Movement for Housing Justice (MHJ) organized hundreds of volunteers. We gathered 11,000 petition signatures in 2 1/2 months! We passed a temporary rent freeze and just cause ordinance that protected thousands of renters in the city in the face of big-time realtor & landlord opposition. We shook the boots of the establishment and the multi-billion dollar real estate lobby. We created a community discussion that, even after the election, will continue to be on the front-burner. We caught the attention of organizations and newspapers around the country. We engaged hundreds of working-class residents, many of whom have never been involved in a political campaign let alone organizing! All of this is because of our grassroots movement. This in itself is the success of our campaign!

We believe that the people of Santa Cruz still want rent control and tenant protections. Justin Cummings and Drew Glover, the two City Council candidates who actively supported rent control, are poised to be among the top vote-getters for City Council. Votes are still being counted; if they both win, this would be the first time progressives gain a majority on the council in 16 years!

And we're only getting started.

To everybody who helped us gather signatures, worked on data, showed up to council meetings, put up a yard sign, knocked on doors, made phone calls, donated generously to the campaign, organized in our core central committee, endorsed us, shared your story, voted YES on Measure M, or supported us in many other ways, we thank you from the bottom of our hearts. We built more than just a movement: we created a community.

We are certainly not finished. Even if Measure M had passed, there would have still been work to do. Housing continues to be a commodity, up for the highest bidder and made into a speculative asset only available in a playground of millionaires and billionaires.

Moving forward in the short term, our goal will be to defend the rent freeze until the new council is seated.

Moving forward in the long term, we will develop a game plan on how to secure protections for renters in other ways. And we want you to be there for that. We are in this together because solidarity makes us stronger!

Take the time you need for self-care. Treat yourself, process everything, debrief, talk it out with your fellow rent control supporters, get out of town for a weekend, take time for yourself to heal. And then when you're ready, roll up your sleeves. Because there is work to be done.


In love & solidarity,
The Movement for Housing Justice
We are 100% volunteer and depend on your participation to sustain our efforts!
Get Involved
If you'd like to help with maintaining or developing the website, contact us.