From the Open-Publishing Calendar
From the Open-Publishing Newswire
Indybay Feature
Is shaming or outing racists online out of their job OK? Mounting pressure campaigns
Shaming Racists with Pressure tactics out of their job. Examples. Details recent ongoing pressure campaign on Proud Boy Member Comcast Employee who throws white power hand signals wearing his comcast jacket uses as profile pic next to his Comcast logo for employment on Facebook.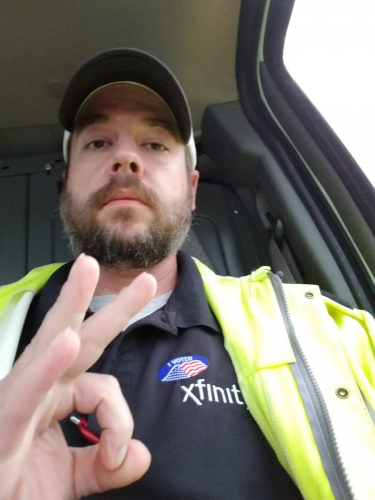 Is public shaming people out of a Job OK?
This is a new pressure tactic on the internet for many and has proved to be very effective in the age of the internet where public SM profiles provide an easy way to identify people and disseminate information. This was proven when the Tiki Torch carriers marched chanting "Blood and Soil" Twitter lit up and soon many had been identified by name and employer. They then turned their tweets to employers and many found themselves without jobs.
However it will run counter to mosts instinctively when seen for the first time and asked to participate. And it deserves careful thought when you choose to do so. Some fear retaliation simply by posting, or have other feelings that may cause them to skip joining in. Try addressing this first thing and keep it short and simple.
I have used these pressure tactics and I feel it is the right thing when it comes to overt Racism or Violence.
Yesterday I posted about a Comcast employee Andrew Kovalic, Harrisburg PA Proud Boys Rally Captain. This is him throwing a white power symbol in his comcast uniform. Goal is to pressure Comcast to fire him by sending them the post and asking if they abide by him using his white power hate group symbol on his profile with his comcast logo for work below it and also using White Power Hand signs while on duty in pics and posting them publicly wearing a comcast uniform. Designated a hate group by The Southern Poverty Law firm. They are Alt Right Nationalist White Supremacists. They are emboldened by Trump and in this case sprung from the loins of his 2016 election. Using the word Nationalist to describe himself recently has only made things worse.
The Proud Boys are to be security at what is being sold to the media as a pro american peaceful rally "We the People"
Event info on FB is here
https://t.co/a86tXDbMPo
Full details on The Proud Boys and Hate Group designation can be found here.
https://www.splcenter.org/
…/extremist-files/group/proud-boys
When media asked about The Proud Boys attending the rally organizers said they would not allow hate groups in but it was a lie. In truth they were hired for security already Andrew included. This has been proven by @AntiFashGordon in detail chat logs etc. on his twitter megathread. He or she started this campaign
https://twitter.com/AntiFashGord
…/status/1062013328573296640
I simply took it to facebook to add pressure to comcast.
You may remember what I believe was a civilian contractor fired from the Coast Guard when he flashed this same symbol in the background of a photograph taken showing a control room for rescuing hurricane victims. The pic went viral and he was fired immediately no real pressure campaign needed. No sm media investigation it was over before it started.
Similar forms of pressure have worked recently when people complained to Nord VPN Fox new's biggest advertiser that as customers of Nord they found Fox News offensive and laid out examples. Nord conceded immediately days ago canceling its advertising. Its not always that easy.
Some equate this type of public shaming especially regarding employers to Mccarthyism. Arguing it could lead to other forms of outing and shaming later that are not OK similar to Mccarthyism. I don't buy this argument. The tactic exists. The internet exists. Cats out of the bag. How its used and when its used and if its effective is up to the people that use it and employers.
I don't find racism and violence to be political at its core even know this group gets political. It's just hate and ignorance. Some argue that The Proud Boys pick fights with Members of Antifa which they consider a hate group as an argument against pressure on employers. I don't buy this as an argument. It's a whataboutism, an excuse for that which has no excuse. Far too many of these types of excuses being used these days. I don't sanction violence. I don't know any progressives that sanction or support Antifa. They are as I understand liberal fascists not liberal progressives. I don't know enough about Antifa to debate their views nor define them. But I do know one wrong does not make another right and The Proud Boys have history of White Supremacy, gender violence, and misogyny. They just use ALT names.
Outing or shaming is one way we can fight back with pressure. Kids growing up need to know that when they do wrong in the age of the internet there can be severe consequences that never go away. Days ago a class of young students had a group pic taken throwing Nazi salutes about 100 students maybe 15 years old. That picture went viral quickly and those students will live with it for a very long time. They will survive it but might think again before they act that way. This is the internet age. Its not going away.
Sadly Trump seems to give many the feeling they can do such things without consequence. But its not the case, I hope Comcast will join the many other companies who have fired a long growing list of such people. This is legal and there is little recourse for those who were dumb enough and overt enough to post their racism online, who attack others without provocation who take violence to the streets and put it to music on YouTube. Who use new terms for old ones "Western Chauvinism". Who have associated with the KKK, Neo Nazi Skinheads recently.
When starting your own campaign make sure you tag the employer and ask people to share the post so everytime the employer gets notified and it appears on their community feed. It works while you sleep.
If you feel like trying this tactic join us in pressuring Comcast - Regarding Andrew Kovalic Proud Boys Member Comcast has not answered as of posting this. The silence deafening to this soon to be former customer. There have been several days of pressure on many fronts. Were not close to giving up. You can contact comcast by phone, email, fb or quickly by messenger simply search "Comcast" in messenger and send to top 5-8 you see. Add your thoughts and send twitter link below outlining all. You also can post to their FB page by clicking community. drop the link on post and tell them how your feel. I prefer to do them all. Demand you get an answer. Please let me know if you do.
Details and proof for comcast employee orig poster
https://twitter.com/AntiFashGord
…/status/1062013331496726528
Comcast Contact methods
Comcast tele 1-800-934-6489
call 1-800-xfinity (1-800-934-6489) and/or use online help forum
Comcast Facebook
https://www.facebook.com/comcast/
There are more on FB just search comcast
Email
info [at] comcast.net
Comcast Cares on twitter @comcastcare @comcast @xfinity
YOu can find me on twitter
https://twitter.com/Suckme_Potus
We are 100% volunteer and depend on your participation to sustain our efforts!
Get Involved
If you'd like to help with maintaining or developing the website, contact us.