From the Open-Publishing Calendar
From the Open-Publishing Newswire
Indybay Feature
Libby Schaaf Violated Ethics Laws by Campaigning on Nextdoor
On November 4, two days before election day, Libby Schaaf abused the power of her office and violated Nextdoor policies for Public Agency accounts when she or a subordinate used the official Oakland "Office of the Mayor" account on Nextdoor to electioneer by posting political endorsements in her favor. Such use of the account rather clearly violated California government ethics law as well.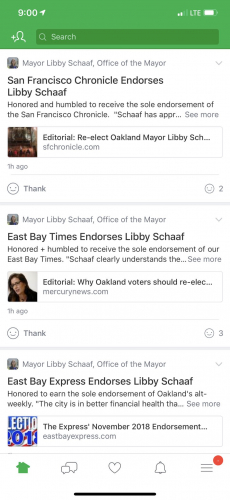 [Political endorsements posted on Nextdoor. Screenshot by
Leon Sykes II @DNas
.]
Nextdoor is a website/app that promotes itself as a "private social network for your neighborhood." Individual users are restricted to making connections only within their immediate vicinity. However, Nextdoor also offers specialized accounts for public agencies, allowing them to communicate official business to an entire city or geographical region.
Oakland Public Agencies
currently on Nextdoor include the East Bay Municipal Utility District (EBMUD), the City of Oakland, the Office of the Mayor, the Oakland Police Department, and the East Bay Regional Park District.
Schaaf's use of the Agency account violated Nextdoor policies against politicking.
Next Door
explicitly states, "Agency accounts are not intended for use to advocate for or against a particular candidate, officeholder, political party, or ballot measure (i.e., campaigning or politicking)."
It's possible that Schaaf, or someone acting on her behalf, presumed she was speaking exclusively to her own people by campaigning on Nextdoor, that others wouldn't notice. The website is a notorious hub for
racial profiling
. White Oakland residents increasingly used Nextdoor to report "suspicious activity" about their Black neighbors. While those who run the site have repeatedly claimed they are committed to weeding out racism on its platform, there is
no quick fix
.
After complaints
began to spread
on
social media
over Schaaf's misuse of the Agency account, the endorsements were
removed
.
Nevertheless, use of such a platform to which opposing political candidates have no such access
violates California ethics laws
regarding "public resources" (h/t
@jpmassar
).
"Use of public resources for private or political purposes."
Cal. Gov. Code §8314
"Use of public resources on ballot measure or candidate related activities."
Cal. Gov. Code §54964
"It is also deemed unfair if incumbents have access to free means of communicating with voters, not available to other candidates."
Cal. Gov. Code §89001
Note that by California law, "public resources" include such things as: public funds, staff time; public equipment; and supplies. It's not clear who has access to the Oakland "Office of the Mayor" account. Was it a city employee who spammed the endorsements on Nextdoor early yesterday morning? Was it campaign staff? Schaaf herself? Are there other similar violations that have gone unnoticed?
The
Oakland Public Ethics Commission
may end up having something to say regarding legal and/or ethical violations as well.
While posting favorable political endorsements on an Agency account on Nextdoor is not the biggest scandal of all time, it was clearly unethical, and looks to be illegal. It was an abuse of power intended to benefit her re-election campaign. Schaaf knows as much, or the offending posts would not have been removed. So why did they go up in the first place? What does it say about the moral compass of Oakland's incumbent mayor and those she surrounds herself with?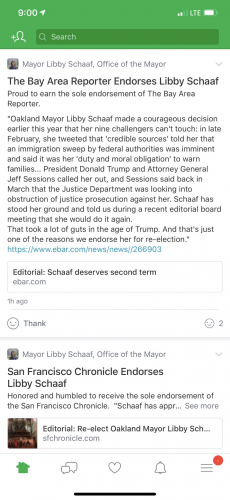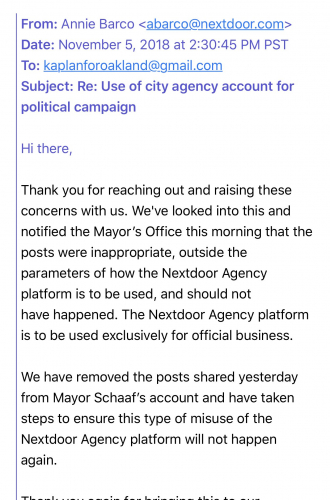 Nextdoor, November 5, 2018:
"We've looked into this and notified the Mayor's Office this morning that the posts were inappropriate, outside the parameters of how the Nextdoor Agency platform is to be used, and should not have happened. The Nextdoor platform is to be used exclusively for official business.
"We have removed the posts shared yesterday from Mayor Schaaf's account and have taken steps to endure this type of misuse of the Nextdoor Agency platform will not happen again."
[Screenshot by
@Kaplan4Oakland
.]
We are 100% volunteer and depend on your participation to sustain our efforts!
Get Involved
If you'd like to help with maintaining or developing the website, contact us.