From the Open-Publishing Calendar
From the Open-Publishing Newswire
Indybay Feature
Rent Control: The Bigger Picture
The scope of the crisis faced by renters in Santa Cruz is familiar to most of us: the extra jobs required to pay the rent, the threat of eviction, the endless searches for an affordable place, the looming possibility of homelessness. Not mentioned as often are all the side effects of this insecurity: illness, relationships distorted by impossible conditions, life plans and careers derailed. While the crisis here is extreme, Santa Cruz is not alone. According to research by the National Low Income Housing Coalition, there is no US state where a full-time minimum wage worker can afford to rent or own a one-bedroom dwelling.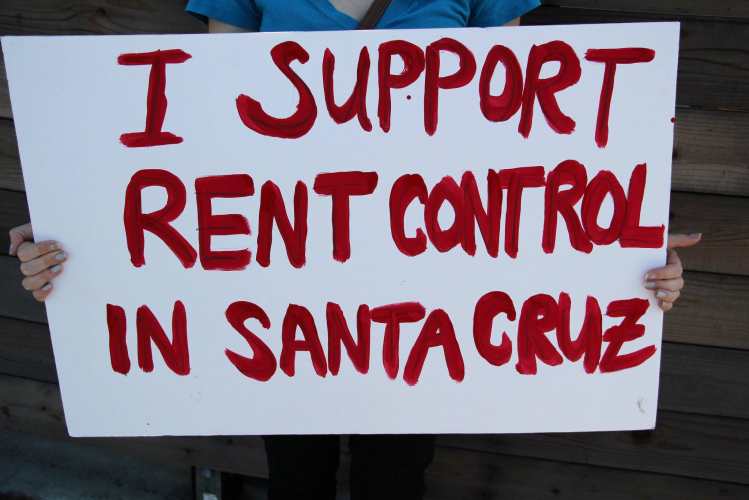 How did this happen? The crisis is ultimately about a conflict between two views of housing: as home and as real estate. For decades, wholesale privatization and deregulation have given us a world in which Wall Street speculators and corporate landlords have free rein, in which "real estate" trumps "home": housing is not produced and distributed for the purposes of dwelling for all, but as a commodity to enrich the few. In Santa Cruz County in the 80s and 90s, this meant the exclusion of entire categories of housing in order to keep out less affluent residents. Combined with the expanding tech economy and the expanding university, the result is the totally privatized, free-for-all world of housing in today's Santa Cruz, ranked least affordable place for housing in the United States by the 2018 Demographia International Housing Affordability Survey.

But when governments fail people, people often rise up. This is what the movement for rent control is about. While no one believes that rent control is more than a first step towards solving the housing crisis, without protection for the people who are vulnerable now, the longer-term construction of the necessary affordable housing will come too late.

The opposition to rent control is led by Big Real Estate, not the "mom-and-pop" landlords that appear in the expensive and ubiquitous ads as their spokespersons. Wall Street landlords and speculators are the major source of funding to defeat statewide Proposition 10, which would expand rent control in California cities that have it. Take the Blackstone Group, which reaped huge profits by buying up cheap foreclosed homes during the financial crash of 2008 and converting them to rentals. Blackstone is now the world's largest real estate management firm, with $119 billion in assets, many in California rental properties. These include the notorious Invitation Homes, exposed in a July Reuters article entitled "Spiders, sewage and a flurry of fees – the other side of renting a house from Wall Street". Blackstone has donated close to $7,000,000 to stop Proposition 10, in effect using its renters' own money to defeat a measure that would benefit those renters.

Here in Santa Cruz, opponents of Measure M are out-spending the genuinely grassroots Yes on M campaign 20 to 1, with half of this money coming from two outside organizations, the California Association of Realtors and the National Association of Realtors. Like Blackstone and the other corporate landlords, they are banking on the conventional wisdom that a ballot measure is doomed if enough money is spent to defeat it. In this year's campaign for rent control in Santa Cruz and National City, where it is also on the ballot, and for Proposition 10 all over the state, the "bad guys" are not "the landlords". They're the obscenely wealthy class of real estate moguls who will do everything they can to continue to profit at the expense of people who are just looking for a home. Don't believe the hype that they support rent control but not this particular version. They will never support any rent control because it cuts into their profit margin.

Vote for homes: YES on 10 and YES on M.


Michael Gasser is a Santa Cruz resident and a member of the Movement for Housing Justice.

(This op-ed was not published by the Sentinel)
We are 100% volunteer and depend on your participation to sustain our efforts!
Get Involved
If you'd like to help with maintaining or developing the website, contact us.