From the Open-Publishing Calendar
From the Open-Publishing Newswire
Indybay Feature
Support Riseup.net, the Friendly, Radical, Tech Collective That Supports You
There is a war being fought over your communication.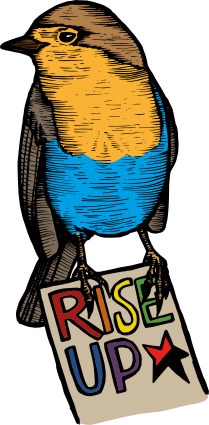 Dear Riseup People:
I've been thinking about the fires, metaphorical and real, that have left a lot of us wounded, rageful, and burned this past year. I've been thinking a lot about mushrooms and their root structures that allow for underground plant communication, and how vital this communication is for ecosystems. So first and foremost, from all of us at Riseup, we are sending love, solidarity, and the reminder that we are connected to each other, below and beneath things. Keep working, fighting, dreaming and moving, and we will do the same.
This email is the first of several in Riseup's fall fundraising drive, where every donation carries other Riseup users with you. We wouldn't exist without you, so please donate if you can. It could be a recurring donation of $10, one dollar, or tens of thousands of dollars. Everything helps. Every dollar is well used by our small collective, and we'd like to keep doing our work because there is a war being fought over you communication.
One side of this war wants control, so they can profit from and watch everything you say and do online. They want to sell you stuff, but also want to use your data for job applications, insurance, and law enforcement. Along the way, they want you to feel empowered and entertained by the process of turning your life into a stream of commodified information.
The other side wants digital autonomy, and fights against the surveillance state, the internet monopolies, and the data profiteers. Some of these battles happen in the courtroom, others in the world of politics. Then there is what Riseup does: we wage direct, on-the-ground resistance by creating and using technologies embedded with freedom and self-determination.
All of you, by using Riseup, are part of the resistance that stands up and says no to spying and profiteering. We believe, with all our hearts, that if there are not more secure and private ways to communicate, and if there are not people who actively use and support the creation of these technologies, then our right to communicate freely online will disappear.
However, all this freedom comes with a challenge. Since we don't profit off you, we depend on your donations for our continued existence and our ability to build the infrastructures that make another world possible. Time and again, over the last eighteen years, many of you have raised your hand and said this means something to me, I'll pitch in whatever I can to keep Riseup going. Thank you, thank you a million times over. We are here only because of you.
https://riseup.net/donate
And, while we are asking for your help, and we are all about mutual aid and supporting each other, we'd also like to announce the sweet news that we are increasing everyone's email quota, so that you will all have more space to send love letters of one sort or another out into the universe. No need to do anything about it, it will show up in your inbox, soon.
With Love and Hope,
The Riseup Collective
We are 100% volunteer and depend on your participation to sustain our efforts!
Get Involved
If you'd like to help with maintaining or developing the website, contact us.