From the Open-Publishing Calendar
From the Open-Publishing Newswire
Indybay Feature
A Billionaire-Backed Democrat Is Facing Off Against a Democratic Socialist in Berkeley
Buffy Wicks (right), backed by national Democrats, battles local progressive Jovanka Beckles (left). And it's getting rough.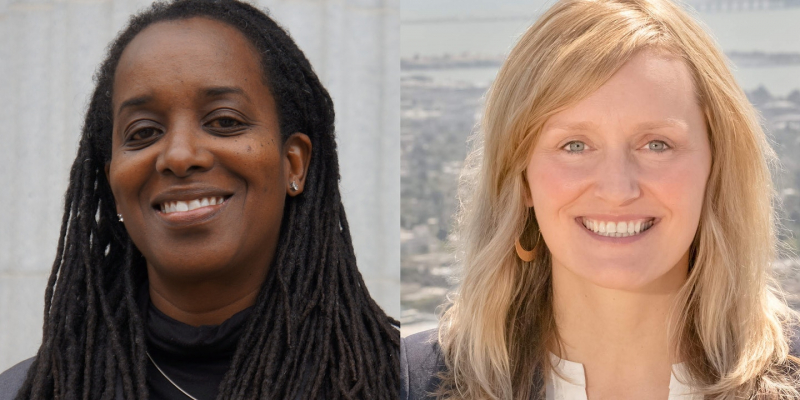 The battles within the Democratic Party have played out in high-profile races this year, largely featuring well-heeled establishment figures with years of elected experience challenged by left-wing outsiders running with the support of a national grassroots movement.
Amidst this fight, there has been a strenuous effort from party centrists to drain the question of any ideological content. Party leaders are not pushing any particular agenda, goes the argument, but are merely pragmatists maximizing the chances of winning a general election. Elaine Kamarck, a Brookings Institute scholar and political consultant, put it succinctly. "Party leaders have the job of winning nationally; Democrats are painfully aware that not all congressional districts are Berkeley, Calif.," she wrote in defense of those party leaders.
Party leaders, however, seem to have missed that memo when it comes to the non-metaphorical Berkeley. Thanks to the state's jungle primary law, two Democrats will face off in November in Assembly District 15, a state legislative seat which includes North Oakland, Berkeley, and Richmond.
Here, it is Jovanka Beckles, the candidate endorsed by the Democratic Socialists of America and Sen. Bernie Sanders who has the governing experience and the support of leading local elected officials, and it's the upstart, Buffy Wicks, who has never held office before. Wicks is running as a business-backed Democratic operative pushing to disrupt a seat long-held by the progressive left.
In the June primary, backed by a groundswell of money, largely from tech executives and Washington, D.C. politicos, Wicks took the most votes.
The runner-up, Beckles, is the leftist favorite, however. Beckles has served since 2011 on the Richmond city council, fighting a larger than life battle against the oil giant Chevron, which owns the 117-year-old refinery that has long cast its shadow over local politics.
The campaign has piqued national interest as wealthy donors have inundated the election with independent expenditures casting Beckles as an angry extremist unwilling to support a practical solution to the housing crisis.
The race is another sign of the economic and cultural changes that have utterly transformed the Bay Area in recent years as a result of the long technology boom — changes that are uprooting the traditional, radical political culture of the region, pitting a longstanding leftist power base against an ascendent brand of technocratic, corporate-friendly Democrats.
The tension in the campaign was apparent in one of the first forums of the race, in a Richmond auditorium filled with senior citizens.
Wicks stood up and gave her stump speech, recounting her experience as a young radical, providing a story well situated for a district rich in activist history.
"I was the girl with the nose ring, the lip ring, the multicolored hair and the bull horn," Wicks said, recounting her protest history.
Wicks grew up in the foothills of California, in a trailer home. After college, she moved to the Bay Area to organize rallies against the Iraq War. Her opposition to the war in Iraq led to work with the Howard Dean campaign. Later, she took a union-backed job to pressure Walmart to raise its wages and benefits. At the Richmond event, she explained, in heartfelt detail, the shock of learning that her uninsured friend had been diagnosed with HIV. That incident inspired her to make a lifelong push for better healthcare, culminating in her standing beside President Barack Obama to celebrate the passage of the Affordable Care Act, a bill she helped secure as White House aide.
The passionate remarks, however, were met with skepticism from the crowd.
Hand after hand went up, with audience members peppering the candidate about why she isn't working towards single payer health care and why she opposes the contentious Proposition 10 ballot measure to enable more rent control in California. For several educators in the crowd, they wanted to know how she could square her recent public criticism of charter schools with the fact that pro-charter groups were spending big money on her behalf.
Wicks rattled off the changes she would seek to charter schools, including increased transparency and accountability, but said she would respect the choice of parents who send their kids to one. Besides, she added repeatedly, "I haven't taken any charter school money." Many in the crowd murmured.
A man stood up to explain that Govern for California, a Super PAC-style independent expenditure group funded by charter school advocates, had spent hundreds of thousands of dollars in support of Wicks. "We might know a little bit more about it than you think," he said.
The extent to which influential Democrats and corporate donors have rallied around Wicks is an indication of how much the election has become a bellwether in the ongoing battle to define the heart and soul of the party.
"If a democratic socialist can knock off an establishment Democrat, you'll have a slew of Berniecrats challenging mainstream candidates," warned former San Francisco mayor Willie Brown, now a highly paid consultant, in his regular column for the San Francisco Chronicle.
Those establishment Democrats and their allies have closed ranks around Wicks to a degree almost unheard of in a local race like the one in Assembly District 15.
For a relatively small California legislative seat being fought over by two Democrats, huge amounts of money are being spent, largely to elect Wicks. Independent expenditure groups have spent $1,191,389 on pro-Wicks efforts this year and another $244,160 in negative messages against Beckles. On the other side, a labor union-backed independent expenditure group has spent $391,831 in support of Beckles and $7,412 in opposition to Wicks.
In terms of direct donations, the contrast is similarly stark. Beckles has raised $386,887, which pales in comparison to the $1.3 million raised by Wicks.
The East Bay chapter of the Democratic Socialists of America launched a research-driven website highlighting the donors to Wicks and her attendant IEs, noting that many of the donors include right-wing billionaires and consultants for special interests. William Oberdorf, a major Republican donor, has given $150,000 to one group backing Wicks. Ron Conway, an early investor in Twitter and other name-brand tech companies, who has used his wealth to help moderate Democrats defeat a slate of progressives in San Francisco, has also given to Wicks.
The fundraising advantage has given Wicks an ability to hire a professional campaign operation, with modern polling, advertising, and an innovative get-out-the-vote operation that utilizes texting to encourage supporters to remind their friends and colleagues to go to the polls. The Berkeley Democratic Club, one of the local groups endorsing Wicks, received $6,000 from her campaign last week to send its endorsement slate mailer to city residents.
Read more:
https://theintercept.com/2018/10/30/buffy-wicks-jovanka-beckles-billionaire-backed-democrat-facing-off-against-democratic-socialist-in-berkeley/
We are 100% volunteer and depend on your participation to sustain our efforts!
Get Involved
If you'd like to help with maintaining or developing the website, contact us.