From the Open-Publishing Calendar
From the Open-Publishing Newswire
Indybay Feature
Women Charged with Grand Theft for Removing Living Calf from Graveyard at Massive Dairy
Activists Say Repeated Animal Cruelty Reports Ignored By Authorities
[Julianne Perry and Priya Sawhney stopped by a Sheriff's deputy while attempting to rescue a calf left for dead. Both women were arrested.]
October 21, 2018, OAKDALE, CA – Three women were arrested Sunday on charges of felony grand theft and misdemeanor trespass at Ray-Mar Ranches, a California factory farm which supplies calves to Harris Ranch, and beef to Costco and In-N-Out Burger, for removing a living calf who had been abandoned in a dead pile area.
The women, all volunteers for the grassroots animal rights network Direct Action Everywhere (DxE), were participating in a vigil to expose the sexual violence against mother cows and their babies in the dairy industry. The women say that after their arrest they became victims of sexual harassment themselves; their arrest was captured on Facebook
Live
.
The women can be seen in the video documenting calves inside small hutches with floors of hard wooden slats —
illegal confinement in the state of California
. The women then see the "dead pile" area of the farm (where in a precious visit activists had found a pile of dead calves) and notice what they initially think is a dead calf. When the calf twitches, the shocked women attempt to help. They are seen weeping as they attempt to carry the calf to receive veterinary care, before they are stopped by Sheriff's deputies and arrested.
"She was alive and they threw her in a dead pile!" Perry, a financial analyst from Sunnyvale, CA, said on the livestream.
The officers then force the women to the ground, targeting the woman with a smartphone camera first, and handcuff them. The dying calf is taken from the women's arms and left collapsed on the side of the road.
"I could not believe what they were doing to us and that poor baby," one of the women, Priya Sawhney, a Sikh immigrant and human rights activist, said. "We asked them to help, and instead they assaulted and arrested us."
The women say they were at the farm to document the commodification and sexual abuse of cows, including the use of
rectal probes and forced artificial insemination
on female cows. After birth, baby cows are taken from their mothers within hours. They are then forced into tiny wooden crates, which activists have reported as a violation of Proposition 2, the landmark animal welfare law passed in 2008. But instead of addressing the apparent violations of law, Stanislaus County police charged the women with "grand theft" and subjected them to sexual harassment.
"When they shoved us down, my skirt was pulled up and shirt was pulled down. It exposed my body," Sawhney said. "They kept commenting on my clothes and body, but I couldn't cover myself because I was handcuffed. I felt naked, but it helped me understand what these poor mother cows go through."
Activists say this event is just the latest in a pattern of
corporate and government inaction or misconduct
in the face of animal cruelty. Activists have faced a series of
felony charges
across the country for attempting to alleviate animal suffering, including
58 activists charged
with multiple felonies for attempting to give food and water to chickens from a Petaluma, CA farm on September 29. They cite the
legal opinion
of a criminal law scholar the UC Hastings College of Law in claiming that the farm is guilty of criminal animal cruelty, and that the activists are in fact legally justified in helping animals in need of immediate need of care.
"A sick calf left for dead is of negative economic value to the farm," DxE co-founder and former Northwestern law professor Wayne Hsiung said. "These unlawful arrests have nothing to do with justice and everything to do with protecting corporate profits by shielding consumers from the truth."
DxE is calling for government officials to take immediate action to provide transparency in the sale of meat and other animal products.
Activists have
proposed legislation
that would require signs be posted in stores and restaurants warning that the animal products sold there may come from factory farms where animals are mutilated and abused, may have been dosed with antibiotics or other drugs, and other relevant information such as the huge contribution animal agricultural makes to environmental pollution.
The draft "Right to Know" legislation has broad support among current and prospective legislators in Berkeley and San Francisco, where activists say it can help build a food system with integrity.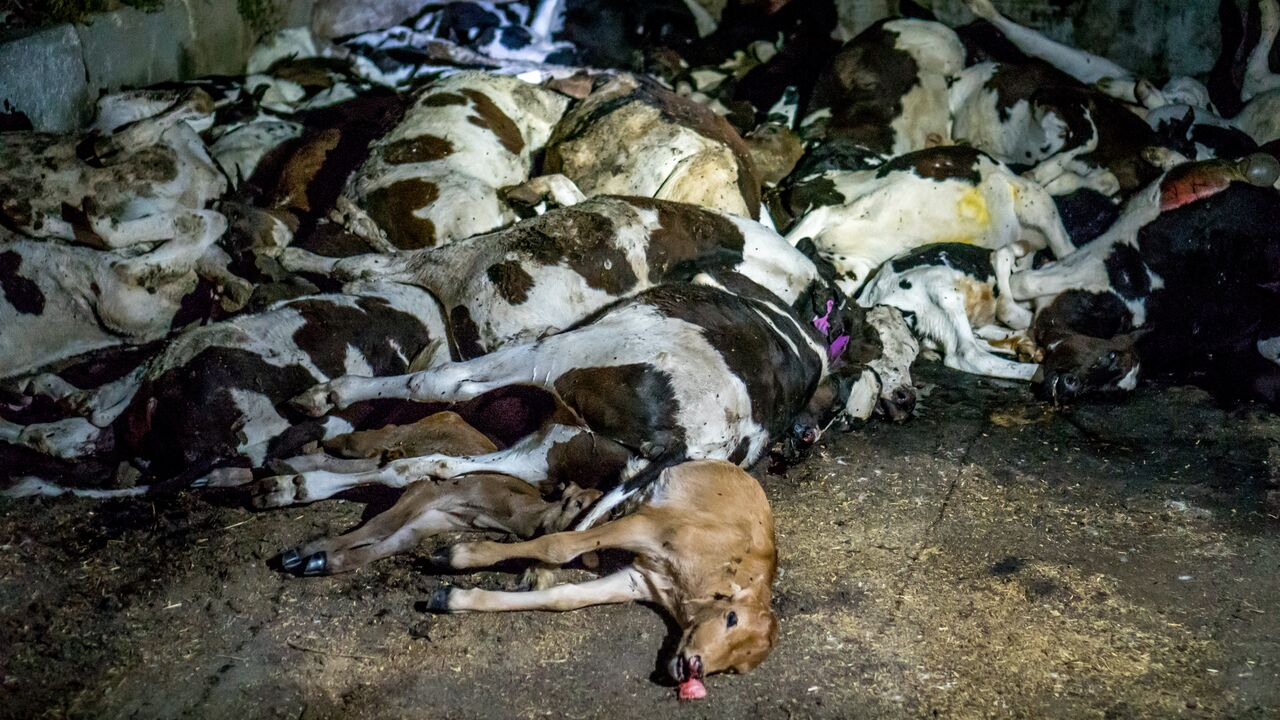 We are 100% volunteer and depend on your participation to sustain our efforts!
Get Involved
If you'd like to help with maintaining or developing the website, contact us.