From the Open-Publishing Calendar
From the Open-Publishing Newswire
Indybay Feature
Top Ten Reasons for Passing Rent Control in Santa Cruz
Top Ten Reasons for Passing Rent Control in Santa Cruz by Santa Cruz City Council Member Chris Krohn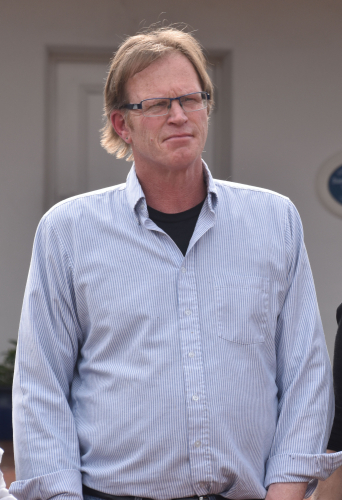 Number 10--Because the economic theory of "supply and demand" does not work here. We will not build our way out of this crisis, unless we kill the patient too and make the future quality of life rather unpleasant given our natural carrying capacity. We need to live within our limits in terms of available water, access to roads, available land, and some people's ability to own as many cars, and houses, as they wish to.
Number 9--The rent control movement is growing and students--high school, community college, and UCSC--have been a big part. They understand something must be done. They understand this is not the only vehicle for achieving fair and just housing, but they also get it that Measure M is not only one small step towards housing sanity, but one giant leap in bringing to fruition a goal which the previous local political generation could not accomplish: rent control.
Number 8--There's been pushback towards the anti-M-ers, "too expensive and too extreme" mantra. Obviously, it is RENT that is in fact, TOO EXPENSIVE and TOO EXTREME. I see this one now scrawled on placards around town as well. (See video:
https://www.facebook.com/screntcontrol/videos/2377367638972699/
)
Number 7--Follow the money. A carpenter's union friend recently said to me that he was on the fence about Measure M and was tending to vote against it until he saw their campaign statements with $200,000 coming in from Chicago, and hundreds of thousands more outsider money bankrolling Anti-M. He finally said, Go ahead, put the sign out front. I'll just douse it with Tanglefoot. They just won't know what hit 'em if they try and take it!
Number 6--I met a father of two young daughters who attend Westlake school. He works in a cabinet shop in town and recently found himself on disability. His family lives in one of the five or six large apartment complexes in the city. He said they moved into a one-bedroom paying $1400, about six years ago. Now he's paying $2000, but the new people moving in are paying between $2600-$2800 for a similar apartment. Rent Control would offer immediate help to this single dad. It would offer him housing stability by keeping rents within the cost of living index.
Number 5--Measure M will help keep literally thousands of community members in their homes. A bus driver recently penned an Op-ed. He wrote, Whatever is on the ballot may not be perfect, but it is our best shot at addressing a very real problem. It is a problem with costs and consequences that far outstrip the costs and consequences for landlords if proposition M passes. And it is way overdue. Waiting for perfection is not an option.
Number 4--Average rents have increased more than 50% in the past four years and wages have barely moved. A friend who manages a local Italian place told me he informed his chagrined boss recently that most restaurant managers are in favor of rent control because they can't find any employees.
Number 3--Believe it or not, our state Democratic Party platform supports rent control. The detractors say, "but just not this rent control measure." But the Democratic Party also supports Proposition 10, while the Apartment Renters Ass. and California Real Estate Ass. pour money in against Measure M, and Prop. 10. The latter initiative would repeal Costa-Hawkins and allow all California cities to decide their rent control futures.
Number 2--Measure M seeks to level the now disheveled state of the landlord-tenant playing field. Of course, not all landlords are bad actors and some rarely even raise their rents. These landlords should not fear rent control. But if you are a tenant who's gone from one apartment to another, who lives in fear of reporting a leaky toilet or window that won't close because you do not have $10,000 or $12,000 to find another place, you will likely vote YES on M because it's about fairness too.
Number 1: The number one reason for voting Yes on M is that it will keep many, many people in their homes now. These are our neighbors. It is about stability and community empowerment. If Measure M prevails, tenants may finally get some relief after years of stagnant wages and double-digit rent increases.
Now, please come out and walk a precinct, or phone one, or put some doorhangers together on Nov. 1st, Thurs. at the VFW Hall on 7th Ave. Drew, Justin, and Rent Control are only going to happen if we make it happen. As my friend Roland says, These are tough times, so it is okay to mourn a little bit, but then we have to organize for better times.
[Photo Credit: Chris Krohn by AutumnSun
https://www.indybay.org/newsitems/2017/04/04/18797994.php
]
We are 100% volunteer and depend on your participation to sustain our efforts!
Get Involved
If you'd like to help with maintaining or developing the website, contact us.