From the Open-Publishing Calendar
From the Open-Publishing Newswire
Indybay Feature
View other events for the week of

10/11/2018
Stop Restarting The Japanese Nukes & Releasing Radioactive Water
Import into your personal calendar
Date

Thursday October 11

Time

3:00 PM

-

4:00 PM

Event Type

Press Conference

Organizer/Author
No Nukes Action
Location Details
Japanese Consulate San Francisco
275 Battery St. near California
San Francisco

10/11 Speak Out-Stop Restarting The Japanese NUKES And Releasing Radioactive Water-Stop Repressing Anti-War/Anti-Nuclear Activists

Thursday October 11, 2018 3:00 PM

Japanese Consulate

275 Battery St near California St.

San Francisco

The Abe government continues to demand that the refugees of Fukushima and their children return to Fukushima because it has supposedly been "decontaminated". This is not true and the government is still trying to remove the melted rods that were created by the earthquake and loss of energy. There continues to be radioactive contamination and the number of cancer cases is rising according to public hospital reports. The Abe government in fact is pushing to restart even more nuclear plants in highly dangerous areas. Japan is in what is called the ring of fire because of the dangerous earthquakes but this does not matter to these government officials.

The government is still planning to release 900,000 tons of radioactive water contaminated with Tritium

At the same time, the Abe government is repressing anti-nuclear activists including Fukushima refugees and even arrested one women at Hiroshima in August that was alerting the public about the danger of radiation in Japan. She was held without charges for ten day and is with the group GoWest.

Increasingly repressive laws have been passed by the racist and reactionary Abe government including the Secrecy Act and Conspiracy Act that are aimed at silencing journalists and whistleblowers.

The government also continues to imprison anti-war activist Fumiaki Hoshino who has been imprisoned for more than 43 years for protesting against the US-Japan military treaty which allowed the US to bring weapons including nuclear weapons into Okinawa and other US military bases. His conditions are very difficult with extreme heat and cold temperatures in the prison that threaten his health as well as the health of other prisoners.

Come speak out to defend the people of Fukushima, Japan and the world.

For more event information:

http://nonukesaction.wordpress.com

Japanese Police Attack Anti-Nuclear Activist and Fukushima Refugee At Hiroshima

https://www.youtube.com/watch?time_continue=53&v=UUFsVNFmAyc https://danatsu86.hatenablog.jp/entry/2018/08/18/201315

Tsunami-hit nuclear plant near Tokyo wins formal restart approval

https://www.japantimes.co.jp/news/2018/09/26/national/tsunami-hit-nuclear-plant-near-tokyo-wins-formal-restart-approval/#.W6vJ1y-ZPR0

KYODO

SEP 26, 2018

The nuclear watchdog on Wednesday formally approved the restart of an almost 40-year-old nuclear power plant northeast of Tokyo that has sat idle since it was damaged during the 2011 earthquake and tsunami disaster, which also caused meltdowns at the Fukushima No. 1 plant.

The Tokai No. 2 plant in Tokai, Ibaraki Prefecture, operated by Japan Atomic Power Co., is the first nuclear plant affected by the disaster to clear screening by the Nuclear Regulation Authority.

Treated water at Fukushima nuclear plant still radioactive

https://abcnews.go.com/International/wireStory/water-stored-fukushima-nuclear-plant-radioactive-58147073

By MARI YAMAGUCHI, ASSOCIATED PRESS

TOKYO — Sep 28, 2018, 9:39 PM ET

The Associated Press

FILE - In this Feb. 23, 2017, file photo, an employee walks past storage tanks for contaminated water at the tsunami-crippled Fukushima Dai-ichi nuclear power plant of the Tokyo Electric Power Co. (TEPCO) in Okuma town, Fukushima prefecture, Japan. The operator of Japan's wrecked Fukushima nuclear plant said Friday, Sept. 28, 2018, that much of the radioactive water stored at the plant isn't clean enough and needs further treatment if it is to be released into the ocean. (Tomohiro Ohsumi/Pool Photo via AP, File)more +

Email

The operator of Japan's wrecked Fukushima nuclear plant said Friday that much of the radioactive water stored at the plant isn't clean enough and needs further treatment if it is to be released into the ocean.

Tokyo Electric Power Co. and the government had said that treatment of the water had removed all radioactive elements except tritium, which experts say is safe in small amounts.

They called it "tritium water," but it actually wasn't.

TEPCO said Friday that studies found the water still contains other elements, including radioactive iodine, cesium and strontium. It said more than 80 percent of the 900,000 tons of water stored in large, densely packed tanks contains radioactivity exceeding limits for release into the environment.

TEPCO general manager Junichi Matsumoto said radioactive elements remained, especially earlier in the crisis when plant workers had to deal with large amounts of contaminated water leaking from the wrecked reactors and could not afford time to stop the treatment machines to change filters frequently.

"We had to prioritize processing large amounts of water as quickly as possible to reduce the overall risk," Matsumoto said.

About 161,000 tons of the treated water has 10 to 100 times the limit for release into the environment, and another 65,200 tons has up to nearly 20,000 times the limit, TEPCO said.

Matsumoto said the plant will treat the water further to ensure contamination levels are reduced to allowable limits.

He was responding to growing public criticism and distrust about the status of the water.

More than 7 ½ years since a massive March 2011 earthquake and tsunami destroyed three reactors at the plant, Japan has yet to reach a consensus on what to do with the radioactive water. Fishermen and residents oppose its release into the ocean. Nuclear experts have recommended the controlled release of the water into the Pacific as the only realistic option.

The release option faced harsh criticism at town meetings in Fukushima and Tokyo in late August, when TEPCO and government officials provided little explanation of the water contamination, which had been reported in local media days earlier.

TEPCO only says it has the capacity to store up to 1.37 million tons of water through 2020 and that it cannot stay at the plant forever.

Some experts say the water can be stored for decades, but others say the tanks take up too much space at the plant and could interfere with ongoing decommissioning work, which could take decades.

Wife fights decades-long battle to free Shibuya riot leader Hoshino

Supporters call for retrial, demand all evidence withheld in 1971 murder case be made public

https://www.japantimes.co.jp/community/2013/11/18/issues/wife-fights-decades-long-battle-to-free-shibuya-riot-leader-hoshino/#.W7rIzi-ZOt8

BY WILLIAM ANDREWS

Fukushima Data (2010-2017) from Minimamisoma Municipal Hospital, Fukushima (1) via Etsuji Watanabe

https://lucian.uchicago.edu/blogs/atomicage/2018/10/03/data-2010-2017-from-minimamisoma-municipal-hospital-fukushima-1-via-etsuji-watanabe/

( Minamisoma City Councilperson Koichi Oyama succeeded in having Minamisoma Municipal Hospital disclose patient statistics from 2010-2017 for public discussion at a Council meeting on September 12, 2018. "Summary" below calculated by Etsuji Watanabe from figures in "Disorders" chart obtained by Councilperson Oyama. Note Fukushima Medical University's insistence on attributing all of these conditions to the stresses of evacuation.

Part 2 to address solid cancers and leukemia. Translation by Norma Field.)

Summary of rates in patient increase at Minamisoma Municipal Hospital by category (2010-2017)

Obesity 28x

High blood pressure 1.86x

Diabetes 1.83x

Dyslipidema 2.08x

(low HDL levels)

Chronic kidney disease 3.65x

Liver dysfunction 3.88x

Polycythemia 4.5x

Atrial fibrillation 3.79x

Stroke 3.52x

"Disorders for which evacuation caused by the East Japan Great Earthquake can be considered a risk factor":

2010-2017 data from Minamisoma Municipal Hospital on seven disorders deemed attributable to evacuation according to Fukushima Medical University




Added to the calendar on Sunday Oct 7th, 2018 8:28 PM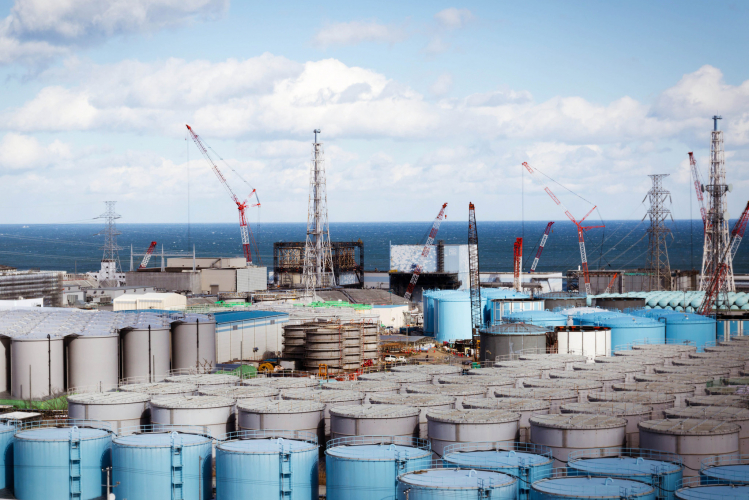 The Japanese Abe government which runs TEPCO wants to dump 900,000 tons of radioactive contaminated water into the Pacific even though it contains radioactive tritium.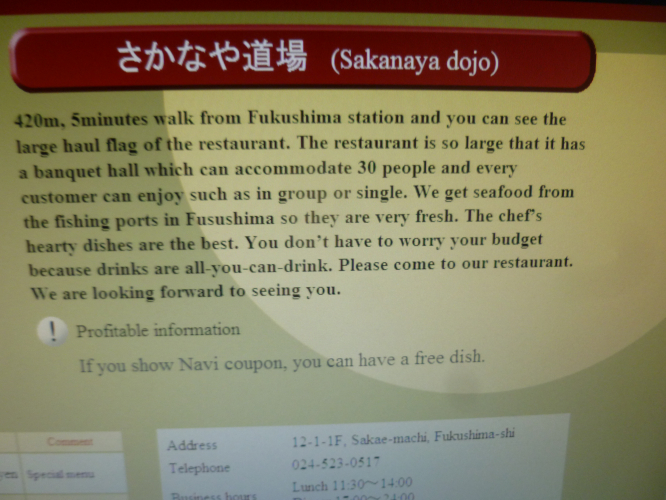 At a restaurant in Fukushima they advertise fish caught in the contaminated area. The government continues to say that there is no harm in the fish and they have raised the limits for radiation in the Fukushima area.
We are 100% volunteer and depend on your participation to sustain our efforts!
Get Involved
If you'd like to help with maintaining or developing the website, contact us.