From the Open-Publishing Calendar
From the Open-Publishing Newswire
Indybay Feature
Landlords in Santa Cruz Step Up Their Misinformation Campaign Against Measure M
Our opposition has now raised over three quarters of a million dollars, which they are using to spread fear and misinformation about rent control. While most of this money comes from out of the area real estate interests like the National Association of Realtors and the California Apartment Association, local landlords in Santa Cruz are also part of the problem. Over the last week, a number of banners have appeared on buildings owned by Darius Mohsenin, a landlord with dozens of properties from Santa Cruz to Salinas, San Leandro, and Vacaville. One banner on a small apartment building on lower Pacific claims that under Measure M, 146 people would be allowed to live there. This is a wild exaggeration; there are federal and state guidelines to protect against overcrowding, which would not be changed by Measure M.
In any case, overcrowding is already happening, with or without the knowledge of the landlords, because of the extreme rent increases which have forced many renters out of their homes and made rent hard to afford without family or housemates to split the bill. Ironically, this very building with the duplicitous banner was so poorly maintained by Mr. Mohsenin that in 2014 the City determined it to be dangerously unsafe and forced him to move his tenants out, stating, "beams and posts at the second-story walkway and stairs were dilapidated and deteriorated to the point of possible failure." This building is being used to suggest problems with Measure M, when in fact it is a prime example of why we need protections for renters against unethical landlords like Mohsenin.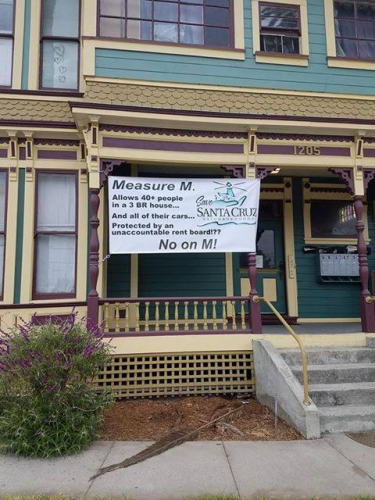 The opposition to Measure M has taken to promoting outright lies and fearmongering with another banner placed all over town, and there is nothing remotely true about it. There is a federal law, "The Uniform Housing Code" that governs housing standards, including housing capacity, in order to promote safety and well-being for renters, and Measure M does nothing to change that federal law. Rentals will still be required to comply with federal code.

Also, there is something seriously dehumanizing about this sign. The subtext is that renters are so depraved they will cram 13 people into a bedroom. Renters may not be as wealthy as the fortunate who own homes in this town, but renters are are still humans who have basic human needs for space and privacy.

Let's be real about what Measure M does. It guarantees that if a renter gets married, they can move in their partner without being subject to a new lease and a subsequent rent increase. Measure M also acknowledges that renters, like homeowners, may sometime have to move in an ailing family member, a parent or sibling, in order to care for them. Renters should be allowed to do that without having a new lease and, hence, a rent increase.

There is nothing extreme about renters needing protections. There is, however, something extreme about the amount of lying coming from the opposition. Vote yes on M and stand up to the deceitful real estate lobby.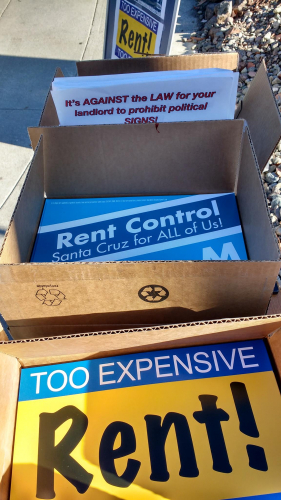 "Tenants at a six-unit apartment complex downtown were forced to move out Thursday after the city red-tagged the building as unsafe a week ago. City code compliance specialist Jacob Rodriguez informed landlord Darius Mohsenin via letter March 28 that "beams and posts at the second-story walkway and stairs were dilapidated and deteriorated to the point of possible failure." The Southwestern-style apartments are at 696 Pacific Ave., near the Kaiser Permanente Arena. Two tenants were upset, saying they got 24 hours notice to move out."
Read more:
Santa Cruz red-tag forces tenants to move out
https://www.santacruzsentinel.com/2014/04/03/santa-cruz-red-tag-forces-tenants-to-move-out/
We are 100% volunteer and depend on your participation to sustain our efforts!
Get Involved
If you'd like to help with maintaining or developing the website, contact us.