From the Open-Publishing Calendar
From the Open-Publishing Newswire
Indybay Feature
Suspicious Letter by 65 Women in Support of Brett Kavanaugh and Related Attrocities
The letter released by Senate republicans from 65 women purporting to attest to the decency of Brett Kavanaugh reveals more problems than it solves. A number of other issues with Kavanaugh's integrity remain as well, and more continue to arise all the time. This is why republicans are hell bent on rushing his nomination through.
Ronan Farrow and Jane Mayer first
reported in The New Yorker
on September 14: On Thursday [Sept 13], Senate Democrats disclosed that they had referred a complaint regarding President Trump's Supreme Court nominee, Judge Brett Kavanaugh, to the F.B.I. for investigation. The complaint came from a woman who accused Kavanaugh of sexual misconduct when they were both in high school, more than thirty years ago. (This was before Christine Blasey Ford came forward to identify herself.)
Republicans objected to the fact that Ford initially sent a letter to Senator Dianne Feinstein in July, but the issue of Kavanaugh's attempted rape was only coming to light after Judiciary Committee hearings on his nomination had
come to a close
, already with
serious questions as to his truthfulness
and the
concealment of relevant documents
. That Feinstein didn't raise red flags herself after having received the Ford letter, that it came to light only after the hearings, is problematic.
But the New Yorker piece hit the press on September 14, and somehow Senate republicans already had a letter prepared in which 65 women vouch for Kavanaugh as a "good person." That letter was released the very same day the news broke. It's obvious that putting together such a letter and gathering as many as 65 co-signers, many of whom went to high school with Kavanaugh way back in the 1980s, took a considerable amount of time. It's not something thrown together in a few hours as a rapid response to a news article.
So, Senate republicans were also aware of the attempted rape allegations before the New Yorker piece and did nothing to broach the subject in the confirmation hearings or otherwise notify the public. They, like Feinstein, appear to have been fine if no one ever knew, but they had a letter ready to go just in case it leaked out, dating and releasing it only after news of the attempted rape broke.
This is disturbing, although not necessarily surprising, especially given that Senators Chuck Grassley and Feinstein ignored attempts by a lawyer to present
multiple employees of the federal judiciary
who were ready to testify about Kavanaugh's time as a clerk for disgraced sexual harasser Alex Kozinski, long-time 9th Circuit Court Chief Judge. Of course, Kavanaugh claims no knowledge of Kozinski's harassment (and Kozinski's son recently clerked for Kavanaugh).
Perhaps even more disgusting or shameful than the lies and cover-ups is the fact that the white supremacist good ol' boys club openly declares that it is not bothered by the attempted rape, if true, or Kavanaugh's false denials. Kavanaugh is still their man for the Supreme Court of the United States. Senator Orrin Hatch said, "If that was true, I think it would be hard for senators to not consider who the judge is today. That's the issue. Is this judge a
really good man
? And he is." Hard to imagine Hatch saying the same thing if Kavanaugh were not a white man. Similarly, Ari Fleischer, press secretary for George W. Bush, wonders whether attempted rape should "
deny us chances later in life
." While our society is overly driven by an urge to punish and imprison people, including juveniles, denying them rightful opportunities for redemption and a chance to live a life free from past mistakes, it is highly doubtful Fleischer would ponder the same thing were Kavanaugh not a white man whom he feels is one of "us."
It is beyond the scope of this piece to examine the relationships between the following co-signers and Brett Kavanaugh, but, for the record, here they are:
Jennifer Slye Aniskovich
Elena Flores Aria
Raphael Bastian
Alice Richardson Boyle
Mary (Ginge) Koones Cabrera
Elizabeth M. Calhoun
Missy Bigelow Carr
Sharon Crouch Clark
Citsi Conway
Sibyl Smith Curtis
Karima Davis
Jo Anne Desjardins
Julie DeVol
Colleen Treacy Dickerson
Nikki Deoudes Diess
Meg Williams Dietrick
Renate Dolphin
Lisa Natoli Draddy
Jane Marie Dunigan
Paula Duke Ebel
Nora Haley Ellison
Maura Fitzgerald
Susan Fitzgerald
Ann Fowler
Debbie H. Fulmer
Janet Gwozdz Gaffney
Genny Richards Gilday
Alexa Lilly Gilmore
Mary Beth Conway Greene
Mary Ellen Greene
Ellen Reese Hawkins
Lisa Molina Heaps
Melissa Hennessey
Virginia Hume
Beccy Moran Jackson
Jennifer Bartlett Jones
Maura Kane
Lori Weinrich Kaplan
Kelly Leonard
Maura M. Lindsay
Monica Mastal
Suzanne Matan
Meghan McCaleb
Stephanie Conway McGill
Stephanie Doolan McGrail
Ana Molina
Bridget Morris
Heather Murphy
Mary Ruppe Nash
Mary Nordberg O'Connor
Rachel Buchanan O'Hare
Lisa O'Neill
Karen Odyniec
Lisa Odyniec
Elizabeth (Betsy) Manfuso Pothier
Mae Joyce Rhoten
Grace Ronan
Alice Kelly Scanlon
Kellie Foster Schnidel
Kara Sheehan
Betsy Sheehy
Denise Gottron Sinay
Kristin Treacy
Cindy Urgo
Megan Williams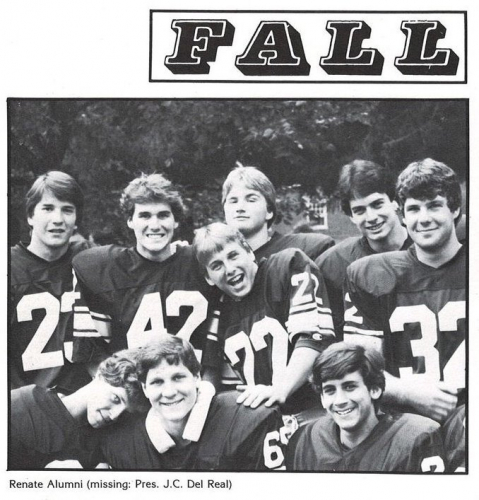 "Renate Alumni" is the caption for a yearbook photo with Kavanaugh. Mark Judge (whom Ford claims was present for attempted rape) was caption editor. Renate Dolphin was a contemporary and now says, "the insinuation is horrible, hurtful and simply untrue. I pray their daughters are never treated this way."

Renate Dolphin, who appears at least 14 times in the 1983 yearbook, probably regrets signing the letter that magically appeared within hours of the first report of Kavanaugh's attempted rape, the letter that declared Kavanaugh "treated women with respect."

She should be offended," said Sean Hagan, a Georgetown Prep student at the time. "I was completely astounded when I saw she signed that letter" on Judge Kavanaugh's behalf.

read more:
Judge Kavanaugh mentioned Renate Dolphin on his yearbook page, his lawyer said, because of one high school event they attended together "and nothing else." Address and some names have been obscured.

Alexandra Walsh, a lawyer for Judge Kavanaugh, said in a statement: "Judge Kavanaugh was friends with Renate Dolphin in high school. He admired her very much then, and he admires her to this day.

"Judge Kavanaugh and Ms. Dolphin attended one high school event together and shared a brief kiss good night following that event," the statement continued. "They had no other such encounter. The language from Judge Kavanaugh's high school yearbook refers to the fact that he and Ms. Dolphin attended that one high school event together and nothing else."

Ms. Dolphin said she had never kissed Judge Kavanaugh. "I think Brett must have me confused with someone else, because I never kissed him," she said through her lawyer.
We are 100% volunteer and depend on your participation to sustain our efforts!
Get Involved
If you'd like to help with maintaining or developing the website, contact us.