From the Open-Publishing Calendar
From the Open-Publishing Newswire
Indybay Feature
Related Categories:

Santa Cruz Indymedia | Government & Elections | Health, Housing & Public Services
City Council Candidates: Boycott the Santa Mierda Hate Forum
Dear Santa Cruz City Council Candidates: This is a call for you to boycott the Santa Mierda homeless hate blog and the council candidates forum proposed recently on social media by the blog's semi-anonymous author, "Ben Dover". Please do not associate yourself in any way with the hatred that is spewed in the blog. There is no named author listed on the Santa Mierda blog's web pages, but the primary contributor's identity was
revealed in 2017
by former Santa Cruz County Supervisorial candidate Bob Lamonica as being Steve Schlicht, the communication director of Take Back Santa Cruz (TBSC). Schlicht (and TBSC by proxy) has used the cloak of anonymity to personally attack some of Santa Cruz's most vulnerable in the homeless community as well as personally attacking, harassing, and lying about local progressive political figures and activists. Please read this article in its entirety for more information about the proposed city council candidates forum, and a history the Santa Mierda hate blog and the other right wing hate sites associated with it (and Take Back Santa Cruz). It is uncertain how the proposed forum will be facilitated, as the blog is written "anonymously".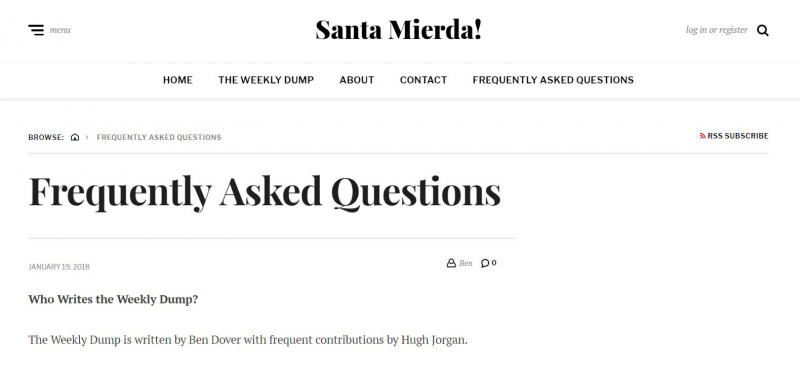 Please contact this year's city council candidates to demand they not attend the Santa Mierda hate forum (and send them a link to this article):
-Justin Cummings:
cummings4citycouncil@gmail.com
-Drew Glover:
contact@drewgloverforcitycouncil.com
-Cynthia Hawthorne:
cynthiahawthorneforcitycouncil@gmail.com
-Donna Meyers:
donna4santacruz@gmail.com
-Philip Crawford:
pjcrwfrd@aol.com
-David Lane:
dopplebock@cruzio.com
Take Back Santa Cruz members have endorsed the following candidates in the 2018 election:
-Greg Larson:
larson4santacruz@gmail.com
-Richelle Noroyan:
rnforcouncil@baymoon.com
-Paige Concannon:
paigeconcannon@gmail.com
-Ashley Scontarino:
ashley@voteashley.org
Background
Following the initial outing of Steve Schlicht as the Santa Mierda hate blog author, progressive columnist Bruce Bratton has also confirmed his identity. Additionally, Schlicht's name has appeared as being the source of petitions circulated through Santa Mierda's socialmedia accounts.
The Santa Mierda blog has been called a "rabid anti-homeless website" by one homeless advocate in Santa Cruz, and a hate site by others. Besides being a member of Take Back Santa Cruz, Steve Schlicht is also one of the group's web designers. Schlicht and Take Back Santa Cruz have also been associated with two other hate websites that were created anonymously to wage defamatory personal attacks against local homeless advocates: fuckyoudeniseelerick.com and johncohencolby.com. The websites Santamierda.com, fuckyoudeniseelerick.com, and johncohencolby.com are all hosted on the web through a company called DreamHost. Also hosted on DreamHost are Steve Schlicht's personal business websites (steveschlicht.com and biomarcommunications.com) and the Take Back Santa Cruz website (takebacksantacruz.org).
That these websites were all hosted on DreamHost didn't go un-noticed by the public. In 2016 the watchdog group Take Back Santa Cruz from TBSC posted about it on their Facebook page. Some have also noticed the similarity between the wording, and content, of the posts on Steve Schlicht's social media accounts to those on the Santa Mierda blog.
The Santa Mierda blog is published anonymously by an author named "Ben Dover" who posts a weekly column called a "Weekly Dump" and uses a photo of child actor Macaulay Culkin. Mierda is Spanish for "shit" and the blog takes the view that daily life is shitty in Santa Cruz in large part due to homeless people.
The Santa Mierda blog has published direct personal attacks on local homeless residents. The blog also targets, with repeated personal attacks and defamatory statements, many of the local advocates who work to help the homeless. The blogger uses the word "bum" almost constantly throughout the website to refer to homeless people, and once referred to a person going through a crisis as a "homeless kook".
Sometimes the anonymous blogger verges on racism, and uses discriminatory language towards other groups of people, such as the disabled. Here is an excerpt from the Santa Mierda blog from February 17, 2017: "So of course the "underground" Hispanic community freaked out, and the local progressive fear mongers like Krohn and that disabled woman in the wheelchair (who seems to be at the center of every local progressive protest lately)".
Besides being a member of Take Back Santa Cruz, Steve Schlicht is also one of the group's web designers, and in the past has called himself the "Director of Information Technology and Marketing Technology" for TBSC. Schlicht served for a short period of time on the Santa Cruz Public Safety Task Force, which was a public commission in the City of Santa Cruz. Schlicht is probably best known locally for the statement he made during his time on the task force that he was "fine with junkies dying", which became a public scandal reported on by Indybay and the Santa Cruz Weekly. The scandal angered Santa Cruz city council members at the time. Schlicht also produces and publicly promotes another website called Clean Up Santa Cruz (cleanupsantacruz.org), which is also hosted on DreamHost. The Clean Up Santa Cruz Facebook page has been promoting the Santa Mierda website since the blog's inception.
BioMarcommunications is the name of one of Steve Schlicht's web design companies. In the past he used the business name "Easy on the Eye" design. Santa Cruz City Council member Cynthia Matthews has hired Steve Schlicht, and her comments about his work were included under the testimonials link on the Easy on the Eye web page. Easy on the Eye Design also managed media for the Santa Cruz Clean Team, whose members in 2013 were caught on video harassing a homeless man at his camp site. KSBW reported on the video going viral.
The "Fuck You Denise Elerick" website has been taken down and is no longer accessible. Denise Elerick is a local activist involved with Democratic politics in Santa Cruz, among other issues, and she has been a vocal critic of Take Back Santa Cruz. As a result she has also been frequently attacked personally by members of Take Back Santa Cruz in a variety of online forums, in addition to the hate website created in her name.
The johncohencolby.com website is still active. It is anonymously published to attack Dr. John Colby and his sister Pat Colby, who both work extensively to advocate for the homeless population in Santa Cruz. Both have been vocal critics of Take Back Santa Cruz.
The website goes to extreme lengths to attack them personally. It states that the Colbys are homeless, and the website instructs people to search for their vehicle. The post at the the top of the home page of the website includes a picture of the Colby's car. It is titled "Are they camping on your street?" along with the statement: "Call it in if you see this vehicle. No camping on city streets!" Headers on every page of the website read: "John Cohen Colby is a Kook" and "Homeless, Jobless, Clueless, and Certifiable".
One page on the website is titled "John Cohen Colby's Creepy Relationship With His Sister". The page asserts a sexual nature to their relationship and published the defamatory statement: "Sister? Lover? Both?" The website ponders if they are both brother and sister and "husband and wife", which mirrors a statement also published in the Santa Mierda blog attacking the Colbys and questioning if they were married. The Colbys have stated for some time that Steve Schlicht is the author of the Santa Mierda blog, and that he is the creator of the website that is attacking them. John and Pat Colby have also made many public statements asserting they are being stalked physically, and online, by members of Take Back Santa Cruz.
Take Back Santa Cruz has been accused of being a hate group, and some anecdotal personal accounts detail how members have gone beyond anti-homeless politics and have taken to intimidation tactics. Take Back Santa Cruz members have a long history of photographing and harassing low income individuals and homeless people. The group also attempts to maintain respectability as they lobby politicians to support public policy that targets homeless people with discriminatory legislation and increased criminalization.
A Santa Cruz Sentinel article in 2010 describes Take Back Santa Cruz members as surveiling the areas around Pogonip, Harvey West Park, and River Street to take video footage of suspected drug dealers. A Santa Cruz Sentinel article from July of 2010 describes how a Take Back Santa Cruz camera crew visited Lighthouse Field with park rangers during a park cleanup to "document" the homeless problems there. In 2011, TBSC co-founder Analicia Cube described in an interview how Take Back Santa Cruz was, "hiding in bushes and calling cops".
A Santa Cruz Sentinel article in 2012 told the story of a woman who said Take Back Santa Cruz posted photos of her vehicle on their Facebook page and made derogatory comments in emails and group newsletters about her. She fought them in court.
A Good Times article in 2013 told the story of Frank Smith. Smith says he was stalked and photographed repeatedly by TBSC members and he claims that TBSC members have photographed and posted photos of the RV in which he lives onto the TBSC webpage. Smith said after this happened a man and a woman accosted him in his vehicle and screamed profanities at him, and told him he had to leave town because they paid a lot of money for their house.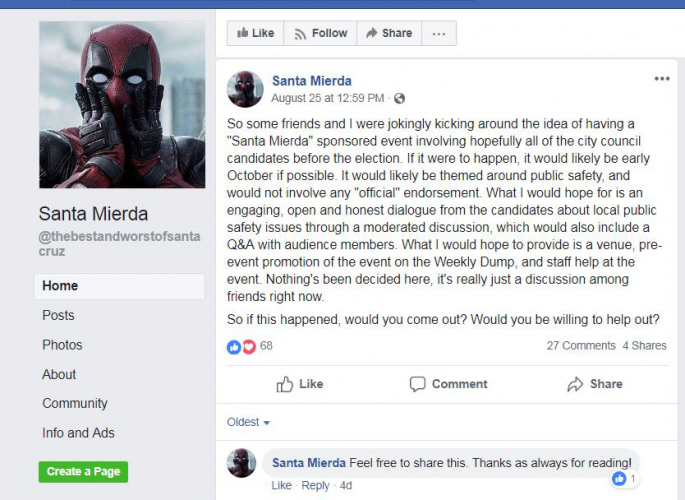 Did it begin as a joke?

Noroyan is the only incumbent, and it appears she has agreed to participate in the hate blog's candidates forum.
We are 100% volunteer and depend on your participation to sustain our efforts!
Get Involved
If you'd like to help with maintaining or developing the website, contact us.