From the Open-Publishing Calendar
From the Open-Publishing Newswire
Indybay Feature
View other events for the week of

9/ 5/2018
SF Rally At UK Consulate-Speakout Action "Free Julian Assange NOW!"
Import into your personal calendar
Date

Wednesday September 05

Time

12:00 PM

-

1:00 PM

Event Type

Press Conference

Organizer/Author
Bay Area Free Julian Assange Action Committee
Location Details
UK Consulate
1 Sansome St. near Market St. Montgomery BART Station
San Francisco

9/5/18 SF Rally-Speakout "Free Julian Assange NOW!"

Don't Allow The Arrest Of Journalist Whistleblower Julian Assange-Free Him

NOW!

Wednesday September 5, 2018 San Francisco UK Consulate at 12:00 noon

UK Consulate

1 Sansome St. near Market St. Montgomery BART Station

San Francisco

Initiated By Bay Area Free Julian Assange Action Committee BAFJAAC

Endorsed by

United Public Workers For Action

http://www.upwa.info

WorkWeek Radio

The US has been pressuring the Ecuadorian government to force the removal of

Julian Assange because of the US embarrassment over the release of emails of

governments and politicians criminal activity and corruption. The British government has also spent millions of dollars to surround the consulate and the May government plans to arrest Assange as soon as he is pushed out of the consulate. He is also unable to receive medical care and is a prisoner in the consulate. The effort to silence

Julian Assange is not just about him but silencing all journalists and whistleblowers who

release information that threatens the exposure of the US and UK government corruption and

crimes. The refusal of the US government to prosecute those involved in US

crimes in Iraq, Libya and around the world despite the explicit evidence of these

crimes provided by WikiLeaks is further reason why the US government is so

interested in arresting Assange.

Journalists are also under attack globally as well as in the US and the right of journalists to

write and publish material about these activities is something that must be

defended. The US and UK government officials are also united in continuing the

silencing of journalists and those who want to hold them responsible for the

crimes of their governments around the world.

It is time to stand up for Assange and all journalists who are speaking

truth to power.

Don't Force Assange Out Of Ecuadorian Consulate!

Hands Off Journalists and Whistleblowers!

Prosecute the Real Criminals!

Free Julian NOW!

Additional media:

Solidarity Rally For Julian Assange In San Francisco

https://youtu.be/d4yHvfVMiVE

Australian Journalist Union Supports Assange

http://www.abc.net.au/news/2010-12-23/journalists-union-shows-support-for-assange/2383428

To Endorse Rally & For Further Information:

Bay Area Free Julian Assange Action Committee BAFJAAC

info(at)upwa.info

(415) 533-5942

Australian Journalists' union shows support for Assange

Updated 22 Dec 2010

The Media, Arts and Entertainment Alliance (MEAA) will present an honorary member card to Mr Assange's Melbourne-based lawyer, Rob Stary.

http://www.abc.net.au/news/2010-12-23/journalists-union-shows-support-for-assange/2383428

The union's Louise Connor says Mr Assange has always been a member, but his fees will be waived in a show of solidarity.

She says all journalists should be disgusted by the way he has been portrayed by the world's governments.

"We've been very disappointed in the way his journalism has been characterised," she said.

"We'd like to remind everyone that Julian, like other members of the media alliance, is covered by our code of ethics that covers journalists," she said.

"We're pointing out that we don't believe that Julian Assange has in any way broken the code of ethics, we believe that he's upholding two of its important principles - not to disclose his source, and secondly, to publish in the public interest."

Ms Connor says his situation is extraordinary and he must be supported in the name of free speech.

Australian-born Mr Assange remains in the UK on bail over Swedish sexual assault allegations.

WikiLeaks continues to progressively release 250,000 leaked US diplomatic cables, as promised.

ACTU president Ged Kearney, who will be presenting the award, said Mr Assange and WikiLeaks deserved support.

"WikiLeaks is simply performing the same function as media organisations have for centuries in facilitating the release of information in the public interest," she said in a statement.

"Mr Assange's rights should be respected just the same as other journalists.

"WikiLeaks has broken no Australian law and as an Australian citizen, Julian Assange should be supported by the Australian Government, not prematurely convicted."




Added to the calendar on Tuesday Aug 21st, 2018 10:24 AM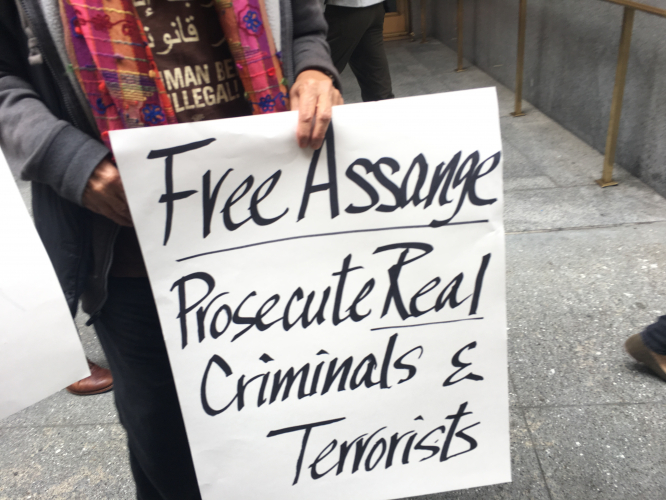 Instead of prosecuting the real criminals who have committed war crimes the US and UK government are going after Julian Assange and other whistleblowers and journalists.
We are 100% volunteer and depend on your participation to sustain our efforts!
Get Involved
If you'd like to help with maintaining or developing the website, contact us.