From the Open-Publishing Calendar
From the Open-Publishing Newswire
Indybay Feature
View other events for the week of

8/11/2018
Rally At SF Japan Consulate To Oppose Nuclear Plant Start-ups & Fukushima Residents
Import into your personal calendar
Date

Saturday August 11

Time

3:00 PM

-

4:00 PM

Event Type

Protest

Organizer/Author
No Nukes Action Committee
Location Details
San Francisco Japanese Consulate
275 Battery St/California
San Francisco

8/11 Rally-Speak Out At SF Japan Consulate To Oppose Nuclear Plant Start-ups & Defend The Fukushima Children and Families

Saturday August 11, 2018 3:00 PM

Japanese Consulate

275 Battery St near California St.

San Francisco

Join No Nukes Action to rally against the further restarting of Japan's nuclear plants and defend the children and families of Fukushima. The Abe government claims that the site has been "decontaminated" but the melted nuclear rods have not been removed from the reactor container and there are thousands of tanks filled with radioactive water.

The government is also seeking to remove article 9 in the constitution which prohibits offensive war.

There will be report on new developments and the international fight against nuclear power and radiation. Also on the growing push for further militarization.

Date :Saturday August 11, 2018 3:00 PM

Place : The front of SF Japanese Consulate

275 Battery Street, SF 3-4 blocks from the BART Embarcadero station

Initiated by No Nukes Action nonukesaction.wordpress.com

Japan Monju reactor fuel removal faces delays as monitoring cameras fog up in tests

https://mainichi.jp/english/articles/20180803/p2a/00m/0na/015000c#cxrecs_s

August 3, 2018 (Mainichi Japan)

Japanese version

A special lane used to remove nuclear fuel during decommissioning work is seen in Tsuruga, Fukui Prefecture. (Mainichi)

Fogged monitoring camera lenses could set back plans to remove fuel from the Japan Atomic Energy Agency (JAEA)'s Monju fast-breeder reactor, part of decommissioning work slated to start as soon as August.

【Related】Japan's efforts to decrease plutonium stockpiles do little to appease US, int'l community

【Related】Interior of Monju nuclear reactor opened to press ahead of decommissioning

【Related】Editorial: Monju reactor will be decommissioned, but mountain of uncertainty remains

【Related】Atomic energy agency submits Monju reactor decommissioning plan

The removal of fuel from the prototype reactor in Fukui Prefecture must be carried out remotely, because there are some areas that human workers cannot enter. Fuel rods will be removed from the reactor vessel and from a spent fuel pool, both filled with sodium -- a material that is difficult to handle because it reacts with water and air -- using special equipment.

Before extracting the fuel, staff tested their removal technique up until July 26 by attempting to take control rods out of the spent fuel pool. However, two cameras near a special receptacle for the rods and at an enclosed intermediate monitoring area fogged up, preventing workers from properly checking the work, the agency said.

The temperature of the sodium in the pool is about 200 degrees Celsius, and the control rods were hot when they were removed and shifted to the intermediate area. The rods had to be cooled at the intermediate monitoring area, and a large amount of steam was produced when water was put in.

The Nuclear Regulation Authority has emphasized that the cameras remain the only way for the agency to check on the state of removed fuel. It pointed out that checks were insufficient and instructed the agency to clarify the problems.

To solve the problem, the humidity level in the enclosed intermediate area has to be decreased, like removing steamy air from a bathroom. The agency is considering blowing air into the space to prevent steam from building up, but this remains a difficult task, and there may be delays before the agency can move onto the next step in the decommissioning process.

Problems with equipment also surfaced during an earlier preparation stage, prompting the agency to push back the start of full-scale decommissioning operations from the end of July until August.

(Japanese original by Toshiyuki Sato, Science & Environment News Department)




Added to the calendar on Thursday Aug 9th, 2018 4:34 PM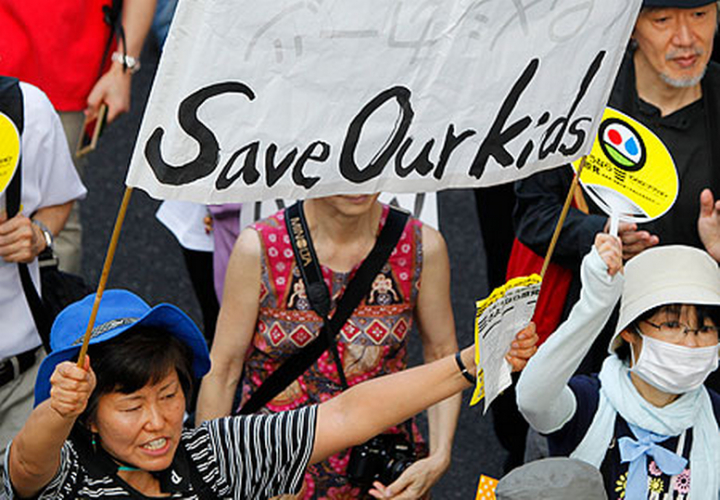 The Japanese Abe government is telling families who evacuated that they have to come back to Fukushima despite the grave dangers. The Japanese people face increasing repression, a secrecy and conspiracy law to silence whistleblowers and journalists.
We are 100% volunteer and depend on your participation to sustain our efforts!
Get Involved
If you'd like to help with maintaining or developing the website, contact us.