From the Open-Publishing Calendar
From the Open-Publishing Newswire
Indybay Feature
Urgent Action: Save SCOTUS, No Trump Pick! Senator Office Visit in San Francisco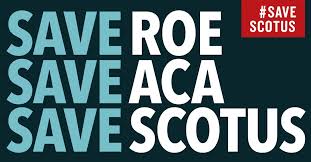 Import event into your personal calendar
Date:
Wednesday, July 11, 2018
Time:
Event Type:
Other
Organizer/Author:
Stand Up San Francisco
Location Details:
Office of Senator Harris, 333 Bush Street, Suite 3325
---
Urgent Action: Save SCOTUS, No Trump Pick! Senator Office Visit in San Francisco
When: Wednesday, July 11, 3:00 PM
Where: Office of Senator Harris, 333 Bush Street, Suite 3325, San Francisco, CA 94104
http://act.indivisible.org/event/save-scotus-actions/14622/signup/?source=moveon&s=0&issue-filter=Save%20SCOTUS
Trump has nominated Brett Kavanaugh as the next Supreme Court justice.
We're showing up at Senate District Offices to demand our senators protect our democracy— our choice, our affordable health care, our rights— and #SaveSCOTUS.
ABOUT STAND UP SAN FRNACISCO'S VALUES:
Model our Values
Be an example of the values we advocate for. As members of Stand Up SF, we value inclusion, respect, and fairness. We welcome anyone who shares these values and our goal of resisting the Trump agenda. We want the make-up of our group to reflect the demographics of our proud city. We welcome and embrace diversity – in age, race, sexual orientation, gender identity, religion, and any of the many other joyful ways we can be different from each other. Everyone in the Stand Up SF community should be made to feel welcome, all the time.
Treat others with respect, even when you don't agree with them.
We each bring our own life experiences to Stand Up SF. We expect members will have different viewpoints, and we believe this is a good thing. This diversity gives us a broader perspective and strengthens us as a whole. Listen, hear, and respect each others' viewpoints, even when you don't agree with them. Listen with respect, speak with respect.
Assume good intentions.
Remember that we're all here with the same goals. Assume that everyone who is taking part in our community is here to help the resistance. We're all on the same side.
Critique actions, not persons.
When you have a view about what should be done that is different than someone else's, we encourage you to express your position and advocate for it. You may even want to express your concerns about the "competing" position. But you should never attack the person promoting the other position (or any person!). Your statements should be about the merits of the action, not the "merits" of a person. A community where people feel uncomfortable or threatened is not a productive one. In our community, negative comments about a person – personal attacks – will not be tolerated.
Be courteous to our Members of Congress and their staff. 
At Stand Up SF, we meet with our Members of Congress (MoCs) and their staff on a regular basis, and place many calls into their offices. Our overarching goal is to have our MoCs act on our requests. In order to achieve this, we must be courteous, so we are heard. We want to be courteous in every interaction with our MoCs and their staff. We can be firm and assertive, providing arguments that push back on responses we don't like, while still being courteous.
Respect the privacy needs of fellow members.
 Taking a political stand can involve risks. We want everyone to be able to participate to their level of comfort. Please do not photograph any Stand Up SF members without first getting their permission. When you post a photograph on social media, do not tag by name members who appear in that photograph. Please do not share anyone's contact information without their consent.
Be patient. 
Stand Up SF is built on volunteer time, and there is a lot to do. If you have a question or suggestion, it may not receive an immediate response. Be patient. An occasional reminder is welcome, but sending several reminders is not a good display of patience.
Accept that your most passionate issue is one of many.
We all feel overwhelmed by the flood of bad news that is the new normal. We all want to make a difference. If you have an issue that you feel particularly passionate about, please remember that it lives among a sea of other issues, some of which other members feel especially passionate about. If you've taken a good amount of air time for your issue, please step aside and let others have the floor for other issues.
Share the air.
If you find yourself talking a lot at a Stand Up SF event, try letting others speak. Be aware of positional power and privilege that might be influencing how much and how often you are speaking. Positional power applies to those with leadership roles in Stand Up SF. Privilege (white privilege, male privilege, class privilege, etc.) refers to advantages granted only to specific groups of people. Be aware of your positional power and/or privilege. Make space for others.
Participate.
Stand Up San Francisco is YOUR organization. As a member, you play a vital role in shaping our group's goals and structure. We welcome your suggestions and ideas at any time at
info [at] standupsf.net
or at any general meeting. If you want us to move in a new direction or take on a new topic, we encourage you to win other members of the group to your idea, and bring us a proposal. We encourage you to take on a role in our group. We value your participation, and we can't do it without you!
No Harassment
We do not tolerate harassment in any form, whether the behavior is targeted at fellow Stand Up SF members or at others in our larger community. Our definition of harassment may not necessarily align with legal definitions of harassment. In our view, harassment includes: Verbal comments or displayed images that harmfully reinforce structures of oppression (related to gender, gender identity and expression, sexual orientation, disability, physical appearance, body size, race, age, religion, geographic origin, or class); deliberate intimidation; stalking; body policing (including gender policing in all bathrooms); unwelcome photography or recording; sustained disruption of talks or other events; inappropriate physical contact; and unwelcome sexual attention.
Added to the calendar on Mon, Jul 9, 2018 7:51PM
We are 100% volunteer and depend on your participation to sustain our efforts!
Get Involved
If you'd like to help with maintaining or developing the website, contact us.