From the Open-Publishing Calendar
From the Open-Publishing Newswire
Indybay Feature
Alert! Series of upcoming far-right rallies in the Bay Area
An alliance of far-right, fascist, and white supremacist activists are planning several upcoming rallies in the Bay Area.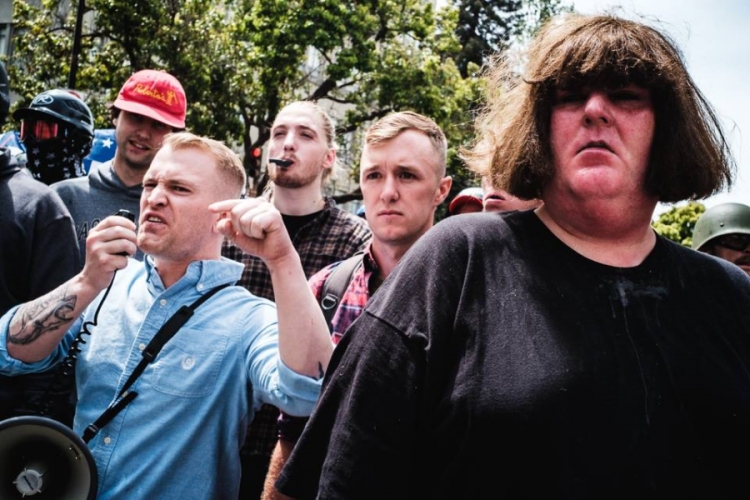 Alert! Series of upcoming far-right rallies in the Bay Area
An alliance of far-right, fascist, and white supremacist activists are planning several upcoming rallies in the Bay Area.
On July 7, Amber Cummings is calling for a rally outside the British Consulate in San Francisco at 1 Sansome St. Amber Cummings is local to the Bay Area and may best be known for organizing the August 2017 "No to Marxism" rally in Berkeley. This rally was scheduled to have one of the same speakers as the deadly Nazi rally in Charlottesville that resulted in Heather Heyer being murdered. Massive community resistance got the rally cancelled, driving the far-right out of the Bay Area.
Cummings is getting active again since her failure last year by attempting to build off the momentum of current events and movements on the right. Her July 7 rally outside the British Consulate is ostensibly to show support for Tommy Robinson, a well-known racist and founder of the English Defence League who is currently in jail in the UK. At her last rally appearance in Portland on June 30th, Cummings tackled someone simply because she thought they opposed fascism, only to find out later that like her the person also had far-right politics and was a fellow marcher. Amber has been violent at past rallies in Berkeley and is a close associate of the white nationalist Kyle Chapman aka "Based Stickman."
Later in August on both the 4th and the 5th, Amber Cummings is working with Lindsay Grathwohl to organize a weekend of events in both San Francisco and Berkeley. Lindsay Grathwohl is another far-right organizer in the Bay Area who has travelled up and down the west coast to rally against immigrants. She rode up with Amber Cummings to the June 30th rally in Portland, which resulted in an wave of extreme right wing violence. Grathwohl's December 2017 anti-immigrant rally in San Francisco was attended by militia members, Proud Boys, and Identity Evropa, the latter being one of the main groups responsible for the Charlottesville rally last August. On August 4th and 5th, Cummings and Grathwohl plan to hold the rallies they wanted to hold last year on August 26-27, when THOUSANDS of people in the Bay Area drove them back inside. On August 4th they will be at Union Square in SF and on August 5th they will be in MLK park in Berkeley.
Finally, on August 18, Erin Smith is organizing a rally outside of Worldcon, a science fiction convention. Smith has been known to show up at rallies to livestream and agitate crowds, filming activists to be doxxed later on by right wing internet trolls. Smith also attended the violent far-right rally in Portland on June 30th. She was filmed getting on top of someone who was on the ground, beating them while shouting homophobic slurs.
Violent people are organizing these far-right rallies in the Bay Area, and violent people are expected to show up. Amber Cummings has actively been discussing her networking online with right wing militias and the Proud Boys hate group. They know they will be in proximity to the current occupation of ICE, and may show up to start trouble. A call has been made to support the occupation on July 7 at 12pm.
Details of upcoming events:
Pray for Tommy Robinsons Freedom
July 7, 1-4pm
1 Sansome St, San Francisco
https://www.facebook.com/events/639116949760234/
Standing against Communism
August 4 1-4pm
Union Square, San Francisco
https://www.facebook.com/events/1989344121315091/
No to Marxism in America 2
August 5 4-7pm
MLK park, Berkeley
https://www.facebook.com/events/201325827321201/?active_tab=discussion
Patriots Rally Against Pedophiles in SciFi
August 18 1-4pm
San Jose McEnery Convention Center, San Jose
https://www.facebook.com/events/479274785823669/
See Northern California Anti-Racist Action at
https://nocara.blackblogs.org/
for detailed research and information on local fascist organizers.
We are 100% volunteer and depend on your participation to sustain our efforts!
Get Involved
If you'd like to help with maintaining or developing the website, contact us.