From the Open-Publishing Calendar
From the Open-Publishing Newswire
Indybay Feature
CA Senate Judiciary Committee Approves Controversial Western Energy Grid Bill
Assembly Bill 813, legislation that will create a western regional electricity market under the control of the Trump administration, will next go to the State Senate Appropriations Committee.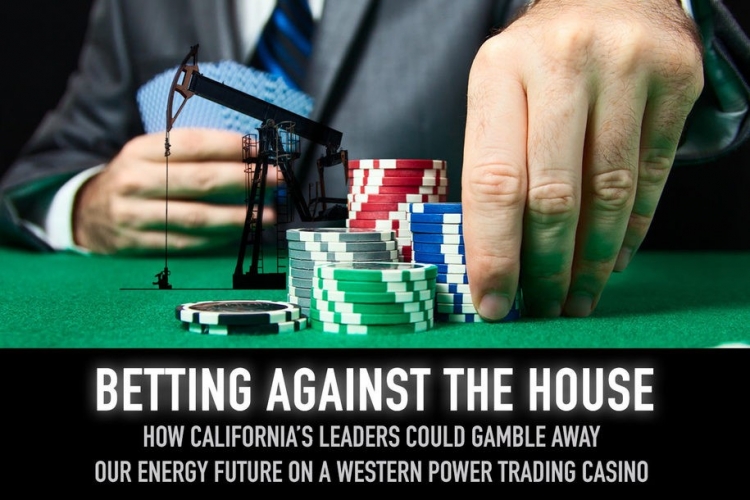 On June 26, the Senate Judiciary Committee voted 4-2 to approve AB 813, a Governor Brown backed-bill that would dismantle the California Independent System Operator (CAISO) and replace it with a western regional electricity market under the control of the Trump administration's Federal Energy Regulatory Commission (FERC). 
Hannah-Beth Jackson, D-Santa Barbara, and Bill Monning, D-Carmel, voted no on the bill. 
"If we lose the last layer of protection we will have spent decades trying to create renewable energy future that will be obliterated, Jackson told the Committee why she was voting against the bill. "It's critical that we maintain protections against an administration has shown it will undermine California's energy and environmental goals."
After the vote, the Aromas Progressive Action League - APAL, noted, "Well over 100 environmental organizations expressed concerns that AB-813 could undermine CCAs and California's ability to set strong standards on climate emissions. If you contacted Monning or Jackson about AB-813, please consider letting them know that you appreciate their votes." 
Assembly Bill 813 will next go to the State Senate Appropriations Committee. You can read the Committee's Legislative analysis of AB 813, including the list of organizations supporting and opposing the bill, here: leginfo.legislature.ca.gov/...
On June 19, the State Senate Energy, Utilities and Communications Committee passed Assembly Bill 813 by a vote of 6 to 1, although opposed by a wide array of conservation, environmental justice and community groups.
Assembly Member Chris Holden introduced AB 813 on February 15, 2017. Assembly Members Patterson and Quirk coauthored the bill in the Assembly, while Senators Stern and Wieckowski coauthored AB 813 in the Senate.
Proponents of the bill include the Natural Resources Defense Council, the Environmental Defense Fund and the California Chamber of Commerce, who favor a "market approach" to energy policies.
Lauren Navarro, Senior Policy Manager for California Clean Energy at the Environmental Defense Fund, claimed "an integrated Western energy grid can help California meet existing and future clean energy goals by creating a broader footprint in which California utilities could easily trade electricity with their counterparts in other western states with high levels of renewables."    
Bill opponents, including Food and Water Watch, Consumer Watchdog, the California Environmental Justice Alliance and Sierra Club California, charge that a regional grid will undermine renewable energy and green jobs in California and open up the state to market manipulation and speculation similar to the Enron energy scandal that plagued the state in the early 2000s under recalled Governor Gray Davis. 
"AB 813 would give the Trump Administration the ability to determine California's energy future and keep us hooked on dirty coal and gas imports," said Adam Scow, California Director of Food & Water Watch.  
In condemning the vote for AB 813, Liza Tucker, consumer advocate for Consumer Watchdog, said the legislation would turn California into "a giant Western power trading casino" that puts ratepayers and the environment at risk.
"This is a giant giveaway to billionaire investors, energy traders, and former allies of Enron that brought us market manipulation, rolling blackouts, and a $40 billion tab two decades ago that we are still paying for," said Tucker. "The legislation is a scheme that will leave the market open to trading manipulation that will raise electricity rates and undermine California's control of carbon emissions by empowering appointees of President Donald Trump to overturn California laws."
Tucker said California leaders are being pressured by former allies of Enron, including Ralph Cavanagh of the Natural Resources Defense Council (NRDC), who promoted deregulation two decades ago as a way supposedly to increase energy efficiency, lower costs, and promote renewable energy.
However, a new Consumer Watchdog report reveals that "precisely the opposite happened, and is likely to happen again if the legislation passes," according to Tucker.
The report documents how Cavanagh, the chief backer of the Western trading scheme now and of deregulation in the late 1990s, vouched for Enron, claiming, "Can you trust Enron? On stewardship issues and public benefit issues…the answer is yes."  
Read the report, Betting Against The House: How California's Leaders Could Gamble Away Our Energy Future On A Western Power Trading Casino, at  
https://consumerwatchdog.org/sites/default/files/2018-06/BettingAgainstTheHouse.pdf
In addition to Enron allies like Cavanaugh, the legislation is supported by Governor Jerry Brown, who received $9.8 million from oil and gas corporations and utilities, and many of his former and current appointees.
"If passed, the legislation would hand control of the energy trading system from California's Independent System Operator to the Federal Energy Regulatory Commission (FERC)," Tucker stated. "Coal-heavy states joining a new regional transmission organization could sue California over its clean energy laws. The state could see its laws invalidated in court or preempted by FERC. Californians could wind up subsidizing coal power and expensive transmission lines originating in other states."
Nevertheless, a majority of both the Senate Judiciary and Energy Committees Committee voted to pass the bill out of the committee, including some committee members unhappy with the bill, including Senator Robert Hertzberg.
"Hertzberg warned that if the legislation did not address his concerns, as a member of the Judiciary Committee where the legislation heads next, he would 'advocate and lobby against it,'" she pointed out.
"This legislation is not fixable," emphasized Tucker. "There is nothing to fix. This is a scam to take away California's energy independence and hand the system over to profiteering billionaires and energy traders. Lawmakers who fail to stop this measure, do so at their own peril."  
Then two days after the Committee vote, Tucker's group provided new information to the Legislature warning that AB 813 will not only open the state to trading manipulation, but "permanently hobble California when it comes to prosecuting Enron-style manipulation in the future."
This attempt to prevent lawsuits against the regional grid scheme reminds one of the current rider to a spending bill by Representative Ken Calvert to block judicial review of Governor Jerry Brown's legacy project, the Delta Tunnels. You can read about Calvert's rider here: fishsniffer.com/...
"Californians recovered hundreds of millions of dollars from energy manipulators like Enron, Duke, NRG, Williams and others only because of civil lawsuits and resulting settlements filed on their behalf," Jamie Court, President of Consumer Watchdog, wrote in a letter to the Chair of the Senate Judiciary Committee, Senator Hanna Beth Jackson, where AB 813 will be heard on Tuesday, June 26.
"Conversations with one of the lead attorney in these cases, former City Attorney and private plaintiff lawyer Mike Aguirre, reveals that the scheme envisioned by AB 813 would prevent such lawsuits over electricity manipulation in the future."
Court noted that the cases depended on cooperation with the California Independent System Operator (CAISO), an ally in proving the manipulation and providing evidence. The cases were filed in state court alleging unfair competition and other unfair business practices.
This opportunity by the public to sue over energy manipulation would be prevented by the implementation of AB 813, the letter documented:
"Under AB 813, CAISO would cease to exist and be replaced with a Western Regional Transmission Operator appointed by unspecified corporate interests in unspecified states. Governance would be dominated by trading industry representatives, rather than California officials vetted by the Senate and appointed by California's Governor to serve the interests of our state. Consumers would lose a vital ally with no consumer protections in place at the new regional operator.
"…The new multi-state organization would represent the industry, not California consumers, and disputes over energy manipulation or environmental protection would be under the jurisdiction of the Federal Energy Regulatory Commission (FERC).
"FERC would be empowered to invalidate California laws once we participate in a multi-state energy trading system, rather than our current mostly-California-only system…Mr. Aguirre explains that the Western market and FERC could also preempt the very state laws that Californians sued under to recoup their losses during the energy manipulation schemed associated with deregulation at the turn of the century.
"In other words, common law causes of action and state statutes against unfair competition are as likely to be invalidated as other environmental and consumer statutes – leaving Californians at risk of not having a legal remedy under the next manipulation scheme. They would face FERC preemption."
For the letter, see here:
http://www.consumerwatchdog.org/
… 
Action Alert: AB 813 gives President Donald Trump a say in CA's energy policy - and his administration wants to fully reopen Aliso Canyon, the site of the largest natural gas blowout in U.S. history, according to Adam Scow of Food and Water Watch. 
Please sign this Food and Water Watch petition to the California Legislature to stop this plan to enrich energy companies at the expense of people and the environment: secure.foodandwaterwatch.org/...
We are 100% volunteer and depend on your participation to sustain our efforts!
Get Involved
If you'd like to help with maintaining or developing the website, contact us.