From the Open-Publishing Calendar
From the Open-Publishing Newswire
Indybay Feature
Ag. land in Concord used for parking, not growing
The city of Concord and the Markham Arboretum Society has been using a parcel of Ag (agriculture) land for overflow parking. Land that could and should be used to grow food, is held in perpetuity as a space to park cars 7 days out of the year.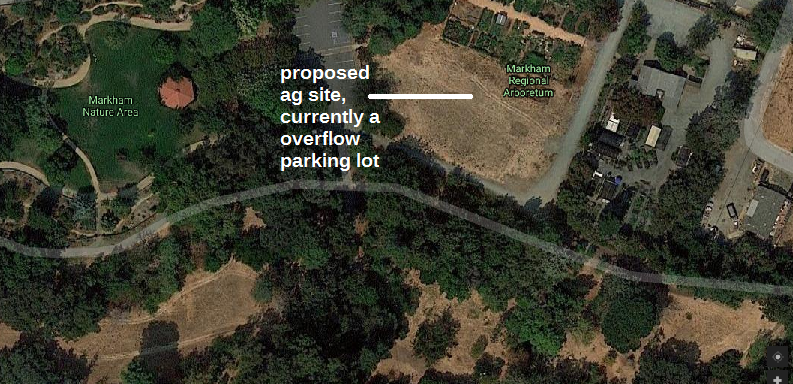 There is a parcel of land at the Markham Arboretum which has a lot of agricultural potential. It is probably the most prime spot in Concord for agriculture. There actually already is a small number of gardening plots at Markham, but the "park's society" (the board of directors) has refused public demand for expanding gardening proprieties. Instead of focusing on the core mission of the park, the current iteration of the Markham board of directors is focusing on using the land for parking.
The parcel of land in question is unpaved, and is already piped for water. And yet, the land is used as overflow parking for 7 days a year, for summer wedding receptions. Because it is used a mere 7 times a year, the public is prevented from using the land for any agricultural activity.
Markham does have 2 formal full time parking lots, and there is parking spaces in the back lot near the main office. There is also a large parking area 4 blocks away at Concord Community Park. People can also park cars on the adjacent residential streets. There is no reason why agricultural land should be used for temporary, overflow parking.
Like many other cities in the Bay Area, Concord has a Climate Action plan. Using agricultural land for agriculture, and not for parking cars, is an action the city could take to address climate change. By reducing the amount of parking spaces at the park, residents would be put in a position to rethink how they use cars. Growing food locally reduces the miles traveled food takes to get to the end consumer, and reduces plastic waste associated with supermarket food. Thoughtful agricultural practices capture carbon in the soil.
Markham is listed as a public park, however the current city government allows the Markham society to run the land as if it is the society's private property. The current Markham board is totally disengaged from the community. The current board doesn't have public meetings, doesn't prepare public activities, and isn't thinking towards future public projects. The office is essentially a private club-house for the board. The black lot is not used for public research or classes, but rather is used for plant sales that directly profit the board. Somehow, a public park became a private yard for the select few that make up Markham's board.
Adding to the lack of public input and lack of direct transparency in the power-structures that govern Concord's open spaces, the city's Parks Commission has not been holding regular public meetings. Meetings are cancelled, and decision making regarding parks is done in private. Resident concerns about the lack of meetings have been outright ignored by Concord city council.
One local activist who has been trying to bring attention to these issues of land use and climate change has been repeatedly threatened with legal action and arrest if any unauthorized planting is done at Markham or any other park in Concord. The activist has tried to navigate the process to find a method in which planting can be authorized, but has been blocked by Concord's bureaucracy.
The goal is to make a space where pesticide-free, herbicide-free, sustainable farming can be explored. The goal is to make a project where Concord residents can make personal connections to the Earth and our local ecosystem. There is ample room to develop a small farm near the heart of Concord, a place where educational and cultural exchange can occur.
Activists interested in local farming are encouraged to explore the Markham Arboretum and are encouraged to think about re-purposing the land away from parking, and away from privatization. Activists interested in local farming are encouraged to contact Concord city council (
CityCouncil [at] cityofconcord.org
), the parks director (
Steve.Voorhies [at] cityofconcord.org
), and the Markham board (
info [at] markhamarboretum.org
). Activists interested in local farming are encouraged to take direct-action to free the land from a private board, and to promote community oriented agriculture in Concord. If enough people speak up and take action for climate justice and food justice, there can be a farm in Concord.
We are 100% volunteer and depend on your participation to sustain our efforts!
Get Involved
If you'd like to help with maintaining or developing the website, contact us.