From the Open-Publishing Calendar
From the Open-Publishing Newswire
Indybay Feature
Cat Brooks Announces Run for Mayor of Oakland at ILWU May Day Event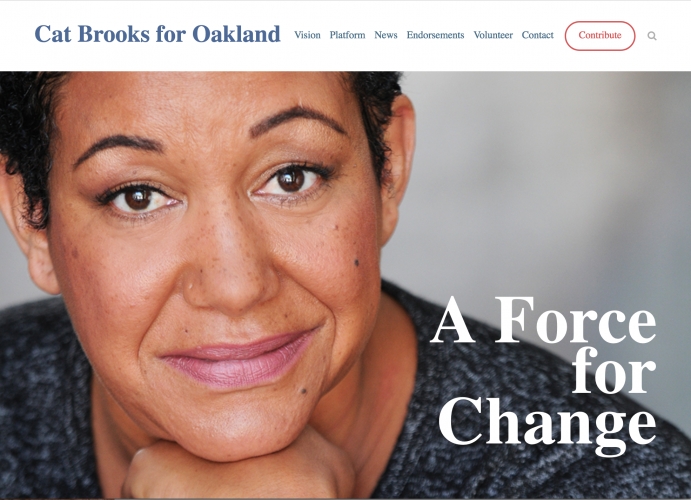 My name is Cat Brooks. I am the co-founder of the
Anti Police-Terror Project
. It is an honor to once again stand in solidarity with the the ILWU on May Day. I have been humbled to stand with you on many May Days and have deep respect and admiration for this union's history in resisting state violence and protecting the rights of working people without apology and without trepidation. From the 1934 strike, to shutting down the Port for Oscar Grant, this Union stands firm on the right side of history.
We need more people to stand with us. We find ourselves in a time when resistance is needed, now more than ever. At the national level, we have an administration that has rolled back the already meek and mild reforms to policing which were ushered in by the previous administration. We have a president who has encouraged police to be more violent, and an attorney general who is launching the War on Drugs 2.0. And we know what that means, don't we? It means a War on Black & Brown and poor people - A War on the Workers of America.
Here in Oakland, over the last four years, the multiple traumas of police violence and scandals; massive displacement of Black and Brown long-time community members, and nearly 3,000 people sleeping on the streets every night cause so much pain in our community. These are the workers of Oakland.
Business as usual simply cannot be allowed to continue. The cost is too high. The consequences too dire.
But there is something we can do together. It is an election year. In the June primary, we have a chance to turn out support for Pamela Price who is running for Alameda County District Attorney. Pamela is a real defender of justice. She will give us a fighting chance in our struggles for justice and dignity by prosecuting killer cops and interrupting the school to prison pipeline.
Our Mayor is up for reelection too. A mayor who attacks black women by comparing them to the white supremacist, misogynist-in-Chief. We stand against a system of white supremacy that allows white women to degrade and demean.
And we have a few things to say about that. For months, people have been asking me to run. And those who know me well know that I have never aspired to elected office. It has not been my priority to work inside of those halls. But as the conditions of our people continue to devolve, the community has continued to ask.
Because my life's work is centered on the needs of the people, and with the blessing of Melvin MacKay - I am here to announce - today - on International Workers Day that I am throwing my hat in the ring to challenge neoliberal Libby Schaaf for mayor.
But this will not be the Cat Brooks campaign. This will be the people's campaign. Over the next few months, in a series of town halls - we will develop our platform in community with the people. These are the critical conversations that politicians prefer to politely ignore.
We are going to talk about brutal policing in 2018. We're going to talk about what it looks like to divert funds from the police into programs that actually keep communities safe. We're going to talk about the housing crisis like the epidemic it is. Let's be honest! If we can find $30 million dollars for unauthorized overtime for law enforcement, we sure as heck can house people who are sleeping on our streets. We're going to talk about the right to return for the thousands of Black and Brown people who have been pushed out of their city.
We're just getting started.
We're going to talk about all of the things that impact us and our loved ones and we are going to demand more than empty campaign promises. We expect actual accountability from the people we put in office. That's why we will be spending the next six months, not campaigning, but organizing. We're going to organize Oakland around a platform that lifts up the voices and needs of our most marginalized communities. And all along the way we'll be registering voters - those in traditional housing and those whose homes are on the streets.
And then on election day, we're going to vote. We will and transport unhoused people to the polls on election day. We will make sure that the people inside North County and Santa Rita jail who are eligible to vote have ballots. The results of this election will not be dictated to us by the privileged few. This election will be determined by the organized masses.
It is time for new day in Oakland. It is time for the people of Oakland, the workers of Oakland, the immigrants of Oakland, the poor of Oakland to seize the power of Oakland. Our City. Our Needs. Our Voices. Our Oakland.
Thank you.
-------------------
Check out Cat's campaign website:
We are 100% volunteer and depend on your participation to sustain our efforts!
Get Involved
If you'd like to help with maintaining or developing the website, contact us.