From the Open-Publishing Calendar
From the Open-Publishing Newswire
Indybay Feature
Union Busters Defeated in Eden, NC
The NLRB just issued a major Complaint against Mohawk Industries (Fortune 500) for illegal union busting at its Eden, NC facility. A 79 year old local has been preserved and a significant defeat visited upon union busting forces under the Trump administration.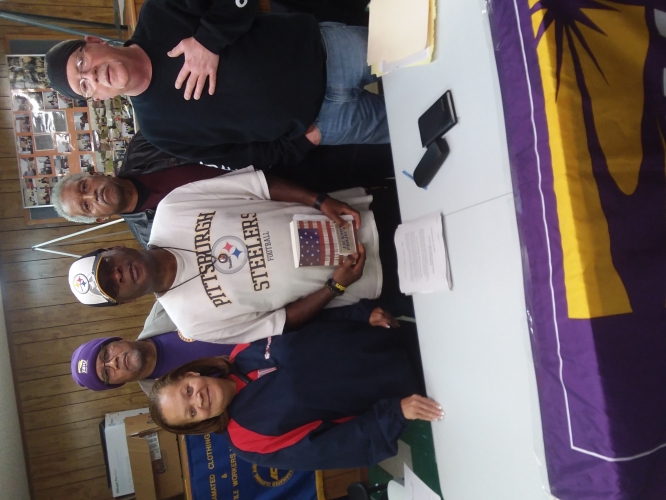 Union Busters Defeated in Eden, NC
National Labor Relations Board Issues Complaint Against Mohawk Industries
Citing Widespread Violations
The National Labor Board has issued a Complaint against Mohawk Industries, and dismissed an unlawfully obtained decertification petition. The NLRB's actions resulted from an intensive six-month investigation.
The Complaint cites Mohawk management for numerous unfair labor practices, including:
- Direct solicitation of employee signatures on a decertification petition
- "Threatening" and "coercing" employees to sign the petition
- Illegal "interrogation" and "surveillance" of employees
- Making illegal promises to employees
- Allowing several anti-union employees free-run of the plant during working hours, in order to solicit signatures
Three ranking members of management were cited for a total of 45 separate violations of employee rights under federal law. (Victoria Petty: Area Manager, Joseph Barragan: Communications Specialist, Megan Hall: Human Resource Manager) Mohawk as a whole was also cited repeatedly.
The company's attorney made several attempts to circumvent the evidence, based on procedural technicalities, but was repudiate by the Board each time.
During September, 2017, Mohawk transferred two Human Resource executives from its corporate office in Calhoun Georgia, to its Eden facility. On September 26, they led seven hand-picked hourly employees, and several members of local management, on a trip to a nonunion Mohawk plant in Gardner, North Carolina. Within several days, the majority of these hourly workers were actively circulating a decertification petition on the shop floor.
"Mohawk engaged in an illegal conspiracy to undermine the union and strip American workers of their rights under the National Labor Relations Act," said Phil Cohen, Special Projects Coordinator for Workers United. "Management underestimated the intelligence and character of their employees. Carloads of workers found the courage to come forward and give affidavits to the NLRB, exposing the scheme."
The National Labor Relations Act requires employers to remain union-neutral, and uninvolved in matters pertaining to decisions by its workforce to be represented.
The National Right to Work Committee announced it will challenge the decision. The NRTWC has been aggressively seeking test cases, since the Trump election, in its efforts to dismantle regulations protecting workers from employer sponsored union busting.
Mohawk Industries is a Fortune 500 international conglomerate, engaged in the manufacture of floor covering products, listed on the NYSE as MHK. In 1993, it acquired the Karastan facility in Eden, North Carolina, where a variety of residential rugs and commercial carpeting is produced.
Workers United is one of the largest unions in the South, representing employees across a broad spectrum of industries. Its Local 294-T has represented workers at the Karastan rug mill since 1939. Phil Cohen is the critically acclaimed author of The Jackson Project: War in the American Workplace (University of Tennessee Press; July, 2016).
http://www.hardmilesmusic.com/jacksonproject.html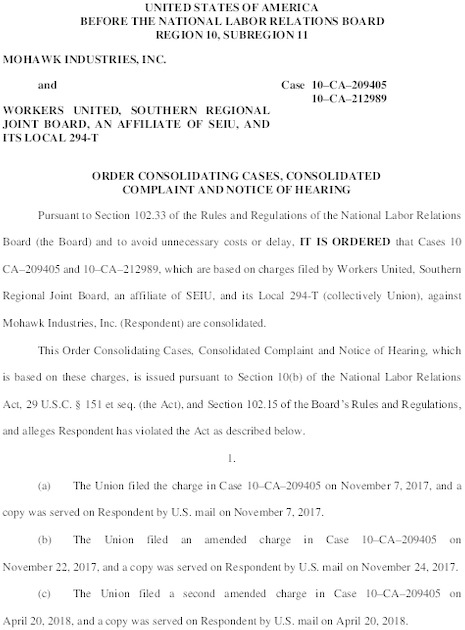 Cartoon from union leaflet by artist Patricia Ford
We are 100% volunteer and depend on your participation to sustain our efforts!
Get Involved
If you'd like to help with maintaining or developing the website, contact us.