From the Open-Publishing Calendar
From the Open-Publishing Newswire
Indybay Feature
Related Categories:

Palestine | Santa Cruz Indymedia | U.S. | Anti-War | Government & Elections | Racial Justice
As Israeli Forces Open Fire on Unarmed Palestinians, Jimmy Panetta Helps "Congratulate" Israel
Congressman Jimmy Panetta, who represents California's central coast, was a member of a Democratic congressional delegation that visited Israel on March 26 to congratulate the nation on the 70th anniversary of the establishment of its government. "Our delegation is pleased to be able to extend the congratulations of the American people to the people of Israel as we celebrate the 70th anniversary of Jewish state this spring," Nancy Pelosi, the leader of the delegation stated ahead of the March 26 visit. "There is no greater political accomplishment in the 20th Century than the establishment of the State of Israel," she stated on behalf of the Democrats. Israeli Prime Minister Benjamin Netanyahu tweeted that he had an "excellent meeting" in Jerusalem with the congressional delegation, and included a picture of himself with Panetta and the other delegation members.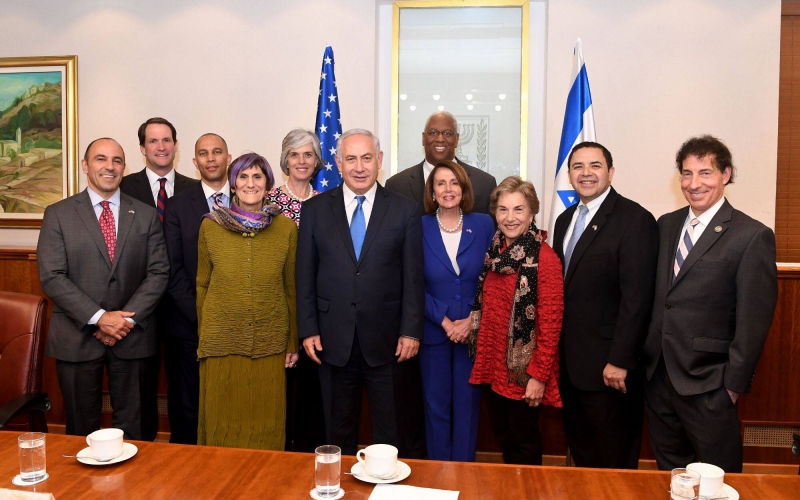 As Panetta was meeting with Israeli officials, that country's defense forces were planning to shoot Palestinians in Gaza during the Land Day demonstration planned later that week to coincide with Israel's founding, which Palestinians refer to as the Nakba, or "catastrophe". In 1948, more than 750,000 Palestinians were expelled from their homeland in to make way for the establishment of the state of Israel.

As reported on Mondoweiss.net, Israel's army announced on March 26 that "dozens of snipers" would be deployed at the demonstration in Gaza, a decision that eventually lead to a bloody massacre against unarmed Palestinians on March 30, leaving 17 demonstrators dead and at least 1,416 Palestinians wounded. 758 were shot by live ammunition, 148 were injured by rubber-coated steel bullets, and others were injured by tear gas, concussion grenades, and other "less lethal" weapons.

On the same day as the massacre, March 30, Panetta released a public statement on his congressional website, and through social media, describing his visit to Israel with the delegation. Panetta's statements omitted any reference to the bloodshed in Gaza. He instead posted a benign photo of the delegation and him meeting with "Palestinian youth in Jerusalem".

The congressional delegation also visited Afghanistan and Jordan, and Panetta's public statements following the visit focus on the regional military security of the United States in the Middle East.

"Congress has an important oversight role for our national security, including our counter-terrorism operations in the Middle East, and needs to ensure that our policies and resources are in place to keep our nation safe," Panetta said in a public press release.

Panetta's press release continues to seemingly justify the length of the war in Afghanistan, the longest war waged by the United States.

"Having served in Afghanistan, this trip was a great opportunity to return, see, and assess the current conditions on the ground as well as the needs associated with Operation Resolute Support. As a member of the House Armed Services Committee and co-chair of the National Security Task Force, it was an important visit to evaluate our near and long-term strategy in the region. Our trip provided my fellow Members of Congress and me with the first-hand experience and understanding that we need to work on smart, strategic, and strong national security policies regarding the Middle East," Panetta's March 30 press release states.

Panetta served as an officer in the military and was stationed in Afghanistan in 2007. According to his congressional biography, he was assigned to a "special operations task force" as an intelligence officer responsible for "finding high value enemy targets".

Panetta represents California's 20th congressional district, which includes all of Monterey and San Benito Counties, and parts of Santa Clara and Santa Cruz Counties. The voting population that voted him in is largely anti-war.

On their website, the Monterey Peace & Justice Center is encouraging the public to speak out against the massacre that occurred during the Land Day demonstrations, and is urging community members to contact Panetta, who they say has been "supporting Israel".

In addition to meeting with Netanyahu. the congressional delegation met with Israel's Defense Minister Avigdor Lieberman, who told them the nation of Iran poses the greatest threat to stability in the Middle East. Lieberman also thanked the US Congress for its long-term support of Israel, and for approving this year more than $700 million for the Israeli anti-missile defense system.

The Israel Trip highlights Panetta's expertise at creating public statements that pivot from a strong advocacy for "national security" positions, and are tempered by softer, more vague statements in support of "peace".

The Land Day protests in Palestine will continue until May 15, and in the last twelve hours at least seven more Palestinians have been killed by the Israeli army, and hundreds more have been wounded by Israeli gunfire.

Jimmy Panetta remains silent.


Photo: Jimmy Panetta and the Democratic congressional delegation meet with Israeli Prime Minister Benjamin Netanyahu.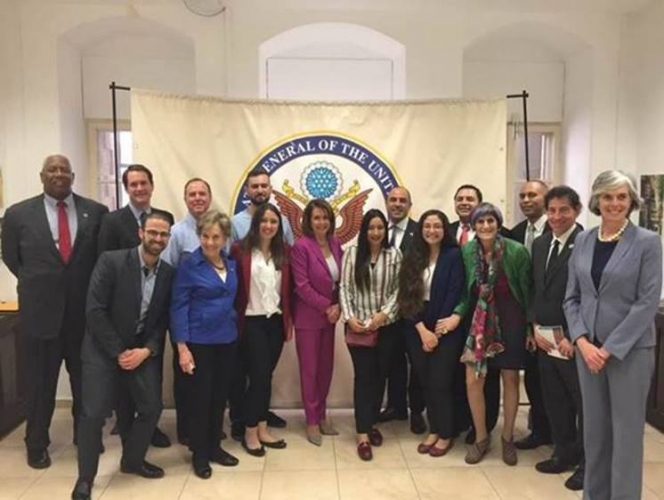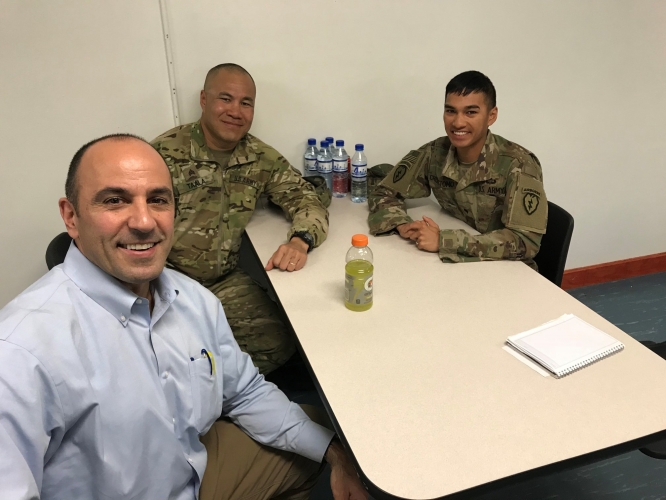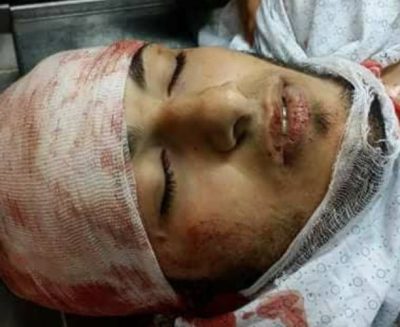 We are 100% volunteer and depend on your participation to sustain our efforts!
Get Involved
If you'd like to help with maintaining or developing the website, contact us.