From the Open-Publishing Calendar
From the Open-Publishing Newswire
Indybay Feature
Anti-houseless stickers spread in Santa Cruz public areas
Sticker carrying violence-encouraging stereotype image of houseless tweaker found on crosswalk button downtown.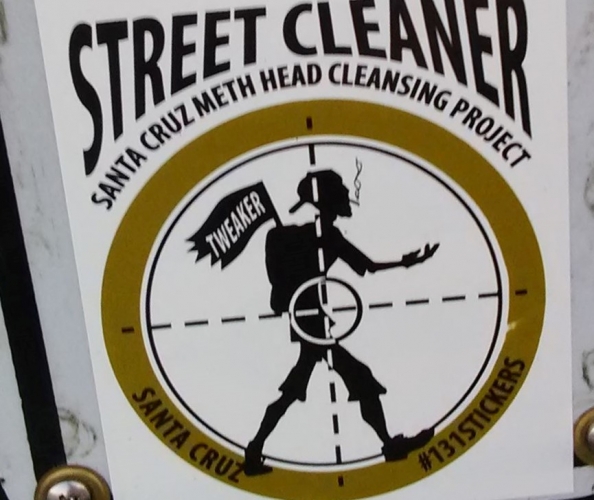 A sticker carrying imagery encouraging violence against houseless people and drug addicted people was recently found on a crosswalk button at Front and Soquel. The sticker reads 'Street Cleaner: Santa Cruz Meth Head Cleansing Project – Santa Cruz' and is marked with the hashtag #131stickers. It depicts a silhouette of a skinny person wearing a backpack, with a cigarette in their mouth, an open hand stretched out, and a "Tweaker" flag hanging out of the backpack. Laid over the image of this person are the crosshairs of a telescopic rifle sight.

A quick search of twitter and instagram for the hashtag #131stickers shows a number of posts also tagged @broprintsscreenprinting, or with check-ins at Broprints Screen Printing. Broprints is a sticker, shirt, and banner printing company based at 131 Center Street, #3. It's founder, Aaron Clark, began printing with his brother Ian Clark at the turn of the century. According to a 2004 article in the Santa Cruz Sentinel, Aaron studied printing at Santa Barbara City College and Humboldt State. In an email exchange, Aaron Clark confirmed that Broprints did produce the sticker in question and that its design was not attributed to any one artist but was "a team effort."

The co-owner of Broprints, Steve Guisinger, also owns and operates Consolidated Skateboarding, out of the same address 131 Center Street. Guisinger began the Don't Do It movement in 1997 in an effort to convince skaters to oppose the entrance of large sporting goods companies – like Nike – into the skating industry.
Hello, my name is Aaron Clark. Yes, I own Broprints. We print stickers for lots of people. All kinds of stickers. People from all walks of life come in with ideas and concepts of what they want their sticker to say or look like. While we don't always agree with what it says we help the customer. Over the last 15 yrs or so the homeless and drug addict epidemic has grown in Santa Cruz and the surrounding area as we all can see and agree. And over this time people ask me to print their frustrations out on a sticker. Frustrations from walking out the front door of their house or business to find used needles, human feces and piles of trash scattered about. Not to mention their bike stolen or other property broken into. A call to police does not solve the problem. In fact we were broken into right next door to the Police station. They stole computers, inventory, and money. Even with the police cameras pointing straight at the point of entry. Government funding is not there to help the problem, programs that are set in place barely scratch the surface. I agree there needs to be something done and yes, angry hateful stickers do not solve the problem either. At what point do you yourself allow this to keep happening before reacting. I can't say that all the #131stickers are ideas from Broprints. Many people ask to have some sticker made that reflects their situations regarding their experiences and encounters with drug addicts who do nothing to better themselves. I think the stickers are a way for some to express their anger instead of doing something extreme. Hardship falls on the best of people and it's difficult to pick yourself up. A struggle I had to endure for 2 years without a home. Living in my automobile was no picnic but it did not inspire me to steal from someone or start using drugs to a point of leaving trash and human waste on their property. I don't condone everyone who has an opinion on what to do with the epidemic at hand. I agree with some and disagree with others. I have helped drug addicts get back on their feet and homeless friends clean up and get them employment. What it boils down to is people wanting to help themselves. I'm sorry if a sticker we printed has offended anyone and will do my best to monitor what gets printed here. I welcome anyone to come in to the shop and see for yourself what we are all about. We are here to help people with printing/ art/ and ideas they have. We sponsor schools and events. We give discount printing to charitable causes and print without profit on every Never Forget sticker you see out there. But maybe those stories are something you can post another time, who knows. I know you don't know me or have any knowledge of that we are about but I would be happy to meet with you so you can see what really goes on at Broprints. It's not the homeless hating you are making it out to be. Again, sorry if a sticker has offended anyone. -Aaron
We are 100% volunteer and depend on your participation to sustain our efforts!
Get Involved
If you'd like to help with maintaining or developing the website, contact us.